HISTORY

The UNSW Solar Racing Team (SRT) was formed in 1995. Since the team's inception it has participated in a number of events including:
1996 WSC – Sunswift finished 9th out of 46 entries. This was the University's first entry in a solar car event amongst the prestigious and competitive entries from Honda Motors Corporation, the Swiss entry from Biel, and Mitsubishi Materials Corporation.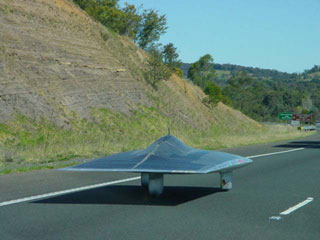 World Solar Challenge 2003
1999 NRMA Transcontinental Record Attempt – with the car NRMA Sunswift II completed 4,012km in ten days despite five days of bad weather. Even though the record of 8½ days was not broken, the attempt was still regarded to be a success with $2.4 million worth of publicity generated.
1999 CitiPower SunRace – three days after completing the Perth-Sydney record attempt the team entered this event. NRMA Sunswift II obtained third place in a highly competitive field of five entries, proving the car's reliability and the team's dedication after five continuous weeks on the road.

NRMA Sunswift II participated in a trade exhibition in Taipei, on request from the Federal Government.

1999 WSC – NRMA Sunswift II finished a respectable 18th out of 48 international entries.
2000 Whirlpool SunRace – Placing second until the penultimate day of the race, the car was forced off the road by another motorist sustaining significant race-ending damage. Despite the accident the driver was unharmed and the team's spirits were high as they reflected on what had been achieved over the previous five days.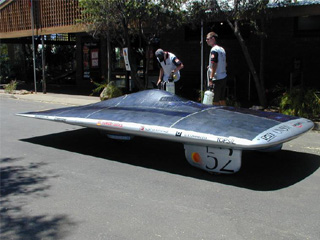 World Solar Challenge 2001
Topcell – the UNSW SRT embarked on an ambitious project to manufacture its own solar cells to build a new array. This was a world first for any solar car team. The SRT also developed a new cell encapsulation method which allowed the team to construct curved panels – another world first.

2001 WSC – UNSW Sunswift II placed 11th out of an international field of 40 vehicles. The team overcame electrical problems on the first day to make up a lot of ground and take this placing.
2002 AGO SunRace – after eight days of close racing the team finished 2nd in a field of four world class solar cars. The team was also awarded the inaugural SunRace Enterprise Award for technical innovation for the Topcell project.

2003 SunRace – during a race characterised by poor weather conditions, UNSW Sunswift II again finished as the 2nd placed solar car.
2003 World Solar Challenge – a decision was made to withdraw from the 2003 World Solar Challenge, after the 4WD towing UNSW Sunswift II was involved in an accident on route to Darwin.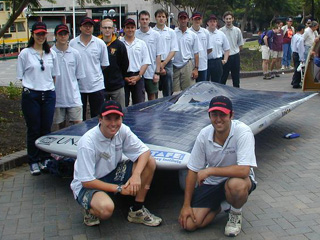 WhirlPool SunRace 2000
---
SPONSORS :


TECHNICAL PARTNERS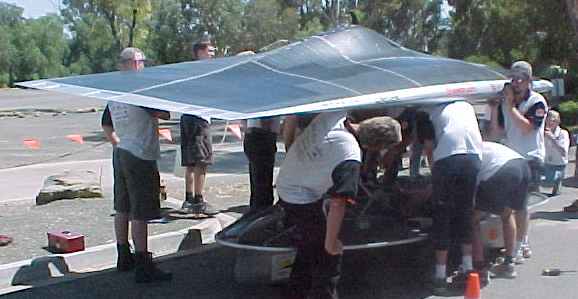 Sunswift II body lifted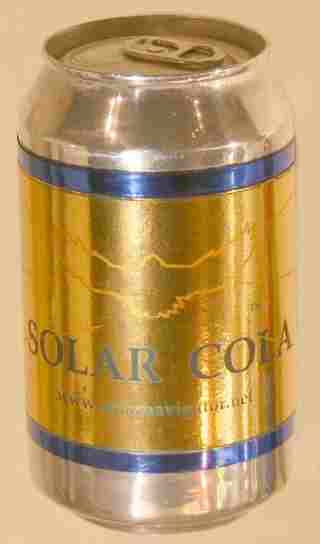 The Website is sponsored by Solar Cola