The University of Arizona (UA) is a land-grant and space-grant public institution of higher education and research located in Tucson, Arizona. The University of Arizona was the first university in the state of Arizona, founded in 1885 when the state was still a territory. UA includes Arizona's only medical school. In 2005, total enrollment was 37,036 students.
Among the strongest programs at UA are optical sciences, astronomy and astrophysics (the UA is awarded more NASA grants for space exploration than any other university nationally), hydrology and hydrogeology, philosophy, and anthropology. The UA also has a top tier law school, and a top 20 undergraduate business school in the U.S., public or private.
Arizona is classified as a Carnegie Foundation "Doctoral/Research Universities—Extensive" university.
The university receives more than $400 million USD annually in research funding, generating nearly 75 % of the research dollars in the Arizona university system. This figure is triple the total research funds generated by Arizona State University and Northern Arizona University combined [1], and 26th highest in the U.S. (including public and private institutions). The university has an endowment of $348.3 million USD as of 2005 [2].
The UA was recently awarded over $325 million USD to lead NASA's 2007 mission to Mars to explore the Martian arctic. The school's Lunar and Planetary Laboratory's work in the Cassini spacecraft orbit around Saturn is larger than that of any other university globally. The UA laboratory designed and operated the atmospheric radiation investigations and imaging on the probe [3]. The UA operates the HiRISE camera, a part of the Mars Reconnaissance Orbiter.
The current and 18th university president is Peter Likins, whose term began in 1997. President Likins will vacate his post at the conclusion of the 2005-06 academic term. Dr. Robert Shelton will become the next president at the school.
UNIVERSITY of ARIZONA
Project Updates
Sponsorship Info
Our Sponsors
Adopt-A-Cell
How to Join
How to Help
Pictures
Team History
Meeting Schedule
Members
Technical
Links

CONTACTS:
Email Address:
solarcar@email.arizona.edu


Telephone:
(520) 626-5373


Fax:
(520) 621-8191


US Mail:
Arizona Solar Racing Team
University of Arizona
1130 N. Mountain Ave.
Tucson, AZ 85721
---
SOLAR CAR EVENTS
American World Solar Challenge - Formula Sun
Canadian Solar Discovery Challenge
Dream Cup Solar Car Race Suzuka 2003 - Japan
Japanese World Solar Car Rallye
North American Solar Challenge
Solar Express - Solar Bike Race
During these competitions, students learn about solar panels, electric motors, electronics, vehicle chassis, bodywork, aerodynamics, suspension, batteries and how to solve practical problems during the design process, while working as a team. It's demanding stuff and more fun that laying in bed watching TV, where individuals may seek inspiration, but achieve very little.
---
A taste for adventure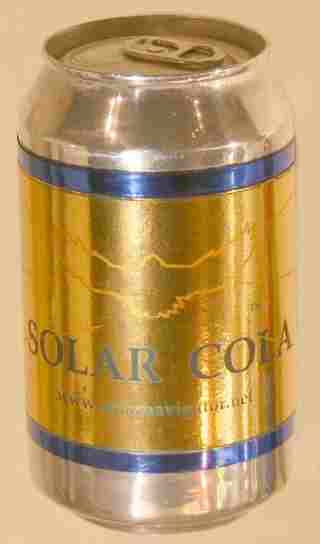 Solar Cola - a healthier alternative