Fuji, a company famous for its film, digital cameras and other photographic products, entered the vehicle below in the Darwin to Adelaide race. The Rose is reputed to have a 98.2% efficient electric motor and to have cost several million pounds to develop. This car won the World Solar Challenge (WSC) in 1996. This same development figure would have built and equipped the Solar Navigator catamaran.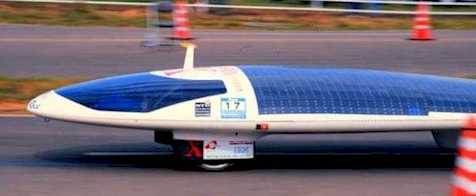 Fuji Xerox - Desert Rose
Why not visit the webpage opposite for more information: Fuji Desert Rose Solar car
Entrants in the cross Australia race, from Darwin to Adelaide, use solar panels to power a lightweight car over 2,000 miles at speeds of up to 50 miles per hour. Clearly, solar power can deliver enough energy to drive a vehicle considerable distance given the right conditions.
---
Fuji Xerox is the principal sponsor of the Fuji Xerox Desert Rose solar car. The team has recently received sponsorship deals from APG Electrical, Paspaley Pearl Group and Quality Plumbing. The Desert Rose team wishes to thank these businesses for their support. If you are a local business and wish to support the Fuji Xerox Desert Rose solar car, please see the contact given below.
(May/June 2001) Sponsorship
Motorola, Holden, Faculty Of Technology and Industrial Education, Colin Ross NT KTM Racing and the NTU's VC's office have recently sponsored the Desert Rose and the team wishes to thank these businesses for their support.
(30/05/2001) Website update
The specifications page is now complete. Please email the webmaster on matters of corrections and the like.
(13/10/99) Whirlpool Sunrace 2000
For the latest information on how the Fuji Xerox Desert Rose is going in the Whirlpool Sunrace 2000, check out the link at the Northern Territory University website. For more mature information visit the 2000 History page.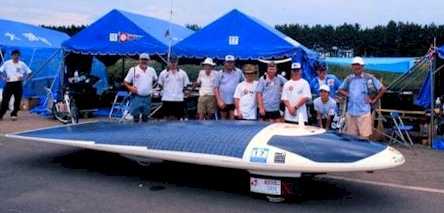 Fuji Xerox - Team
History Links - 2001 - 2000 - 1999 - 1998 - 1996 - 1995 - 1993 - 1990 - 1987


The Fuji Xerox Desert Rose has been racing for over a decade now. With this sort of experience, you would rightly expect that she would be a good performer. And she is!
Since her conception, prior to the very first 1987 World Solar Challenge (WSC), the Desert Rose has received numerous awards particularly in the area of technical excellence. Most recently, the Fuji Xerox Desert Rose was announced by the International Solar Racing Federation as the fastest solar car averaged over 100 kms. Averaging 107.78 kmh in the 'Hay 100', a feature of the Whirlpool Sunrace 2000, the Desert Rose achieved one of the highest accolades in solar car racing.
In 1999, the Desert Rose managed 4th place in the WSC for that year, only 1 hour behind the leader in the 3010 km race. This performance was her best to date in any WSC with 7th place in 1996, 7th place in 1993, 12th place in 1990 and 5th place in 1987.
The travels of the Desert Rose are not just limited to Australia however, she has also been twice to Akita in Japan. After a surprise phone call in 1995, the Desert Rose participated in her first overseas race, the 1995 World Solar Rallye. This was the first of two attempts to win, the second being held in 1998. Both races had good results, but better still provided important lessons on reliability and strategy.

The Desert Rose - glistening
| | |
| --- | --- |
| Body | Monohull with integral solar panel. Construction: fibreglass, Kevlar, carbon fibre. Coefficient of aerodynamic drag Cd<0.13. Overall dimensions: 5,800 x 2,000 x 700mm at a point of minimum depth. |
| Suspension | Front: McPherson strut utilising Fournales oleo-pneumatic suspension units. Rear: Swinging arm with Fournales oleo-pneumatic suspension units. |
| Running Gear | Front: Two 20inch wheels fitted with disk brakes. Rear: One 26inch drive wheel. Michellin tyres. |
| Final Drive | Wheel-mounted 10kW axial-flux, Nd-Fe-B permanent magnet, brushless DC motor; 96% efficiency at 1kW, 72kph; mass 16kg. Northern Territory University design and construction. |
| Steering | Chain and sprocket operated cross shaft. |
| Total Vehicle Mass | 195kg |
| Electrical | 48-volt motor and control system, designed and manufactured by the Northern Territory University. |
| Solar Array | Continuously curved array for optimum aerodynamic / crosswind performance; 4,000 x 2,000mm projected area and utilising special heat transfer techniques to minimise panel temperature. Cells manufactured by UNSW Centre for Photovoltaic Devices and Systems - efficiency 17-19%; total output 1,350watts at 25°C, at 1kW/m2 insulation. Array divided into 27 sub-areas; variation of angle of normal from mean within each sub-area ±3°. String length 30 to 60 cells. 13 sub-areas have two strings in parallel. 26 power point trackers, Northern Territory University designed, 99% efficient, are mounted, distributed on the array, feeding an aluminium bus bar system. |
| Batteries | 28 cells; 1.5V, 115Ah; weight 32kg. Manufactured by Eagle-Picher. |
For general information and enquiries about the Fuji Xerox Desert Rose, please contact:
Associate Professor Dean Patterson
Director
NT Centre for Energy Research
Email: d_patterson@banks.ntu.edu.au
Ph: +61 8 8946 6389
Fax: +61 8 8946 6993
---
The 1996 World Solar Challenge, 3010 km
Race Results
Placing
Team
Car
Origin
Time
Speed
1st
Honda R & D
Dream
Japan
33:32 h:m
89.76 km/h
2nd
United High Schools of Biel
sCHooler (*)
Switzerland
35:00 h:m
86.00 km/h
3rd
Aisin Seiki Co Ltd
Aisol III
Japan
37:18 h:m
80.70 km/h
4th
Mitsubishi Materials Corporation
Sun Challenger
Japan
45:07 h:m
66.72 km/h
5th
University of Queensland
Sunshark
Australia
46:24 h:m
64.87 km/h
6th
Waseda University
Sky Blue Waseda II
Japan
46:38 h:m
64.55 km/h
7th
Northern Territory University
Fuji Xerox Desert Rose
Australia
48:02 h:m
62.66 km/h
9th
University of New South Wales
Sunswift (*)
Australia
56:32 h:m
53.24 km/h
16th
Lake Tuggeranong College
Spirit of Canberra (*)
Australia
67:15 h:m
44.76 km/h
DNF
Aurora
Aurora 101
Australia
Did not finish, owing to accident on day 1 while running 4th
---
Solar powered car racing events continue to gain in popularity the world over judging from the number of world class teams listed below. They say racing improves the breed and this is no exception. Most of the development of solar racers is undertaken by university teams. It seems this is a young engineers sport and that the cars of the future are for the most part being developed by educational institutions with sponsorship from local business and government environmental initiatives.
SOLAR CAR EVENTS
American World Solar Challenge - Formula Sun
Australian World Solar Challenge
Canadian Solar Discovery Challenge
Dream Cup Solar Car Race Suzuka 2003 - Japan
Japanese World Solar Car Rallye
North American Solar Challenge
Solar Express - Solar Bike Race
---
A taste for adventure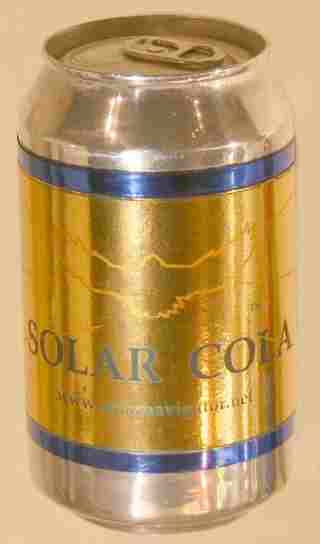 Solar Cola - a healthier alternative