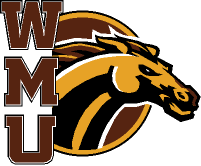 Western Michigan University (WMU) is a public university established in 1903; its main campus is located in Kalamazoo, Michigan. As of 2005, the school has over 25,000 enrolled students. The school is the fourth largest in the state of Michigan and is one of the 50 largest universities in the United States. The school's mascot is Buster Bronco, and the school colors are brown and gold.
WMU's College of Aviation is one of the largest aviation programs in the United States; the university is also noted for its Paper Engineering and Behavioral Analysis programs, as well as for the Haworth College of Business.
WMU's expansion projects include a new Business and Technology park for research, a new aviation campus in Battle Creek, Michigan, and extensive building renovation and restoration in the Kalamazoo campus, as well as a new Chemistry building and Performing Arts Center that are planned to be completed in the Fall of 2006.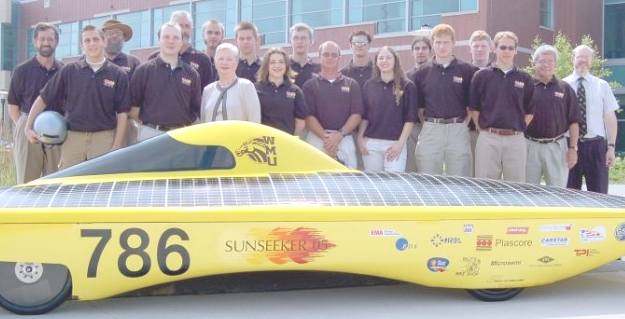 Western Michigan University - Sunseeker Solar Car Team 2005
ACADEMICS
Currently, Western Michigan University has 26,239 students enrolled for the 2005-2006 academic year; 21,434 undergraduate students and 4,805 graduate students. The average entering freshmen at Western received an ACT score of 20-25 and had a high school GPA of 3.3.
The university offers 254 degree programs through 9 colleges. The colleges that are part of WMU are: the College of Arts and Sciences, the College of Aviation, the Haworth College of Business, the College of Education, the College of Engineering and Applied Sciences, the College of Fine Arts, the College of Health and Human Services, the Lee Honors College, and the Graduate College.
The Haworth College of Business (Named for Haworth Inc., an office interiors company based in Holland, MI) operates out of Arnold Schneider Hall. The school is named for an alumnus, who gave a gift of $5,000,000 towards the construction of Schneider Hall, and later served on the school's board of directors. Aside from having a nationally recognized business program, the Haworth College of Business has one of the oldest and most successful Master of Business Administration (MBA) programs in the state. It also is the sixth largest college of business in the country, with over 5,200 students.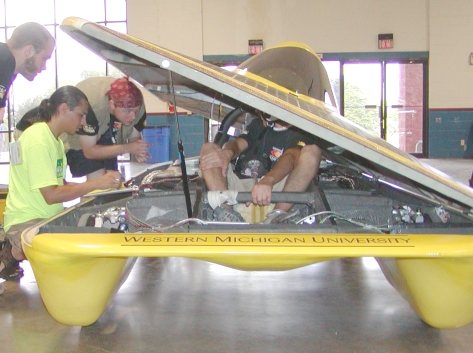 Well done Sunseeker Team - a credit to the University
SUNSEEKER TEAM MEMBERS:
Abraham Poot
Portage, Michigan, USA
Electronic Engineering Technology
Advisor
Andrew O'Neill
Portage, Michigan, USA
Mechanical Engineering Graduate Student
Consultant
Carl (CJ) Hawkins
Niles, Michigan, USA
Aeronautical Engineering Junior
Safety, Body, Driver
Helio Vogel
Rio De Janeiro, Brazil
Computer Engineering Graduate Student
Telemetry, Navigation, Co-Captain
Jim Plocinik
Livonia, Michigan, USA
Mechanical Engineering Senior
Suspension, Brakes, Co-Captain
John Horton
Union City, Michigan, USA
Computer Science
Advisor
John Kapenga
Kalamazoo, Michigan, USA
Computer Science
Advisor
Nathan Kesler
Edwardsburg, Michigan, USA
Secondary Education Junior
Electrical, Education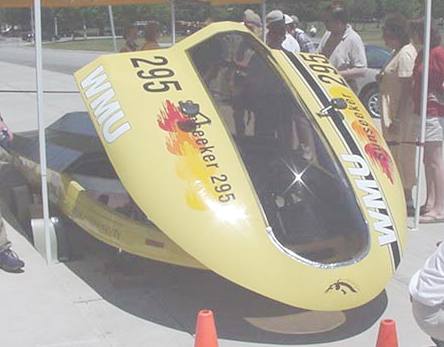 CONTACTS:
Abraham Poot
Sunseeker Advisor
Western Michigan University
1903 W Michigan Ave
Kalamazoo, MI 49008-5336
(269) 276-3372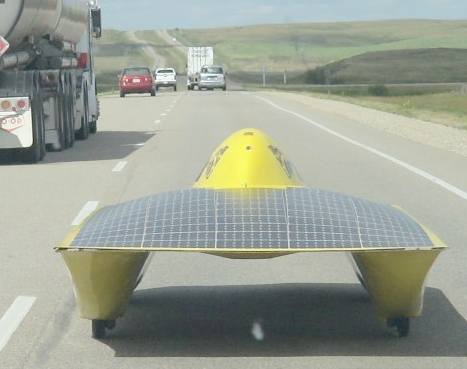 Sunseeker on the road to Calgary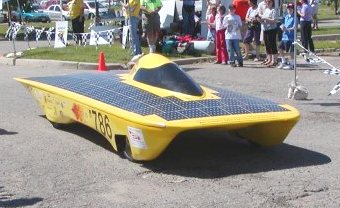 ---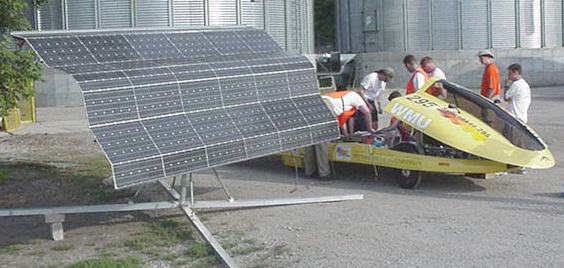 Western Michigan University - Sunseeker Solar Car Team 2001 - Repairs
SOLAR CAR EVENTS
American World Solar Challenge - Formula Sun
Canadian Solar Discovery Challenge
Dream Cup Solar Car Race Suzuka 2003 - Japan
Japanese World Solar Car Rallye
North American Solar Challenge
Solar Express - Solar Bike Race
During these competitions, students learn about solar panels, electric motors, electronics, vehicle chassis, bodywork, aerodynamics, suspension, batteries and how to solve practical problems during the design process, while working as a team. It's demanding stuff and more fun that laying in bed watching TV, where individuals may seek inspiration, but achieve very little.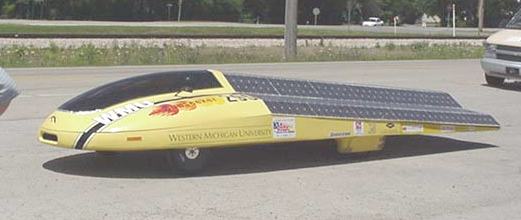 ---
A taste for adventure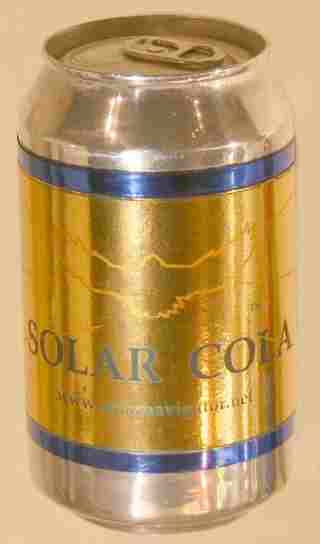 Solar Cola - a healthier alternative