In 1997, UniSA, Seaton High School, Fremont-Elizabeth City High and Annesley College formed the South Australian Solar Car Consortium. The aim of the Consortium was to help students design, build and race solar cars in the World Solar Challenge.
Our first car, Ned, debuted in the 1999 World Solar Challenge, where it came first in its class and 14th overall.

South Australian Solar Car Consortium - Ned
In 2000, Regency TAFE joined the Consortium, when they started work on their second car, Kelly. Kelly was first raced in the 2001 World Solar Challenge.
Ned has retired from racing, and is now touring South Australian schools as part of a Sustainable Energy programme being run by The Investigator Science and Technology Centre.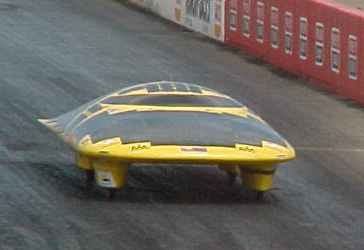 Ned racing
Ned and Kelly were made in the same moulds, and so have the basic design. Kelly, however, incorporates several improvements over Ned. Kelly is being prepared for the 2005 World Solar Challenge.
UniSA are continuing their work with ultra-efficient vehicles by developing a low-mass electric commuter car powered entirely by renewable energy. The aim of the Solar Commuter project is to design, develop, build and demonstrate a low-mass electric commuter car powered entirely by non-polluting renewable energy.

Solar powered racing cars are able to travel 700km in a day at speeds greater than 90km/h, yet we still drive around town in heavy, noisy, polluting cars. Over 90% of Australian commuter trips have only one person in a car. Furthermore, the car typically weighs 10-30 times the weight of the person being transported. Vast amounts of energy are required to propel these massive machines, and the conversion of fossil fuels into mobility results in 16% of Australia's CO2 emissions.
For more detailed information please contact peter.pudney@unisa.edu.au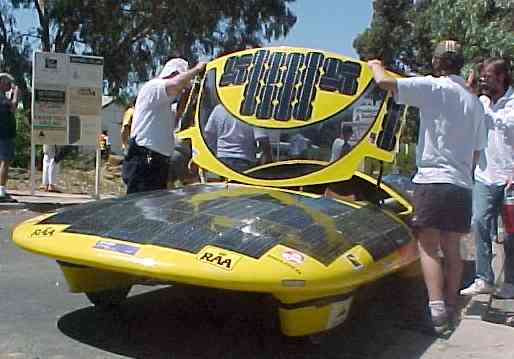 Ned canopy raised
---
Ned
Kelly

length

6m

width

2m

height

1m

mass

280kg

230kg

seats

2, side-by-side

wheels

4, carbon fibre

tyres

Michelin solar car

motor

NGM in-wheel motor

battery

80kg lead-acid

36kg lithium ion

array power

1200W

1500W

top speed

120km/h

cruising speed

75km/h

80km/h
---
CONTACTS
Associate Professor Wasim Saman
Executive Director

ph. (08) 8302 3008 fax (08) 8302 3380


South Australian Solar Car Consortium
University of South Australia
Mawson Lakes Campus
Mawson Lakes Boulevard
Mawson Lakes SA 5095

ph. (08) 8302 3270 fax (08) 8302 3380

South Australia Solar Car Consortium
email: wasim.saman@unisa.edu.au
PLEASE NOTE: If calling from overseas please dial +618 before the number, and omit the (08)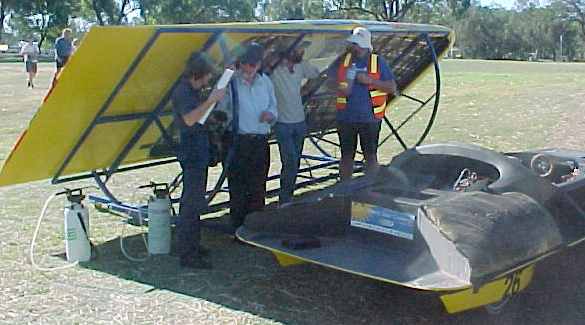 Ned charging
---
SOLAR CAR EVENTS
American World Solar Challenge - Formula Sun
Australian World Solar Challenge
Canadian Solar Discovery Challenge
Dream Cup Solar Car Race Suzuka 2003 - Japan
Japanese World Solar Car Rallye
North American Solar Challenge
Solar Express - Solar Bike Race
During these competitions, students learn about solar panels, electric motors, electronics, vehicle chassis, bodywork, aerodynamics, suspension, batteries and how to solve practical problems during the design process, while working as a team. It's demanding stuff and more fun that laying in bed watching TV, where individuals may seek inspiration, but achieve very little.
---
A taste for adventure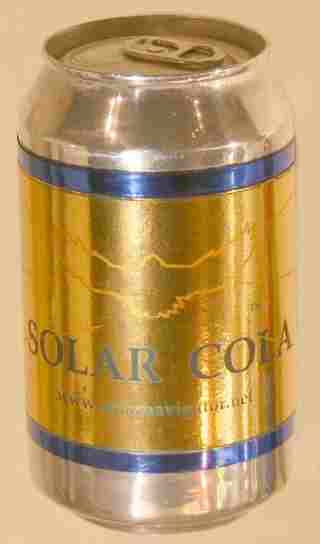 Solar Cola - a healthier alternative