Solar Miner IV silently gliding across Oklahoma in the 2003 American Solar Challenge race. The top performing cars can sustain up 65 mph running on pure sunlight. This car would ultimately win the Chicago to Los Angeles race.


Solar Miner IV
IMAGINE A CAR that gets the equivalent of 800 miles (1287km) to a gallon of gasoline, can travel all day at 55-65 miles per hour (90-105km/hr) without having to stop and refuel, and best of all, creates not even a gram of pollution. In fact, its only "fuel" is pure, clean, free, unadulterated sunlight. Don't try too hard to imagine it, just look at the solar cars on this site. The're here today.
Of course, there are a few drawbacks. You can only drive in daylight, and they can cost a bit more. Also, you'll have to do without some creature comforts like air-conditioning and heated leather seats.
Congratulations to the team for a job well done and for advancing the cause of clean, sustainable, electric transportation.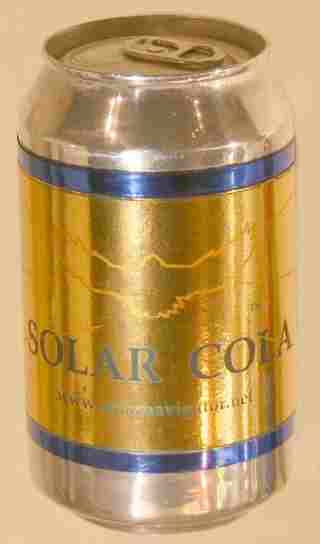 The Website is sponsored by Solar Cola