Besides a family and a job, everyone needs an interest in life, such as a good hobby. For many this could mean golfing, collecting classic cars or stamps. But for Dominic de Vries, the challenge that satisfies is taking on the SUN. Or rather, "racing with the sun". Thanks to his family and friends who are very supportive of his sometimes unconventional ideas, he could realise his dream, without the family expecting big trophies from him! Sounds too good to be true. NK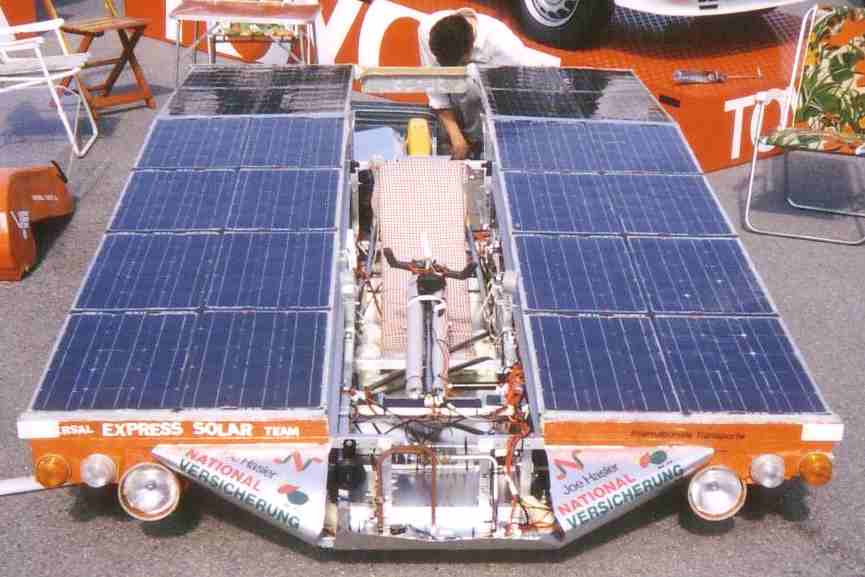 Heliox Tour de Sol 1990 (95kgs)
From 21-28 October 2007 the Panasonic World Solar Challenge - the most challenging race for solar racing cars in the world - will take place. The race crosses the Australian continent from the north to the south - over 3000 kilometers.
The event is was first organised in 1987 and achieved average speeds of more than 100 km / hour in 2005. A serious demonstration of the force of solar energy the only energy source with a long-term future
Switzerland organised the first solar race ever in 1985 which started a real "solar - boom". Only two teams from Switzerland have ever participated in the World Solar Challenge - the successfull "Ingenieurschule Biel" in 1987-1993 and "Heliox" in 1993. Unfortunately, they did not pass the finish line due to technical problems and a short preparation period of only 3 months. So they are having another try - to show that with standard solar components and vehicle-technology such a challenge can be successfully undertaken. That is of course the challenge.
Clear targets:
Two seats
Maximum vehicle construction costs of EUR 15000.00 (!)
Maximum weight of 100 kgs (withour driver/s)
Maximum 6 m2 of standard cells (WSC regulation)
Average speed of min. 50 km / h (WSC regulation)
THE TEAM...

Heliox are a family team:
Dominic constructor, driver
Sabine organisation, driver
Vincent co - driver, construction
Sidney fotos & support
....tbn driver
....tbn driver support vehicle
....tbn technical support
....tbn flexible and crazy enough to join us...
TEAM MEMBERS WANTED:
...and we need another few team members to join us - unfortunately we cannot offer money but a lot of adventure and a good time at one of the last real racing-challenges on this planet...
THE VEHICLE...
To avoid technical surprises and archieve our target, we only relay on standard products which are well tested. The vehicle and the components have to light and efficient. There will be a testing period of at least 12 months, starting in October 2006. All components are provided by reliable suppliers.
The main specifications are:
Lenght: 500 cm
Width: 120 cm
Hight: 100 cm
Weight: 100 kgs (without driver)
Speed: average 55 km/h - max. 80 km/h
Dominic de Vries in Heliox 1989
SOLAR ARRAY
We will wait until End of 2006 to decide for the best cells available a the lowest price. We will only race on standard cells. The possible specification according to actualy available cells are:

Surface 6 m2

Efficiency 20% (Array 19%) = 1150 Watts

This is 25% more efficient than 1993.

Aluminium space frame
BATTERY
Li-Ion batteries are available as standard components. We will drive with about 20 kgs battery

at about 3 Kwh storage capacity. 4 times the values of 1993.
MOTOR
The highest possible efficiency of the whole driving system (>90 %)

DC - motor at 48 Volts / 1.5 KW (2 KW max)

Low weight (<4 kgs)

Standard product, optimised
VEHICLE
3 - wheels

disc brakes

2 seats (!)
---
CONTACTS
www.sunbuy.ch/heliox - heliox@sunbuy.ch
+41 79 320 35 43
---
VEHICLE HISTORY
HELIOX 2 (1985)
Heliox 2 constructed for the first Solarrace of the world - The TOUR DE SOL
started in Juni 1985 in Romanshorn in Switzerland (with more than 20000 specators) and ended after 400 km in Geneva.
The average speed of the vehicle was about 20 km / h and the race was driven on the normal roads in the traffic.
Solar array 240 Watts (12% efficiency)
Motor DC Motor with max. 800 Watts
Battery Lead acid with 1.4 kw/h
Speed max. 40 km / h
HELIOX 6 (1989)
Solar array 480 Watts (15% efficiency)
Motor Asynchronus Motor with max. 12000 Watts
Battery Lead acid with 2.4 KW/h
Speed max. 90 km / h
HELIOX 8
Vehicle Data
Weight 130 kgs
Battery lead acid 65 kgs
Speed max. 60 km/h
average 38 km/h
Motor 2 x 800 W AC 24 Volts (Efficiency 70%...)
The vehicle was constructed in 3 months time before the start of the race and was only tested for 500 meters.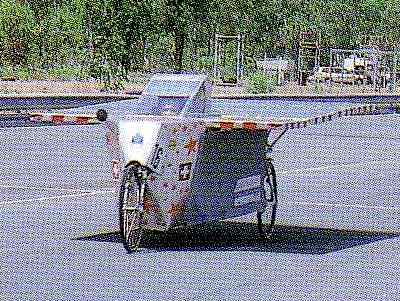 Heliox1993 WSC
---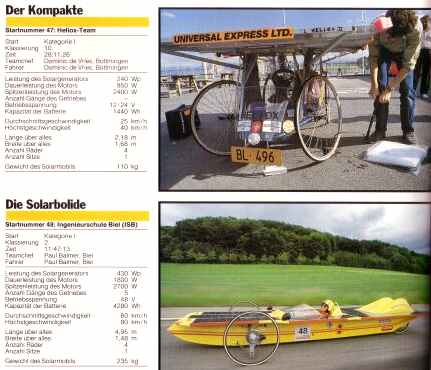 Heliox - Der Kompakte
SOLAR CAR EVENTS
American World Solar Challenge - Formula Sun
Canadian Solar Discovery Challenge
Dream Cup Solar Car Race Suzuka 2003 - Japan
Japanese World Solar Car Rallye
North American Solar Challenge
Solar Express - Solar Bike Race
---
A taste for adventure capitalists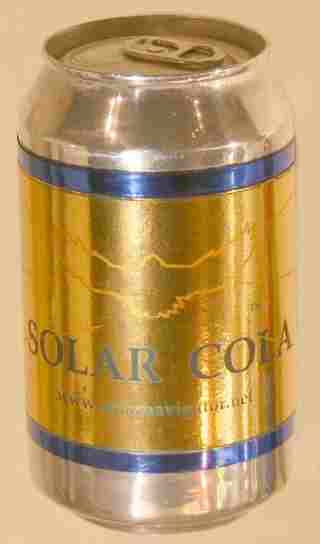 Solar Cola - a healthier alternative.