AIMS OF THE PROJECT
SOLAR WING is designed like the airfoil section on an aeroplane wing to give a pleasing shape and striking look.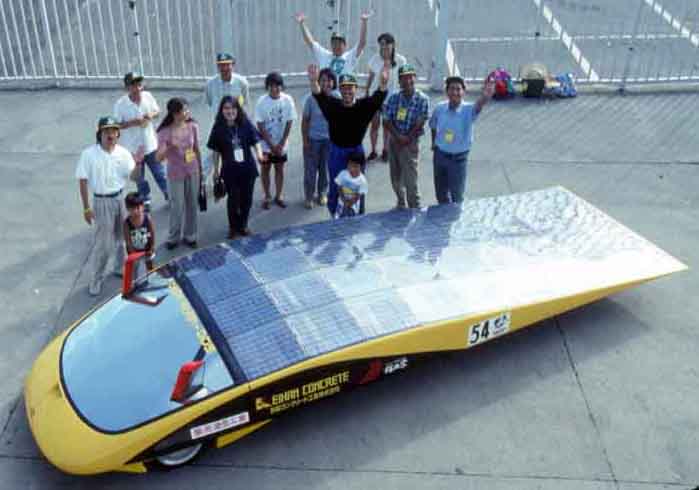 Solar Wing - project team members
Dimensions: total length 6m x 1.9m total height x 1.05m which

Weight: body 128kg - battery 72kg (1.95kw/h) - total 200kg

Solar Cells: Polycrystaline type, Kyocera PSF50H-361 giving 798.84W

Motor: DC brush less DR086S /3.5Kw

Batteries: YUASA lead-acid pack which operates @ 108V with a capacity of 1.957kw/h.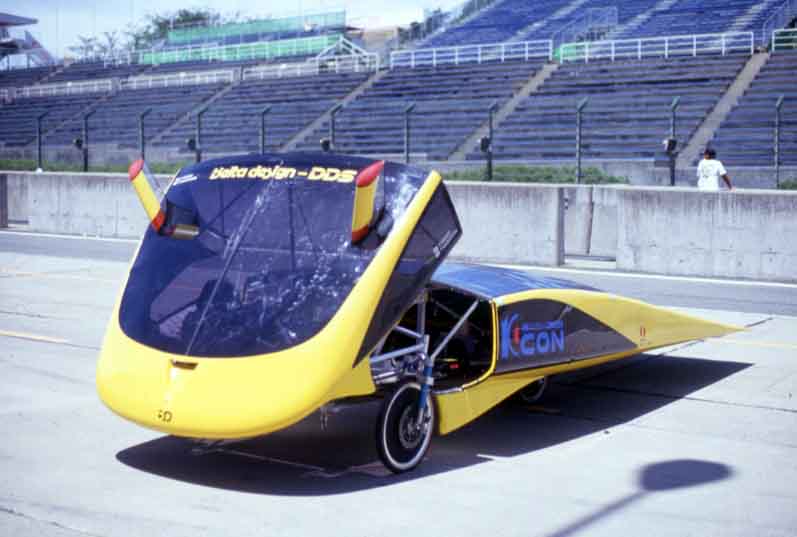 Solar Wing - canopy open
BELTA DESIGN-DDS
The team wanted to make a contribution to solving the energy problem for transport while being considerate to the environment and providing general engineering interest to the participating students. The hope is that in adult life these students will have good opportunities as a result of their experience and that the interaction between humans and nature will be better understood and integrated as an obligation to the future of the planet
SPONSORS: Many thanks to:-
K-Con.Co.LTD,
SHIKO Co.LTD,
FUKUMITSUYA CO.LTD
JA-Kyosai, TSURUGI Town and KURARAY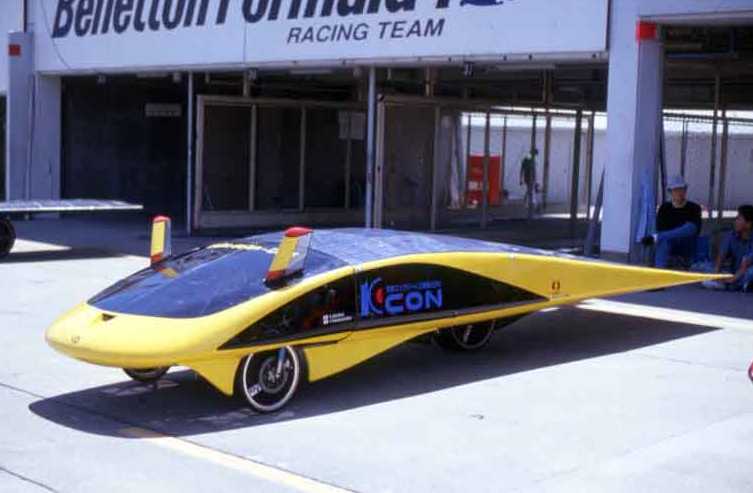 Solar Wing - side view
SOLAR CAR RACING EVENT A - Z
During these competitions, students learn about solar panels, electric motors, electronics, vehicle chassis, bodywork, aerodynamics, suspension, batteries and how to solve practical problems during the design process, while working as a team. It's demanding stuff and more fun that laying in bed watching TV, where individuals may seek inspiration, but achieve very little.
Healthier alternative tastes for adventure capitalists
Solar Red | Solar Crush + | Solar Cola | Solar Citrus + | Solar +