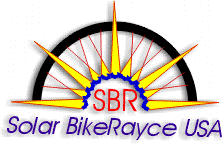 What Is Solar BikeRayce?

Solar BikeRayce USA is an annual, international closed-course "rayce" held in Topeka, Kansas. Teams compete with vehicles that are powered either partially or entirely by solar power. These pedaled and non-pedaled, solar-assisted vehicles are referred to as "Solar Bikes".


The objectives of the event are to stimulate interest in science and technology and to raise awareness of alternative energy sources. More information about the event can be found at http://www.solarbike.org.
Who Organizes the Event?

The event is held as part of the Formula Sun Education Foundation. Information about the foundation can be found at http://foundation.formulasun.org.
Solar BikeRayce USA is sponsored by the Kansas Corporation Commission, New Resources Group, and the Mid-America Renewable Energy Technology (MARET) Center at Crowder College in Neosho Missouri.
Solar BikeRayce can be contacted by email at hq@solarbike.org.
Who Can Enter?

Teams of all ages, from schools or private groups can enter. Depending on the team members and the type of bike built, teams enter one of the following categories and classes:
Categories:

1. High School (15-18 years): Women's and Men's/Mixed. This category includes high schools, technical schools and other secondary educational institutions.
2. Adult (19-49): Women's and Men's/Mixed
3. Senior (50 +): Women's and Men's/Mixed

Classes:

A Class: Stock Solar Cycle (a pedal bike)
B Class: Modified Solar Cycle (no frame or fairing restrictions)
S Class: Solar Vehicle (no pedals)
X Class: Open Class (pedals are allowed)
Further explanations of the differences between these classes are found in the Regulations.
Newsletter Entry Info Listserv History
SBR HOME About SBR Teams Media Tech Workshops
Media contact for Solar BikeRayce:
SBR HQ
PO Box 30
Freeman, MO 64746
USA
Phone: 509.968.3601 / 816.899.5511
Fax: 509.968.3602
E-mail: hq@solarbike.org
SOLAR CAR RACING EVENT A - Z
A dream can make all the difference under the sun - when a bunch of high school misfits in Hawaii, introduced by their new teacher (Halle Berry), attend a science fair in which they draw up inspiration to build their own solar car and win a trip to compete in the 1990 World Solar Challenge in Australia. One of my favourites NK
Healthier alternative tastes for adventure capitalists
Solar Red | Solar Crush + | Solar Cola | Solar Citrus + | Solar +