The Borzoi's aluminium body panels were hand formed on the frame and over any convenient shaped surface, including a knee, but mostly over round and square section steel tubes. I found a large vice helpful to bend tight angles accurately. You'd need a folding machine if you were going to make this a career. I didn't build enough cars to warrant that expense. In any event, I soon discovered the joys of glass reinforced plastic.
To make a nice looking car, you will need a good eye, some long straight edges, a sharp scribe and I use fine nib felt tip pens - which, be careful to wash off with thinners after making the panels, because they leach through primer into your topcoat. You'll also need a workbench or table large enough to mark out 8' x 4' sheets of metal. To cut thin metal sheet, you'll need a jigsaw and tin snips. It's all very basic equipment.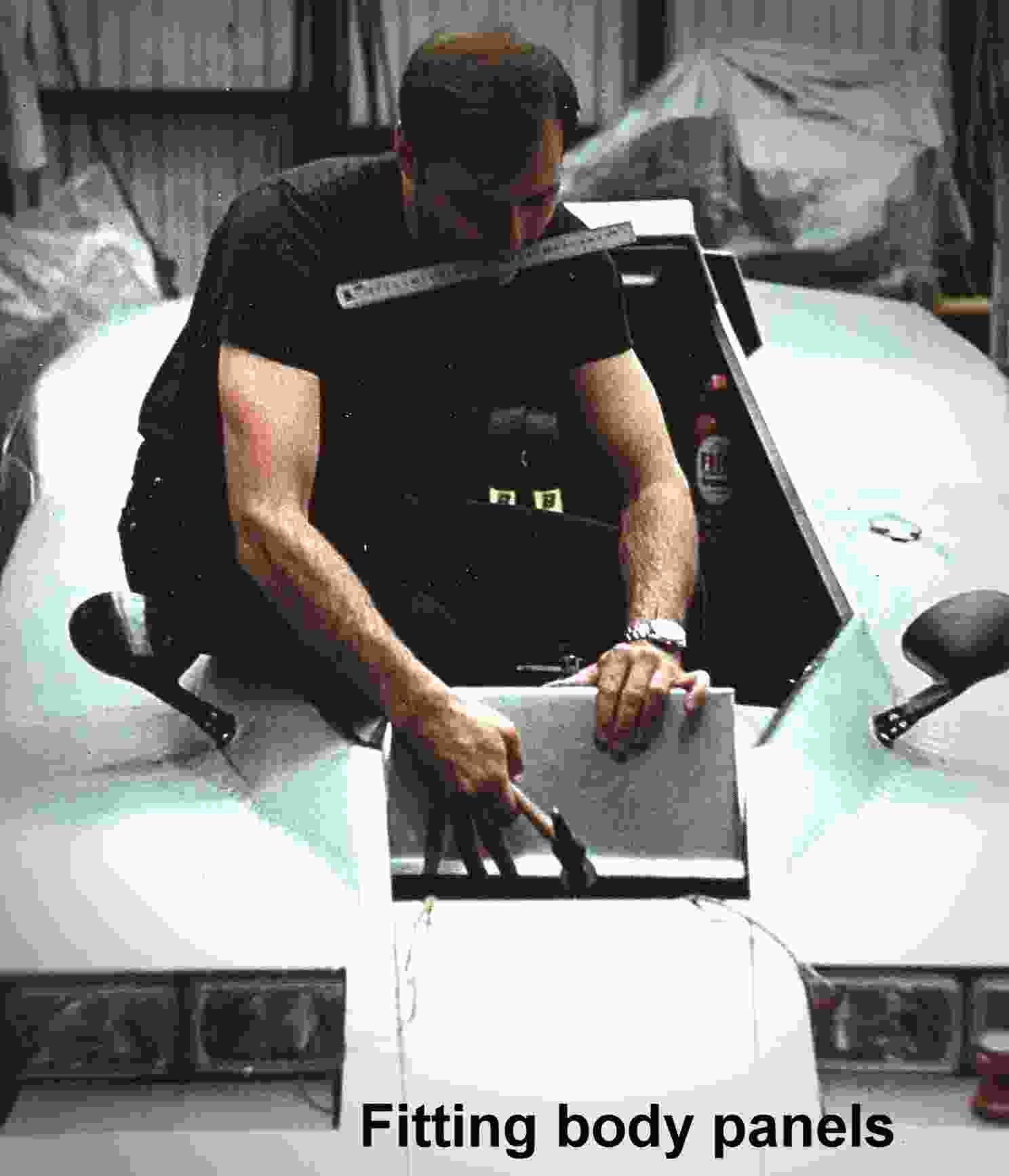 Nelson Kruschandl fitting the Borzoi's dashboard cover
The car was etch primed, then finished in a two tone metallic silver and charcoal paint scheme - using a 2 pack base and clear coat system. Etch priming of aluminium is essential, where protective oxides form quickly preventing good paint adhesion. Once there the acid in the etch primer has keyed paint to the metal, the following coats of primer and 2-pack will bond nicely.
I'm not that good at spray painting. It's an art. The paint must be at the right temperature and viscosity - and it pays to use a quality gun. Also, the compressor needs to have a good output. Mine didn't. I made my compressor unit myself by bolting a small tire pump to a large air tank and upping the gear ratio. it worked fine, provided that you waited in between coats of paint for the poor old tire compressor to raise the tank pressure. I found that I could not only make a cup of coffee, but could drink it in the time this took.
Eventually, I managed to obtain a reasonable full gloss coat without runs. When using metallic paint as base and clear coat, there is not much time allowed between coating the colour coat and applying the clear coat. If you leave it too long, you will lose the chemical bond and one day soon the lacquer will peel off.
As an inventor, you have to become a jack of all trades: draughtsman, mechanic, welder, machinist, painter, etc. Either that, or your cars will end up costing a fortune. I'm also a patentee. This came about because I didn't want to use a conventional steering wheel. Basically, I like doing things differently. It seemed to me that a joystick was a simpler arrangement - and it is, but the rack and pinion steering gear has its advantages, such as reducing the strain of steering on heavy vehicles.
I can't recall why I applied for a patent, and sometimes I wish I hadn't because of the cost and really these days for a lone inventor - you are wasting your time - unless that is you are independently wealthy. I was not wealthy at the time, I'd just got married and bought my first house in Polegate, Sussex. Although my wife married me for my creativity (she was a gifted artist), that soon wore off as money went to pay for patents (which spirals) with no sign of any return - and with a mortgage around your neck it's no laughing matter. I'm surprised my marriage lasted so long. We also suffered from negative equity thanks to Black Monday.
Mind you, if I hadn't been through the mill, a sort of innovation apprenticeship, I'd never have crafted some of my favourite shapes. You can see my other (electric) vehicle designs on this site. I conceived the vehicle below and hope the team will be able to build it one day. Even it it's only because it looks so nice.
See the Car development build stages and features below:
Borzoi Chassis | Borzoi Bodywork | Borzoi Joystick | Borzoi Styling | Borzoi Engine
CHASSIS | LOADING-SERVO | CARTRIDGE | MOTORS | INSTRUMENTS | WIND-TUNNEL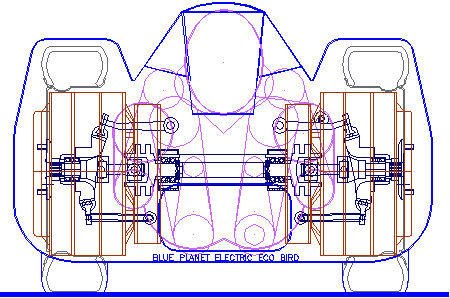 The Blueplanet Ecostar is long and low. It features battery cartridge refueling.
The driver sits at the rear dragster fashion, the battery cartridge is in the front
all the way to the nose cone. Check out the battery cartridge exchange sequence below.

Contact us:

or phone UK:


Intelligent Battery Support System
THE BLUE BIRDS OF HAPPINESS

If your land speed record car cannot refuel itself like this, you are at a huge disadvantage. Blueplanet is around 66% the weight of a car that does not have cartridge exchange refueling for the same performance.

Blueplanet has inbuilt battery loaders. It does not need a
complicated service station to refuel itself in under 2 minutes.
LEAD-WEDGE SILVER-EAGLE BATTERY-BOX LIGHTNING-ROD WHITE-LIGHTNING BUCKEYE BULLET EMOTION
JEANTAUDE JAMAIS-CONTENTE BAKER-TORPEDO