Nelson Kruschandl built the Borzoi single seat sports car to evaluate the 'Joystick' type twin handle lever control shown below, the subject of British patent GB 2218187 A, granted in June of 1992.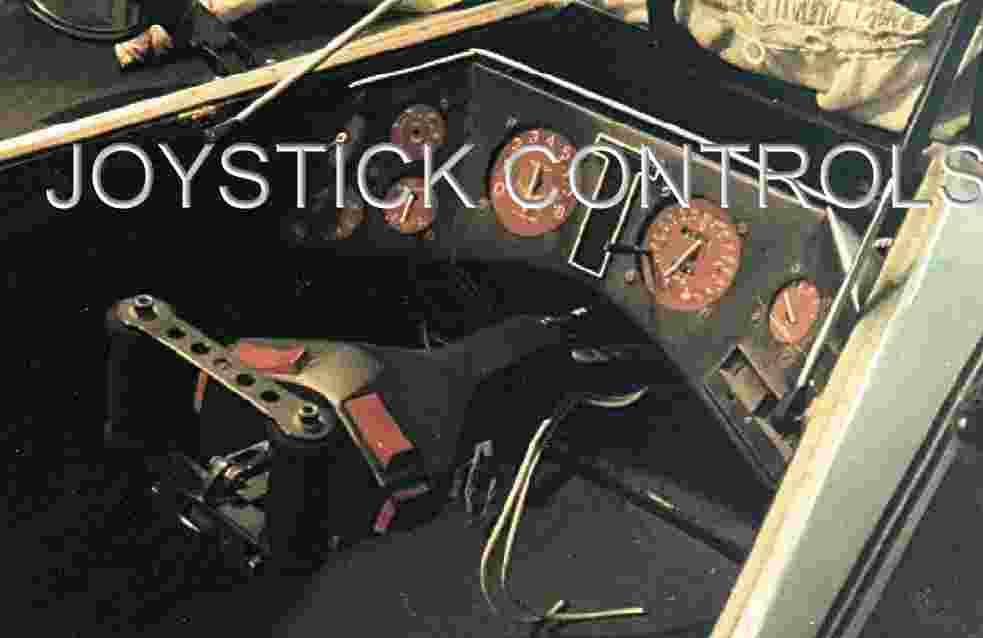 Twin handed joystick controls and switchgear
Even before it was completed, the Borzoi was used to demonstrate the ease with which one handed driving may be achieved. Featured in several media articles in 1990, including: The Evening Argus, Eastbourne Gazette and Evening Standard, and Meridian television, then appeared at the Bexhill 100 motor festival in 1991 and the Daily Telegraph in 1992.
Unfortunately, the power steering rack was never fitted to truly show the system at its best. Unlike the GM joystick cars of the sixties and Volvo joystick cars of the eighties, the Borzoi used a mechanical configuration, to comply with DOT safety regulations, so could be incorporated into production vehicles.
Bibliographic data: GB2218187 (A) ― 1989-11-08
Automobile combination lever control or joystick
Page bookmark
GB2218187 (A) - Automobile combination lever control or joystick
Inventor(s):
KRUSCHANDL NELSON JAMES +

(NELSON JAMES * KRUSCHANDL)

Applicant(s):
KRUSCHANDL NELSON JAMES +

(NELSON JAMES * KRUSCHANDL)

Classification:
Application number:
GB19880010842 19880506
Priority number(s):
GB19880010842 19880506
Also published as:


Abstract of GB2218187 (A)
A lever or joystick with vertical handles, is arranged mechanically and electrically to combine all the main control functions of a motor vehicle by the following method: Steering by pushing left or right. Accelerating by pushing back and braking by pushing forward. De-Clutching by pulling in a hand lever mounted on the joystick handles & selecting gear ratio by pushing electric switches located above the clutch lever may also be effected. A Pod or Console also optionally attached to the joystick and within easy reach of the handle grips carries the usual electrical switchgear to operate: The Ignition - Indicators - Lights - Wipers - Horn ... of the motor vehicle.
( 1 ) AUTOMOBILE COMBINATION LEVER CONTROL OR JOYSTICK

DESCRIPTION

This invention relates to a method of steering, braking, accelerating, gear selection & de-clutching a motor vehicle, using a single combination lever control or joystick.

Motorised vehicles including cars, vans & trucks for use on the public highways use a system whereby separate levers and a geared wheel have to be coordinated by the Driver to effect directional & velocity change control. The system is clumsy, taking many hours of rehearsal to reach a stage of familiarization whereby a person-having normal faculties can control a vehicle so equipped.

Concentration and Driver fatigue soon lead to reduced performance. Moreover, the expense of manufacturing & fitting many separate control devices, could be reduced if combined in one compact unit.

This present system groups all the controls onto a single lever or joystick, located comfortably for the seated Driver. Two hand grip stations are fitted atop the joystick which enables either hand to be freed when required for supplementary control usage & other normal duties, although it is possible to drive a vehicle equipped in this way single handed. To accelerate the vehicle, the Driver merely pulls the hand grips back. To brake, the Driver pushes the lever forward. To steer, the Driver pushes left to go left or right to go right. A hydraulic hand operated clutch lever ( motor cycle style ) is located on one hand grip station - left or right - depending on the Driver's need/ preference. Electric push button switches placed above said clutch lever provide gear selection options of up and down ration via solenoid operation.

Vehicles using an automatic gear box need not of course require a clutch lever or push button gear selection.

Placed approximately 100 mms before the joystick handles - within easy reach is a pod/console containing the usual electrical switch gear to control Ignition - Indicators - Lights - Wipers - Horn.

This pod/console is attached to and moves with the joystick, to provide constant location relative to hand position whilst driving.

The joystick action is geared to provide moderate movements at the joystick handles. Power assistance via hydraulic: Pump - Apportioning Valve - Two Way Slave Ram . . ease the steering movements. Joystick motion connects with conventional rack or recirculating ball type steering gear - via a suitable rose or metalastic joint on a common axis with the hydraulic slave power ram.

Similarly, conventional vacuum servo assistance is applied to braking movements to reduce the Driver's operating inputs. Remote brake fluid reservoirs are linked to the brake Master Cylinder with flexible hydraulic hoses - the Master
Cylinder being mounted upon the joystick itself.


( 2 ) AUTOMOBILE COMBINATION LEVER CONTROL OR JOYSTICK

CLAIMS
1. A combination lever control or joystick for motor vehicle control
comprising a. tubular main shaft with vertical hand grips. Connections
to the said main shaft via ball & hinge joints, rods, cable, hydraulic
couplings, electric wiring & motivators to link the 'Driver as demanded
by positional placing of the main shaft using the hand grips, with steering
to left or to right, accelerating by pulling back & braking by pushing
forward.

2. A combination lever control as claimed in Claim 1. wherein a Thand -opereted
lever'is provided parallel to one hand grip & hinged at one end to operate
de-clutching of the vehicle via hydraulic means.

3. A combination lever control as claimed in Claim 1. or 2. wherein electrical
switches are provided above the hydraulic clutch lever to control gear
selection via solenoids.

4. A combination lever control as claimed in any preceeding Claim, wherein a
Pod or Console is 'attached to the moving main shaft within easy reach of the
hand grips containing the usual electrical switch gear to operate:
Ignition - Indicators - Lights - Wipers - Horn of the motor vehicle.

5. A combination lever control substantially as described herein with
reference to the accompanying description.


---
PATENT CLASSIFICATION
LAND VEHICLES FOR TRAVELLING OTHERWISE THAN ON RAILS B62

MOTOR VEHICLES; TRAILERS (steering, or guiding on a desired track, of agricultural machines or implements A01B69/00 ; wheels, castors, axles, increasing wheel adhesion B60B; vehicle tyres, tyre inflation or tyre changing B60C; connections between vehicles of a train or the like B60D; vehicles for use on rail and road, amphibious or convertible vehicles B60F; suspension arrangements B60G; heating, cooling, ventilating or other air treating devices B60H; windows, windscreens, non-fixed roofs, doors or similar devices, protective coverings for vehicles not in use B60J; propulsion plant arrangements, auxiliary drives, transmissions, controls, instrumentation or dashboards B60K; electric equipment or propulsion of electrically-propelled vehicles B60L; power supply for electrically-propelled vehicles B60M; passenger accommodation not otherwise provided for B60N; adaptations for load transportation or to carry special loads or objects B60P; arrangement of signalling or lighting devices, the mounting or supporting thereof or circuits therefor, for vehicles in general B60Q; vehicles, vehicle fittings or vehicle parts not otherwise provided for B60R; servicing, cleaning, repairing, supporting, lifting, or manoeuvring, not otherwise provided for, B60S; brake arrangements, brake control systems or parts thereof B60T; air-cushion vehicles B60V; motor-cycles, accessories therefor B62J, B62K; testing of vehicles G01M)[C9503] B62D

Steering controls, i.e. means for initiating a change of direction of the vehicle

---
The inventor later filed a patent in respect of Electric vehicle refuelling: 2253379 which is some 50 pages and may qualify as a Guinness World Record.
See the Car development build stages of the Borzoi prototype car using these links:-
Borzoi Chassis | Borzoi Bodywork | Borzoi Joystick | Borzoi Styling | Borzoi Engine
CHASSIS | LOADING-SERVO | CARTRIDGE | MOTORS | INSTRUMENTS | WIND-TUNNEL
---

If your land speed record car cannot refuel itself like this, you are at a huge disadvantage. Blueplanet is around 66% the weight of a car that does not have cartridge exchange refueling for the same performance.

Blueplanet has inbuilt battery loaders. It does not need a
complicated service station to refuel itself in under 2 minutes.