Peter Perkins had two reasons for building his solar van. First and foremost he wanted to do something to help demonstrate a commitment to our fragile environment, by showing that no emission vehicles are a practical reality if you are prepared to make some sacrifices. (The sacrifices required are becoming smaller as technology improves day by day, i.e. better batteries = more range.)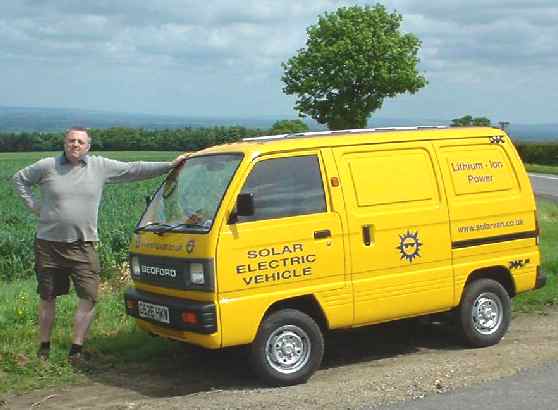 Peter Perkins and his Solar powered Bedford Rascal van
Secondly, he wanted a project that would give me challenges, pleasure and satisfaction during all the phases of its continuous development.
Note: Peter and wife also drive Honda Insight hybrid vehicles which are capable of 80-100mpg.
With hard work over a period of over five years, Peter started with a basic Bedford Rascal van with a blown engine, and spent the first year stripping it down and repairing it. Once he had a solid base, he researched and installed the various components required to turn it from an internal combustion engine powered, noisy, smelly, gas guzzler, into a silent, clean, electrically driven head turner.
The solar van is in reality quite simple from a technology point of view.
1) Electricity is stored in a large capacity set of Li-Ion batteries. The batteries are designed for repeated cycling, that is charging and discharging. The 28 batteries in the ventilated secure container are "Thunder-Sky" Li-Ion types of 3.6v 200ah capacity. This battery pack stores about 20kwh of electricity. The batteries are connected in series providing 100v at 200ah capacity. The batteries are managed by a series of individual balancing and sensing circuits on each cell, designed by Cedric Lynch of "Lynch Motor" fame, which detect over and under voltage. These signals are presently used to control the charger and inverter to prevent battery damage.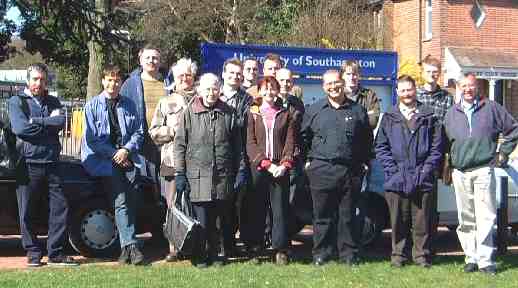 This picture from 2003 Lithium-Ion UK battery conference shows Peter and other enthusiasts who participated in the first UK bulk purchase of Thunder Sky cells
2) The batteries are charged from a variety of sources at every opportunity. Solar power currently provides about 10% of the daily energy (based on my 26 mile daily commuting requirement) and as the 200w "Solara" solar panels are fixed to the vehicle, they charge the batteries at varying levels during all the hours of daylight. Power is also fed into the batteries by an onboard mains powered Zivan NG3 3kw charger with a small charging socket behind the old petrol filler cap! The addition of a small "Air-X" wind turbine which produces up to 400w could render the vehicle independent of any mains power. An off board home made 50A 6KW charger can also be used for quick charging!
3) The motor is a brushless 3 phase low voltage AC induction motor made by "Best Motors" in Italy. It is rated at 96v 12kw continuous power and can produce over 300nm of torque at low rpm. I opted for range and relaxed cruising in my design not speed. The motor is mounted in a similar position to the old petrol engine, and is connected directly to differential using a custom prop shaft.
4) The motor is controlled by a "Zapi" 96v 450A electronic AC 3 phase regenerative inverter. This very clever box uses big mosfets to convert the 100v battery supply into a smooth 3 phase AC supply, with total flexibility over speed and power through numerous console programming options.
5) The vehicle has no gearbox as the motor has very high torque at low speeds, and reversing is accomplished by simply changing the direction of current flow through the motor.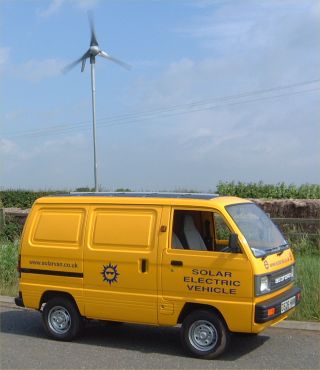 The wind generator is only for use when the vehicle is parked
The vehicle is not driven with the generator erected
6) With the old engine gone some things like a 12v supply for all the lights and ancillaries, vacuum for the brakes servo etc, have to be found in alternative ways. The 12v normal car supply is provided by a small efficient dc-dc power converter which changes the 100v of the main battery pack to the 12v required, this charges a 15v 56 Farad Maxwell Supercapacitor, and then in turn provides all the power required. The brakes use a servo assist unit which relied on the induction vacuum from the old petrol engine. Luckily neat 12v electric vacuum pumps are available which simply connect directly to the servo and pump as required.
7) The old dashboard has been replaced with a collection of digital meters which provide information on various vehicle parameters. I intend to replace this with mk2 of by own BMS and PC display system when I get around to it!
8) Safety is an important factor with any vehicle, and an electric one is no exception. A big red "Albright" lockable emergency disconnect switch is mounted on the centre console between the front seats, and serves as a safety cut-out and means of isolating the electrical circuits for maintenance etc. A 300A fuse is also fitted into the main battery supply. A multitude of other fuses and relays protect various parts of the charging and auxiliary power circuitry. A dry powder fire extinguisher is also carried.
The fully collapsible and neatly stow-able wind generator has been added to improve the green/renewable energy efficiency of the van, and to provide a remote power source when the sun is obscured or at night.
The Air-X 12volt 400w 30A wind turbine at the top of the light weight but very strong alloy home made support is a nice quiet unit. It operates in any wind greater than 7mph, and produces it's peak power when the wind speed reaches 28mph. The wind turbine maximum output 400w is exactly double the 200w peak produced by the solar cells. The combination of the two on a nice sunny but windy day would produce 600watts! Enough power to fully charge the batteries during the course of a day.
The wind turbine (weight 13lbs) is approximately 4m above ground level.
Erection or stowage of the wind turbine can be accomplished in less than five minutes by a single person. (Video of the wind generator! 400kb wmv file.)
Once the top bracket is unclipped the whole assembly tilts down on the lower bracket to the horizontal, allowing easy assembly/disassembly. The bracket hinge pins are removable, and the only items permanently fixed to the vehicle are the top and bottom mounting half hinges!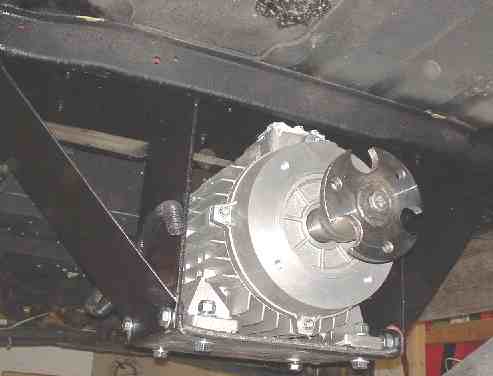 Peter upgraded from DC to AC drive which prompted a lot of questions
The old versus new motor comparison pictures are seen below. The new AC brushless 3 phase induction motor provides much higher starting torque, regeneration and should also be about 10% more efficient. It certainly runs a lot cooler than my old DC one. It does however weigh about 2.5X as much as the old DC one.
The motor in mounted on 5mm steel support welded to chassis. Motor support can be unbolted and dropped down using a trolley jack. Motor angle also adjustable to align with prop shaft and differential. Peter was taking no chances here, and we've all been there!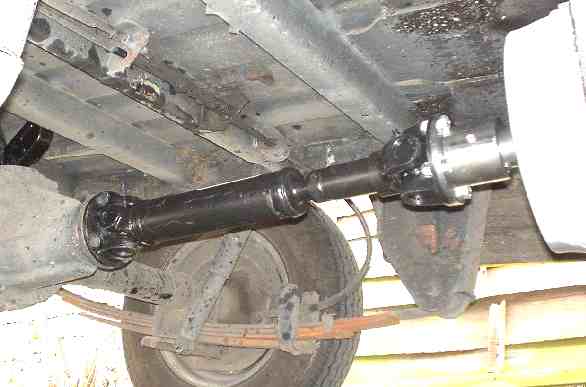 Motor connects directly to differential via a short propshaft
General upgrade issues
Sourcing a suitable AC system was quite a job, I considered the high voltage Siemens, Brusa and low voltage Curtis systems, before deciding on the Zapi. I eventually went for the Zapi as it allowed a higher battery voltage 96v versus the Curtis 80v. It is however not as flexible, and may not have been the best choice. The Inverters have to be programmed to suit the motor, and neither Zapi or Curtis would supply an inverter without a motor as well. The Curtis motor quote was over twice as expensive as the Zapi. Both inverters were similarly priced. Total cost of Zapi 96v 350A AC Inverter and 96v 12kw AC motor was £2000 inc delivery and taxes. The upgrade used low voltage components. and I was able to reuse things like my old contactor, charger, dc-dc converter etc, and I preferred the safer lower system voltage.
The Zapi Inverter was designed for forklifts and the like, and it's speed control is very tight. It does not seem to allow coasting which is a shame, I might modify it to allow that if I can. It's a bit like driving with permanent cruise control. You select your speed it accelerates up to that, and then keeps it pegged at whatever you set, drawing more current going uphill and regenerating when going downhill if necessary to maintain your set speed. I am adjusting my driving style to accommodate it, and I will do a range test as soon as weather improves. The Zapi does have a fair amount of programming options, and you can adjust max speed and current to prevent people who might borrow your pride and joy crashing it! I'll report back on which goes further the old DC or the new AC. Note I had to drop from 30 to 28 cells to use the AC system as the final voltage was too high using 30 cells. So I have lost 10% capacity but hopefully gained 10% efficiency with AC and regeneration.
Peter says he is still learning and wishes other electro-neers good luck with their own projects, as do we.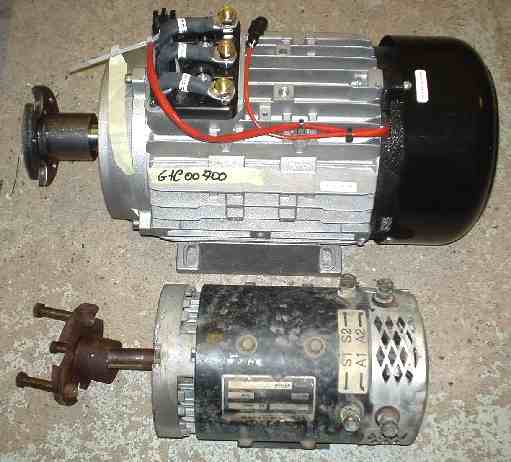 Left AC (top) DC (bottom) motor comparison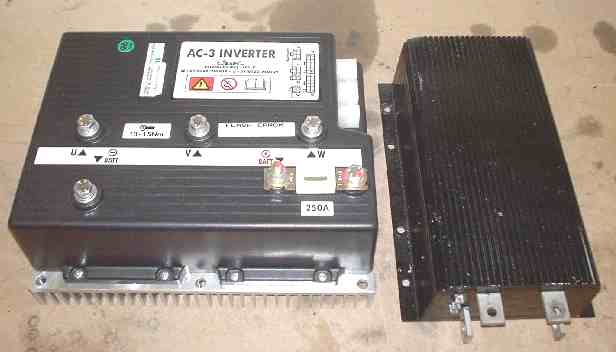 AC (left) DC (right) controller comparison
The solar van is available for viewing at any time if you happen to see Peter about. Its also available by appointment for demonstrations at car shows or other events, for a modest fee to cover my expenses. E-mail Peter for details. Your best chance to see it is when you are in the Asenby, Thirsk or Northallerton area in North Yorkshire, where Peter lives and uses it on a daily basis.
Peter built his van as a one off, for his own interest, hence it was not the cheapest conversion. However, it costs more to learn as you go, but we think that's all part of the fun.
The total cost of the Solar Van and all the components was about £10,000, which does not include the hundreds of hours a project like this takes while you experiment and learn the best way to tackle things!
Here is a rough breakdown of the prices:
Base vehicle £250. AC motor £1000. Batteries £4750. AC Inverter £1000.

Charger £500. Vehicle repair £1,500. Solar cells £1,000. Sundries £750.
You can buy parts second hand of course. Peter already had a number of the above items from earlier electric vehicle projects.
Running cost are pretty good.
UK road tax is free!!! Yes, electric vehicles have to have an excise licence, but it's issued for free.
The Solar Van is also exempt from the UK MOT test, as it fits into the same class as milk floats!
Recharging cost can be very low if you use off peak electricity and have good weather. Mains electricity recharging cost works out at about 2.5p per mile. The van consumes about 250wh/mile in use, and cover approx 4miles per kwh consumed.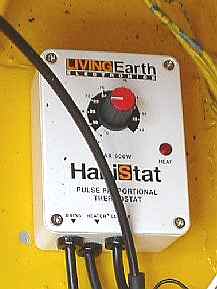 "Habistat" Pulse proportional control battery heater controller
gives accurate heating of battery compartment used to control under cell heating
150w heater maintains 20C in ambient of 5C uses about 1kwh daily
batteries more lively in terms of charge and discharge ability
LINKS and REFERENCE
"EVUK" - A UK non-profit website promoting Zero-Emission Electric Vehicles and Related Renewable Energy Technologies. Join the green 'Axis of EVol-ution' !
"Thunder-Sky" Li-Ion batteries used in the solar van!
"Solara" Solar panels used on the solar van!
"Air-X" The wind generator used on the solar van!
"Best Motors" The motor used in the solar van!
"Zapi" The throttle used in the solar van!
"Agni Motors" suppliers of Cedric Lynch's Li-Ion cell protectors.
"Albright" The emergency stop switch & contactors used in the solar van!
Email: Peter Perkins
| | |
| --- | --- |
| Click here to download Peter's DC-AC upgrade photo selection zip archive. (4mb file) | Click here to download the Zapi AC3 Inverter Manual. (1.3mb file) |
| Click here to download the "Best" AC 12kw Motor spec and torque sheets. (600kb file) | Click here to download the "Habistat" thermostat manual. (200kb file) |
| Click here to download the "Supercapacitor" Auxiliary 12v battery replacement. (350kb file) | Click here to download the old Advanced DC motors spec and torque sheets. (35kb file) |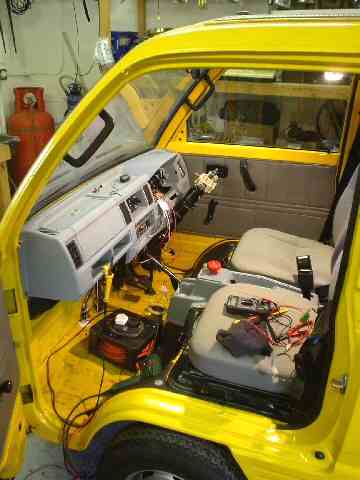 World Solar Challenge Trophy
SOLAR CAR TEAMS
| ORGANISATION A-Z | CAR'S NAME | TEAM NAME |
| --- | --- | --- |
| | Helios | Faculty of Engineering |
| | | |
| | Sky Ace TIGA | |
| | Sol of Auburn | Sol of Auburn |
| | Aurora | Aurora Vehicle Association |
| | | Das SolarCar der Fachhochschule |
| | SLO Burn Sidewinder | |
| | | |
| | | The Solar Knights |
| | | |
| | | |
| | | |
| | | |
| | | Solar Car Racing Team |
| | | |
| | | |
| | | |
| | Dark Horse | EAC Skunkworks |
| | | |
| | | |
| | | |
| | Heliodet | |
| | | |
| | | |
| | | |
| | Surya, Ratha, Mercury | |
| | Fusion | |
| | | |
| | Paragon | |
| | Solar Wing | |
| | | |
| | Tesseract | |
| McGill University Monteal, Canada | | |
| | | McMaster Uni Solar Car Project |
| | | Genesis II Solar Racing Team |
| | | |
| | | |
| | | |
| | The Double Deuce | Sunsetters - Solar Race Team |
| | N'Uvation | |
| | | Het Nuon Solar Team |
| | OSU model S | |
| | Solaris | Sun Panthers |
| | RA 6 | Principia College Solar Car Team |
| | SPOT 2 | Purdue University Solar Racing |
| Queen's University Canada | | |
| | | Red River College Solar Car Team |
| | | |
| | | |
| | Cougar Cruiser | |
| | | |
| | Solar Motion | |
| | | |
| | Solstice | |
| | | Tamagawa Solar Challenge Project |
| | FUTURA 2 | |
| | Solaris 1 & 2 | |
| | Phaethon model | Team SunLake TOYOBO |
| | Columbia Sunraycer | Texas A&M Motorsports Team |
| The Power of One - Toronto | Xof1 | The Xof1 solar car team |
| | | |
| | | |
| | Drifter | |
| | | UC Calgary Solar Car Team |
| | | |
| | | |
| | Solution, CATalyst | KSU Solar Car Racing Team |
| | Gato del Sol II | |
| | | |
| | | |
| | Borealis III | U of M Solar Vehicle Project |
| | Suntiger VI | The Mizzou Solar Car Project |
| | | |
| | | |
| | | UOI Solar Vehicle Team |
| | UNSW Sunswift III | |
| | | |
| | Keystone | |
| | | Queensland Solar Team |
| | | |
| | Persian Gazelle | |
| | Solar Steer | |
| | | Solraycers |
| | | |
| | | Heliotrope Solar Car Team |
| | | |
| | | |
| | | |
| | | |
| | | |
| | Sunseeker 05 | |
| | | |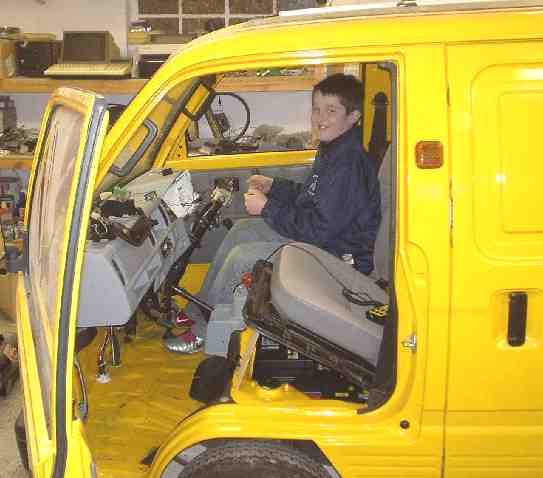 Thomas (neighbours grandson) helping in the construction
Children after are our future - Thomas has learnt to solder
and make circuits helping with van
Healthier alternative tastes for adventure capitalists
Solar Red | Solar Crush + | Solar Cola | Solar Citrus + | Solar +