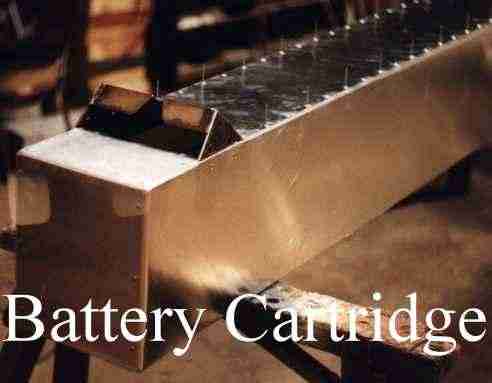 It is necessary to standardize battery cartridges, or other vehicles may not share system components. BE1, BE2 and BE3 are capable of utilizing the cartridge pictured above. This cartridge may be configured for many different voltages and storage medium. BE1 was designed to use lead-acid batteries to keep costs down. The total development cost of this car was in the region of £39,000, including a dedicated charger. A small price to pay for a world record contender that reached 90 mph using just 15Kw. The full complement of motors would have added another £6,000 to the bill and 110 mph to the speed.
However, Nickel-Cadmium and Nickel-Metal-Hydride and the new Polymer cells are now freely available and would not increase overall project costs dramatically, simply because the vehicle would undoubtedly perform so much better. I.e. the $ per mph ratio might actually improve. By way of example, many solar powered electric cars use Worley Polymer cells now offering (190Wh/kg).
At time of writing BE3 has no corporate battery sponsor. If your company would like to offer support to the BE3 project, we would like to hear from you.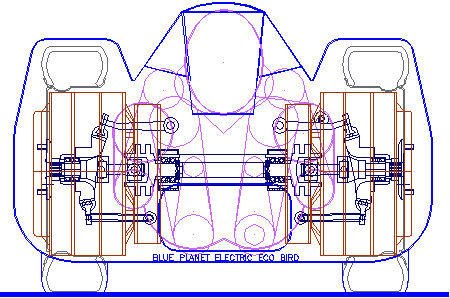 The Blueplanet Ecostar is long and low. It features battery cartridge refueling.

Contact us:

or phone UK:

+44 (0) 1323 831727 +44 (0) 7842 607865
Bluebird Marine Systems Ltd

Intelligent Battery Support System
THE BLUE BIRDS OF HAPPINESS
CHASSIS LOADING-SERVO CARTRIDGE MOTORS INSTRUMENTS JOYSTICK-CAR WIND-TUNNEL

If your land speed record car cannot refuel itself like this, you are at a huge disadvantage. Blueplanet is around 66% the weight of a car that does not have cartridge exchange refueling for the same performance.

Blueplanet has inbuilt battery loaders. It does not need a
complicated service station to refuel itself in under 2 minutes.
LEAD-WEDGE SILVER-EAGLE BATTERY-BOX LIGHTNING-ROD WHITE-LIGHTNING BUCKEYE BULLET EMOTION