While not strictly an accurate description of this now famous event, which is actually a road race across Australia that is open to anyone in the world to enter, rather than an event encompassing the world. That small quibble aside, the World Solar Challenge motivates research and development into harnessing solar energy for future transport needs for many years. There is a World Solar Navigation
Competitors, driven by a motivation to win a prestigious solar event, can also rest easy in the knowledge that they are contributing towards a vital search for sustainable transport alternatives for future generations. The space age cars which travel at various speeds between Darwin and Adelaide on the sun's radiation and human's ingenuity alone give people an appreciation of a cleaner, better future using solar energy.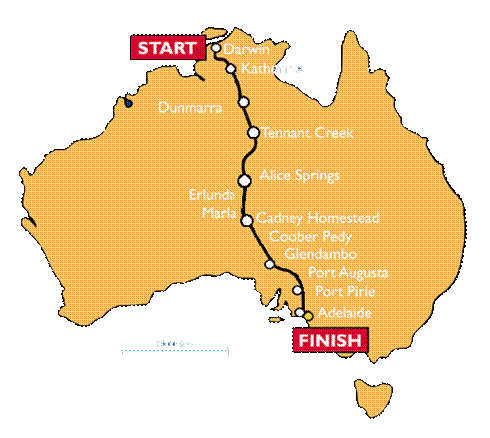 Australia route map Darwn to Adelaide world solar challenge


Danish born Adventurer, Hans Thostrup, created the World Solar Challenge. To understand what lead him to this, we should try and understand the man. Born in 1944, Tholstrup became a household name when he became the first person to circumnavigate Australia in a 16 foot open boat.

Years of participating in motor sport around the world, especially car rallies saw Hans busy wasting fuel until the fuel crisis in the late seventies. A new life began when he was inspired to find out how far rather than how fast you could go on a litre of petrol. This led to winning economy runs in cars and the establishment of the world's first economy run for trucks, and proving that driving style can be responsible for 30% of the fuel used in the transport of goods.

Another idea, sponsored by BP, was the crossing of Australia on just solar power. Larry Perkins helped Hans to drive the world's first solar car, the "Quiet Achiever", the 4052 kilometres between Sydney and Perth in 20 days. This, the ultimate energy saving crossing, was ten days faster than that by the first petrol engine car.

Hans was determined to build on these developments and continue to drive on the strength of sunshine. With man's first walk on the moon still fresh in people's memory, the time was ripe for solar invention. He felt that a race was the answer and thus the energy R&D event, the World Solar Challenge, was born.

The first World Solar Challenge was staged in 1987, with a field of 23 fantastic cars led by the GM Sunraycer which completed the trip with an average speed of 67km/h.

The cars in 1990 were a great improvement on 1987. Many competitors returned with the strength of experience, and new entries had another three years of R&D to create and refine their vehicles. The 1990 winner was the Biel team from a Swiss Engineering School. The townsfolk of Biel were responsible for donating one dollar each towards the success of the entry. With a school winning such a prestigious event, the World Solar Challenge became known as "Brain Sport".

1993 saw the 1987 GM Sunraycer record broken. Honda took the honours over Biel, and travelled 803 kilometres in one day. Yet again the entire field was impressive, and a sign of the event growing from strength to strength.

The goal of finishing the World Solar Challenge in four days was realised in 1996, when Honda repeated their performance with another stunning win, and a record average speed of 89.76 km/h. For most other competitors however, the race was far from over, with the remainder of the field spread out over 1700 km of the Stuart Highway. Over the ensuing six days a further 32 of the original 46 competitors would cross the finish line to complete their epic 3000km journey.

Following the 1996 event, Tholstrup sold up. The eventual winner of the bids was the State of South Australia, who announced an event in 1998, however many reasons lead to the "deferment" of the 1998 event, which was eventually run in 1999 under the new leadership of Chris Selwood. The 1999 event saw 43 teams from 14 countries traverse the continent, and the Australian "Aurora" team won the event.

A commitment to support the International Solar Energy Society World Congress in 2001 saw the event restaged once more, with new records set. 2001 also saw the introduction of the "Demonstration Class" which was designed to showcase vehicles exhibiting practical technology that has evolved from the World Solar Challenge.

An in depth evaluation of the aims and outcomes of the event, together with a survey of teams and stake holders showed the World Solar Challenge to be the premier solar car event in the world, with a large majority supporting a biennial program.
CONTACTS
Postal Address

GPO Box 1972
Adelaide 5001
Australia
Street Address

Level 8
50 Grenfell St
Adelaide 5000
Australia
p: +61 8 8463 4500 (switchboard)
p: *61 8 8463 4690
f: +61 8 8463 4718
email: wsc@saugov.sa.gov.au
Events South Australia
Contact: Michele D'Aloia
Address: GPO Box 1972, Adelaide SA 5001
Phone: +61 8 8463 4695
Mobile: 0417 837 896
Fax: +61 8 8463 4718
Email: daloia.michele@saugov.sa.gov.au
Events South Australia
Contact: Simon Romaniuk
Address: GPO Box 1972, Adelaide SA 5001
Phone: +61 8 8463 4690
Email: wsc@saugov.sa.gov.au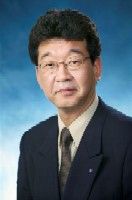 Toshiro Kisaka
Managing Director, Panasonic Australia
The 2007 Panasonic World Solar Challenge
2005 was the first year of Panasonic's involvement in the World Solar Challenge. We are proud to continue to partner such an environmental and technological event in a global climate where demands on limited oil reserves are increasing at an alarming rate and the needs for alternative sources of energy, particularly for transport, are paramount.
You may have heard the words 'Panasonic – ideas for life', - our worldwide corporate brand slogan. This slogan represents the commitment of all our employees to provide products and services based on valuable ideas that can enrich people's lives and help advance society. This is particularly true for the environment.
In Japan Panasonic is working to develop energy generation products which will contribute greatly to the reduction of CO2 emissions. In February this year Panasonic delivered the first Household Fuel Cell Cogeneration System which synthesizes water from hydrogen and oxygen and uses the electricity generated as a household energy source.
Another Panasonic project in Japan is a standalone hybrid outdoor lighting system which uses energy generated from wind and solar power to run the lights. These lights have been installed at the 2005 World Exposition site in Aichi, Japan.
Other 'ideas for life' are at work in Panasonic's production of a specialised automotive battery for the Toyota 'Prius', the world's first Hybrid Electric Vehicle. Similar batteries will be supplied in Toyota's soon-to-be extended Hybrid Electric Vehicle range.
On behalf of Panasonic Australia, we wish all teams every success in the Panasonic World Solar Challenge, 2007.
The following organisations have put their support behind the World Solar Challenge 2007:
---

PRESS RELEASE - Tuesday 5th June, 2007

From: Hon Jane Lomax-Smith

Minister for Education & Children's
Services
Minister for Tourism
Minister for the City of Adelaide

RECORD ENTRIES FOR 2007 PANASONIC WORLD SOLAR CHALLENGE


The 2007 Panasonic World Solar Challenge is claimed to be the ultimate road challenge in sustainable energy and is expecting record entries for this year's event.
Tourism Minister Jane Lomax-Smith announced today that the 2007 Panasonic World Solar Challenge would have 46 competing teams from 21 countries.
"Today is World Environment Day and it's no better time to announce the breadth of teams and countries being represented in this years Panasonic World Solar Challenge.

"The current team entry list proves that this event is truly inspired by adventure and fuelled by the spirit of friendly competition, attracting teams from research and educational institutions around the world," Dr Lomax-Smith says.

"This biennial event is based on a competitive field of solar cars crossing the Australian continent powered by nothing but the sun.

"Teams are required to research, build and design vehicles capable of completing the 3000km journey from Darwin in the Northern Territory to Adelaide South Australia."

2007 will be the 20th anniversary year of the Panasonic World Solar Challenge. This is an energy efficiency challenge, all about creating a balance between sustainable speed and endurance, energy management and strategic planning.

"The young people committed to participate in this event are destined to be the very ones who will be responsible for delivering these technologies in the future."

Since 1987, the purpose of this event has been to promote and celebrate educational and technical excellence, and draw attention to the imperatives of sustainable transport.

"Whilst the notion of actually driving a solar car on the road as seen in this event may not be likely, it is very likely that we will all be driving electric cars one day," says Dr Lomax-Smith.

"Some of that electricity may come from a renewable source such as solar energy quite possibly using technology developed through this event."

World Environment Day, commemorated each year on 5 June, is one of the principal vehicles through which the United Nations stimulates worldwide awareness of the environment.

The Panasonic World Solar Challenge is the means to work towards a cleaner, greener and more sustainable environment.


News Release - www.ministers.sa.gov.au



The 2007 Panasonic World Solar Challenge will be held from 21-28 October 2007. All cars will depart from Darwin on 21 October and the leading teams are expected to arrive in Adelaide four days later.


---
WORLD SOLAR NAVIGATION CHALLENGE

Two European teams are now planning to try and set world navigation records in a solar powered boat. The first team is from the United Kingdom, led by Nelson Kruschandl. His vessel is called Solar Navigator. The development of this project has been mostly in the backyard and on local waters.
The second and latest team to decide to go for it as of March 16 2006, are PlanetSolar, a Swiss/French team is made up of 15 persons, 11 concerned with the boat and expedition directly and 4 on a sponsorship committee - as listed below.
THE BOATS
---


Teams entered in the 2007 Panasonic World Solar Challenge to date are:


Ashiya University Solar Car Project - Japan

Aurora Vehicle Association Inc - Australia

Aurora Vehicle Association Inc - Australia

Blue Sky Solar Racing - Canada

CPDM-UM Solar Team - Malaysia

Esteban - Canada

FH Bochum Solar Car Team - Germany

Gwawr - Wales

Hachinohe Institute of Technology - Japan

Helios - France

Heliox Solar Team - Switzerland

Houston Solar Car Race Team - USA

Kansas State University Solar Car Racing Team - USA

Leeming Senior High School - Australia

McMaster Solar Car Project - Canada

Nanyang Technological University Solar Car Team - Singapore

Nuon Solar Team - Netherlands

Oregon State University Solar Vehicle Team - USA

Persian Gazelle - Iran

Phoenix Solar Car Team - Taiwan

Queens University Solar Vehicle Team - Canada

Solar Fern Racing - New Zealand

Solar Team Amsterdam - Netherlands

Solar Team Twente - Netherlands

Southern Aurora - Australia

Stanford Solar Car Project - USA

Sun Speed - France

Sunstang Solar Car Project - Canada

SURIA KAR 2 UTM - Malaysia

Swisspirit - Switzerland

TAFE SA Alternative Energy Vehicle Group - Australia

Team JonaSun - Japan

Team Sinag - Phillippines

Team Solaris - India

Techno Energie - Senegal

Towards Tomorrow - Australia

Toyko Salesian Polytech Solar Car Team - Japan

Uchile-Conecta - Chile

UCL (London) - UK

Uludao University - Turkey

Umicore Solar Team - Belgium

University of Calgary Solar Team - Canada

University of Michigan Solar Car Team - USA

University of Waterloo Midnight Sun - Canada

UNSW Solar Racing Team - Australia

USB Solar - Venezuela

Willetton ATP - Australia
---
SOLAR CAR RACING EVENT A - Z
A dream can make all the difference under the sun - when a bunch of high school misfits in Hawaii, introduced by their new teacher (Halle Berry), attend a science fair in which they draw up inspiration to build their own solar car and win a trip to compete in the 1990 World Solar Challenge in Australia. One of my favourites NK
SOLAR CAR TEAMS
| ORGANISATION A-Z | CAR'S NAME | TEAM NAME |
| --- | --- | --- |
| | Helios | Faculty of Engineering |
| | | |
| | Sky Ace TIGA | |
| | Sol of Auburn | Sol of Auburn |
| | Aurora | Aurora Vehicle Association |
| | | Das SolarCar der Fachhochschule |
| | SLO Burn Sidewinder | |
| | | |
| | | The Solar Knights |
| | | |
| | | |
| | | |
| | | |
| | | Solar Car Racing Team |
| | | |
| | | |
| | | |
| | Dark Horse | EAC Skunkworks |
| | | |
| | | |
| | Heliodet | |
| | | |
| | | |
| | | |
| | Surya, Ratha, Mercury | |
| | Fusion | |
| | | |
| | Paragon | |
| | | |
| | Tesseract | |
| McGill University Monteal, Canada | | |
| | | McMaster Uni Solar Car Project |
| | | Genesis II Solar Racing Team |
| | | |
| | | |
| | | |
| | The Double Deuce | Sunsetters - Solar Race Team |
| | N'Uvation | |
| | | Het Nuon Solar Team |
| | OSU model S | |
| | Solaris | Sun Panthers |
| | RA 6 | Principia College Solar Car Team |
| | SPOT 2 | Purdue University Solar Racing |
| Queen's University Canada | | |
| | | Red River College Solar Car Team |
| | | |
| | | |
| | Cougar Cruiser | |
| | | |
| | Solar Motion | |
| | | |
| | Solstice | |
| | | Tamagawa Solar Challenge Project |
| | FUTURA 2 | |
| | Solaris 1 & 2 | |
| | Phaethon model | Team SunLake TOYOBO |
| | Columbia Sunraycer | Texas A&M Motorsports Team |
| The Power of One - Toronto | Xof1 | The Xof1 solar car team |
| | | |
| | | |
| | Drifter | |
| | | UC Calgary Solar Car Team |
| | | |
| | | |
| | Solution, CATalyst | KSU Solar Car Racing Team |
| | Gato del Sol II | |
| | | |
| | | |
| | Borealis III | U of M Solar Vehicle Project |
| | Suntiger VI | The Mizzou Solar Car Project |
| | | |
| | | |
| | | UOI Solar Vehicle Team |
| | UNSW Sunswift III | |
| | | |
| | Keystone | |
| | | Queensland Solar Team |
| | | |
| | Solar Steer | |
| | | Solraycers |
| | | |
| | | Heliotrope Solar Car Team |
| | | |
| | | |
| | | |
| | | |
| | | |
| | Sunseeker 05 | |
| | | |
Healthier alternative tastes for adventure capitalists
Solar Red | Solar Crush + | Solar Cola | Solar Citrus + | Solar +