This was the first French solar powered racer to enter the World Solar Challenge
(Darwin to Adelaide : 3,000 Km Solar-Electric Race, Australia), 1996
.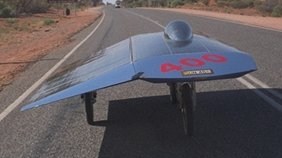 Heilotrope team at the WSC finish line 1996
Heliotrope is an interesting concept, in that the driver is positioned head first in an effort to reduce the frontal area, hence reduce the drag. The same theme was employed in the BE1 land speed record car, for the same reasons.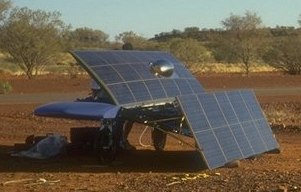 Heilotrope charging its batteries
DESCRIPTION :
She is a three-wheeler design with a side-car motorcycle like layout. The wing is removable with a bearing wheel tilted at 2O° and attached to the right or the left side of the main section. The vehicle also features on-line data acquisition, data and voice radio-transmission.
Heliotrope achieved 3rd place in the "Lead -acid batteries" category. Out of 54 entries and 27 competitors she finished 21st with an average speed of 42.2 Km/hr during mediocre weather conditions. (1994-1996)
Heilotrope - concept drawings revealing prone driving position
CHASSIS/BODY :
Heliotrope incorporates an innovative general layout to increase solar electricity generation by around 15% under WSC conditions. The body/chassis shell is made of carbon-epoxy composite material and honeycomb. The spats which shroud the strut suspension are self orienting into the wind.
The body was formed using plywood bulkheads and expanded foam.
Body buck of Heilotrope under construction
ELECTRICAL SYSTEMS :
A sustom-made DC brushless wheel-motor and controller was used with a nominal power of 1200W at 800rpm. The overall efficiency was 92%.
Batteries : Lead-acid, 2.4kWh, 77Kg
Photovoltaic generator : 7.9 m2, silicon cells (16.5%), 8 Maximum Power Trackers.
Theoretical Power : 1128W at 1000W/m2 (measured peak power : 1430W)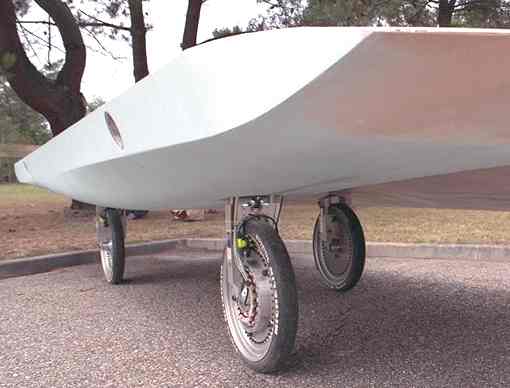 Heilotrope underside detail
STATISTICS :
Length : 5400mm, Width : 2000mm, Height : 1000mm
Wheelbase : 2400mm, Track : 1000 mm, Weight : 280Kg
Front area : 0.90m2 ; Drag Coefficient : 0.12 (theoretical)
Suspension : Custom-made telescopic with oleopneumatic adjustable spring/dampers.
Wheels : Custom-made aluminium wheels (double disk)
Tyres : Michelin Solar 65/80-16 radial tyres (510kPa); very low rolling resist.
Maximum solar speed : 70Km/hr
Budget : US$ 500,000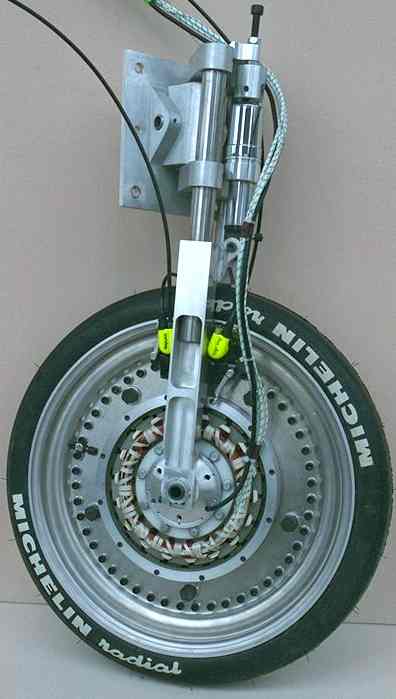 Heilotrope - suspension and wheel motor
TEAM :
Design, CadCam, Management, Funding : Luciano Giol (It-Fr)
Mechanical Engineering : Dominique Rochier (Fr)
Electrical Engineering : Michel Lajoie-Mazenc (Fr)
Photovoltaic Generator : Hans Gochermann (Ge)
Moulds & Composite Materials : Christophe Konya (Fr)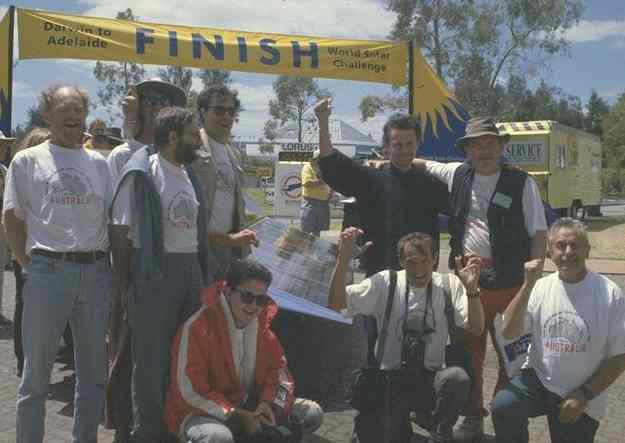 Heilotrope team at the WSC finish line 1996
CONTACTS :
LUCIANO GIOL
Tel/Fax 33 5 57 43 36 46
E-mail : lucien.giol@wanadoo.fr
Mail : 21 rue de Piote, 33240 Aubie, France
LINKS TO OFFICIAL HELIOTROPE SITE :
---
---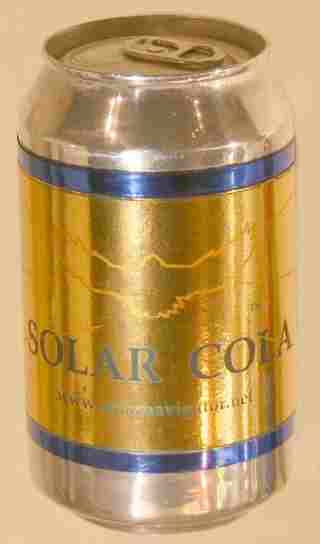 The Website is sponsored by Solar Cola