In the major cities of India there are thousands of petrol and diesel powered three-wheelers called auto-rickshaws. They are some of the most polluting vehicles on Indian roads and the huge number of them is a major global pollution issue.
These vehicles usually run on 2 stroke engines which are more polluting than the regular 4 stroke engine. Data collected reveals that in traffic conditions prevalent in most inner city areas, these auto-rickshaws run only at 15-20 km/hr speed thereby producing even more pollution since they are designed to run efficiently at 40-45 km/hr. The pollution is further compounded by the fact that they continuously have to run in stop/start mode.
The data also shows that on average these auto-rickshaws travel about 50-60 km. a day. Based upon this data it was felt that a solar powered (electric) rickshaw designed to run 60-80 km/charge and with speeds of 25-30 km/hr will be an excellent substitute for these auto-rickshaws. In a fair weather country like India, a silent and non polluting electric rickshaw with the above attributes could be a major step forward in race to halt global warming.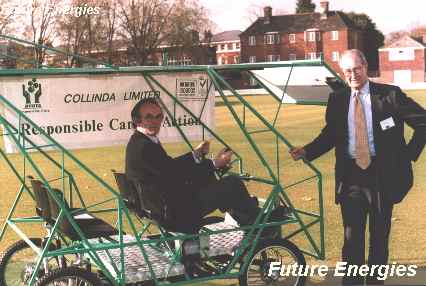 Lightweight Solar Rickshaw by Collinda Ltd.
Bluebird Systems Ltd in association with Max Energy Ltd are part funding the research and build of an Eco lightweight solar powered rickshaw (EcoKar) which has the ability to replace the millions of fossil and pedal rickshaws that operate throughout Asia. Demand is anticipated to be 10,000 units per annum by 2010. Each auto rickshaw replacement has the potential to save 10 tons of carbon dioxide emissions every year. If your company might be interested in helping to fund (or sponsor) this genuinely environmental project, BER Ltd would like to hear from you urgently.
The 'EcoKar' solar powered Rickshaw solves a number of issues relating to battery charging and replacement battery costs - quite simply there are no such issues with a solar powered car.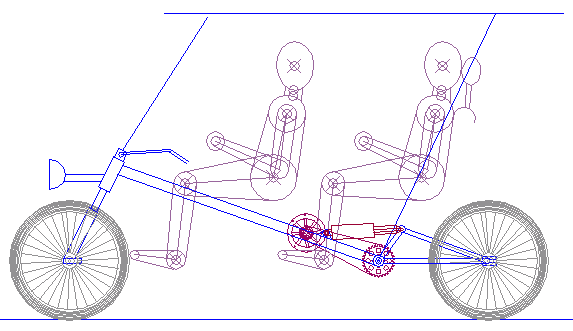 The 'EcoKar' solar powered Rickshaw - early 4 seat design configuration and later
2 seat sport development from February 2013. Work continues to simplify the chassis
for eventual production.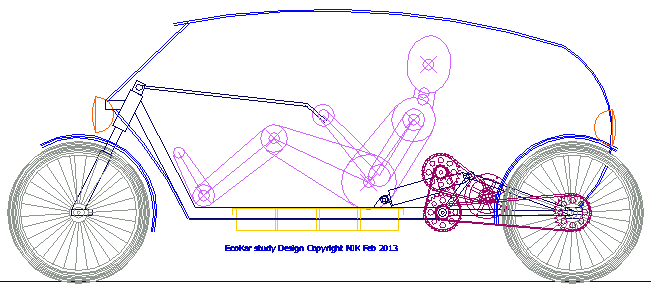 ELECSHA EXPERIMENT
In major cities of India there are petrol and diesel powered three wheelers called autorickshaws. They are some of the most polluting vehicles on Indian roads. Consequently an electric autorickshaw which is completely silent and non-polluting has been designed, built and tested. It is called ELECSHA and up to September 2002 had logged more than 6000 km in a trial run.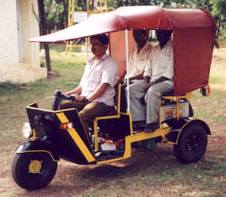 Mk II Elecsha
Attributes of ELECSHA:
It takes two passengers at speeds of 35-40 km/hr

It can go to 60-70 km per battery charge.

ELECSHA has a PMDC motor, lead acid batteries, three speed gear box and an electronic card for soft start.

The charging of the batteries is done overnight via a stand alone battery charger,

Presently the cost of ELECSHA is Rs.1,25,000/- but it is estimated to cost Rs. 70-75,000 in mass production./-

ELECSHA uses 40% less energy than petrol and diesel powered autorickshaws.
| | |
| --- | --- |
| The solar powered Rickshaw under development by Bluebird, Electric Racing Limited offers the same operating range and speeds, without charging. See the 'Other Issues' section below. | Old version of Elecsha |
ELECSHA plan to introduce these rickshaws in the cities of Lucknow and Pune where maximum number of cycle rickshaws and autorickshaws respectively, ply the country. The comparison of electric rickshaws and autorickshaws can only take place once ELECSHA vehicles begin work in real conditions. However based upon existing data a simple economic analysis can be done.
IMPRA : Discussions with rickshaw puller in various cities reveal that they ply the rickshaws to a maximum of 25-30 km/day. During hot season (which is majority time of the year) they can only go to 15-20 km/day. On an average they charge Rs. 3-5/km. Hence they can make between Rs. 75--125/day. After giving Rs. 15/day as rickshaw hiring charges they can earn about Rs. 60-110/day. Data on our rickshaw has shown that with gears the rickshaw puller can easily go about 30-40 km/day. This can easily increase his earnings substantially.

MAPRA : In this case our data has shown that a rickshaw puller can easily pedal 50 km/day and in some tests he has also gone to 70 km/day in 2 shifts. Thus with the cost of MAPR at Rs. 17,000 he can earn at least Rs. 150/day (by charging Rs. 3/km). If rickshaw owner charges Rs. 40/day as hiring charges (the puller will get at least Rs. 110/day as net income) then the owner will be able to repay the rickshaw loan in 5 years. He will also at the same time earn a profit of about Rs. 4,600/year for 10 years on each rickshaw. This includes battery replacement cost every 3rd year and 18% interest on loan.

ELECSHA : The ELECSHA owner can make a net profit of Rs. 25,400/year for 10 years continously. This requires that the fare will be Rs. 3.50/km and that the rickshaw will go to 70 km/day. Other assumptions are :
a) Driver will be paid Rs. 75/day.
b)ELECSHA will run for 300 days/year.
c) Battery replacement cost is Rs. 15,000 and it will be replaced every alternate year.
d) Interest is 15% p.a. and loan has to be paid back in 5 years.
e) The electricity cost is Rs. 5/kWhr.
Presently the petrol autorickshaws charge Rs. 4.50/km and hence even with the reduced fare for ELECSHA the owner can make a good profit. This is because of the low running cost of ELECSHA. Thus it seems that for both rickshaw puller and owner it is economically viable to ply these rickshaws.


OTHER ISSUES
Battery and its charging : One of the major issues facing large scale electric vehicle introduction is the issue of batteries. With the present level of technology development most of the batteries used are lead acid batteries. Deep discharge lead acid batteries are presently imported in India and are very heavy. The issue of battery charging can be tackled in two ways :

Having an onboard charger and plugging it in any electrical outlet : This concept has been used in most of the electric vehicles. This idea can be attractive for private owners of ELECSHA. However the disadvantage of this method is that it increases the cost of ELECSHA since it requires an onboard charger and charging points to be available in the streets.

b) Developing a network of battery charging stations : In this concept it is envisaged that the battery charging station will take out the discharged batteries from ELECSHA and put in a set of charged ones. The advantages of this concept are that one does not need to worry about charging and the battery could be of lower capacity and hence lightweight, which in turn will improve the performance of the vehicle. Also the regular automotive batteries can be used which can be discharged to only 50% depth. At the same time no extra cost of charger is incurred. This concept will be very useful for rickshaws being used as taxies. Nevertheless, the issues of old vs. new batteries and the economic viability of charging stations will have to be sorted out.

The electricity to power these batteries can come from any renewable power plants like biomass, solar, wind etc. In fact it can be envisaged to have battery-charging stations powered by PV units. Hence these rickshaws can truly be called as renewable energy transport system. To convert all existing 1 million rickshaws in India into electric rickshaws will require only one 600 MW power plant to run them.

It is also instructive to look at the energy efficiency of electric rickshaw vis a vis petrol powered autorickshaws. From power-plant to traction-energy point of view ELECSHA consumes 110 Whr/passenger-km as compared to 175 Whr/passenger-km consumed by petrol autorickshaws. In this calculation the following assumption were used :

a) ELECSHA :

i) Electric power plant efficiency including T & D losses = 0.255

ii) Charging / discharging efficiency of batteries = 0.64

iii) It takes 2 passenger 80 km per charge

Petrol autorickshaw :
i) Average mileage = 25 km / l of petrol
ii) Calorific value of petrol 8.74 kWh / l.
Thus ELECSHA uses 40% less energy than petrol autorickshaw. Besides being environmentally friendly ELECSHA is also very efficient energy wise. It is considered that small systems like rickshaws are most suited for electric vehicle development. This is because the present level of battery technology precludes large power output from light weight batteries. Hence, the electric rickshaw can be easily designed with the existing motor and battery technology.

2. Policy Issues : There is a need for Government intervention with a policy to permit only improved cycle rickshaws and electric rickshaws in congested areas of inner cities.

This may also help reduce pollution, provide a clean sustainable transport system and provide employment. Already, the Courts have banned three wheeled diesel tempos from certain parts of Lucknow. Electric and improved rickshaws can provide an attractive alternative to help this order, provided the shortcomings above are addressed urgently.

It would also be an advantage if the Government could enact legislation such that banks might provide lower interest loans to the rickshaw owners. Since this is a renewable energy system, a California style grant is also an option to consider. or indeed, carbon credits could be offered on the open market to offset EV purchases.

Besides creating a non-polluting transport system in India, electric rickshaws will also provide dignity to rickshaw pullers. Presently rickshaw pullers are treated as belonging to the lowest rung of the society. Many rickshaw pullers have said that a motorized rickshaw would give them dignity. It is felt that the police and other road users in general treat motorized road users with more respect. Besides giving dignity, electric rickshaws can also provide extra income to the rickshaw puller since he can ply his rickshaw to greater distances in one day.
FUTURE ENERGIES UK DEVELOPER & COLLINDA LIMITED SPONSORSHIP
During 2000 another British company, Collinda Limited, developed the solar powered rickshaw seen below. Eventually, this project won the Eurosolar transport award in 2000 and the vehicle appeared on the BBC programme Tomorrows World. To help create the demand and continue with research Collinda were to cooperate with sponsors Royal Rajasthan, for a Solar Rally, of which we have not heard any update as we write this article.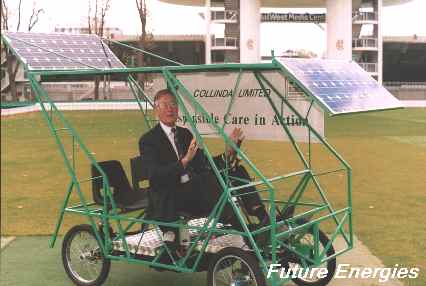 Sunday, January 05, 2003
During testing between and Udaipur in Rajasthan the Collinda vehicle was filmed by 5 Asian TV channels and an interview with the Rajasthan Minister of Energy was shown to an audience estimated between 10m and 30m people. India is ready for such a vehicle which has acceleration much better than a cycle rickshaw and equivalent to an auto rickshaw. Top speed recorded was 40 kph and at the normal road speed in cities of 20 kph, 400 Watts was needed which was far less than the power from the BP solar panels of 850 Watts.
On the morning of the 29th March 2001 the Moss family based in Leatherhead UK packed their bags and prepared for the journey of a lifetime across India in a remarkable solar powered car (as seen on the BBC Tomorrow's World programme). The solar team is made of 7 people who wish to prove that solar energy can be a viable solution for a non-polluting form of transport so badly needed in India at this time. The team hoped to make the full crossing with the car from Delhi to Udipaur only using the suns energy.

The exciting journey was be tracked by global satellite equipment installed on the car and a diary of progress will be compiled on the journey and relayed back to the FutureEnergies every day. The FutureEnergies technical team will be using modern computer communication equipment installed to relay an up to date diary of events with full colour pictures. The system in itself is relatively new and dynamic as updating will take place on a day-to-day basis. The FutureEnergies communication system is also powered directly off the solar cells on the car.'
This experiment across India will not only suggest that solar is a viable source of energy for transport but will also prove that solar power can be a reliable source of electricity for communication and computer equipment in the most diverse and remote terrains.
"So far we have already had some success. As some of you may know we recently won the Uk Euro Solar prize. Michael Meacher, (Minster of the Environment ) and Charles Secrett, (Director of Friends of the Earth) and professor Susan Roath (professor of solar architecture) sat in the vehicle as you can see from the pictures."
"There is a desperate need to reduce carbon dioxide emissions. As a family we have shown that emissions and pollution in boats can be greatly reduced by powering boats with solar power. We have decided after the solar boat success that we would try to build a commercial solar car. Follow our journey here on FutureEnergies.com, the official website for the Collinda Indian Solar Rickshaw Journey. See our day to day diary and pictures of our trip."
Solar Taxi Team:
James Moss Malcolm Moss MD Collinda Limited Buster Keen Gulsham Kapur
Communications Team
Gordon Foat GSM communications / Computers / adapters / research

Phillip Temple : Dynamic Software Support / editor
The patrons include:
His Highness Mahrana of Udaipur

Master of Wellington College

Sir Roger Gibbs

Professor Chopra

Charles Secrett
COLLINDA LIMITED
An established distributor of speciality chemicals to a very wide range of industries. Collinda has established contacts across the broad range of industries that use chemicals and regularly supplies chemicals to the following industries; agrochemical, colours, dyes, oil fields, paints, paper, pharmaceuticals, plastics, resins, rubber and steel.
We give 5% of profits to environmental projects and currently most are involved with reducing global warming. Our Objective is to participate in the saving of 1 million tons of carbon dioxide emissions.
You cannot consume most of the results of millions of years of the Carbon Cycle in one century without expecting repercussions. We believe there is a real possibility of serious affects from global warming and fund ideas which will save emissions and invite others to take them further. Initially we worked with solar powered boats starting in the 1994 developing the world's first solar powered water taxi, The Solar Pichola, moving on to a solar powered ferry, RA II, in Udaipur India.
SOLAR RALLY RIDERS CHOOSE RICKSHAWS

A minimum of seven solar powered rickshaws will be used to transport participants part of the way along the route of the Royal Rajasthan Solar Rally, organised by the Maharana Mewar Charitable Foundation (MMCF) and Malcolm Moss, for 29th March 2003.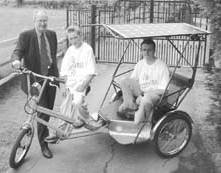 A British Solar Rickshaw - already on the market

Simon and Malcolm Moss rode a Maximus solar rickshaw, built for the BBC's Tomorrows World Roadshow, from Birmingham to London (approx 160 km) in one overcast day.
---
Please click on the links above to find out about these famous automotive makers. If your company is not included and you would like to be listed, please let us know.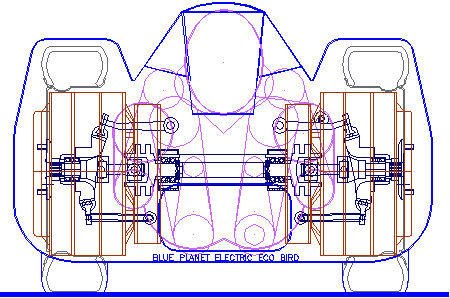 This racing car can refuel in around 2 minutes by expelling one battery cartridge
and replacing it with another. It does not need a complicated service station to
do this. It does it with built-in load servos - so that is can turn around on the
Salt Flats at Bonneville, completely recharged ready for the best of three runs.
Don't you wish your EV could do that?

SMARTCHARGER - Potentially the world's fastest electric car: 400mph using energy from nature. Featuring built in battery swapping system, charged using renewable solar energy. A project in waiting in PR terms.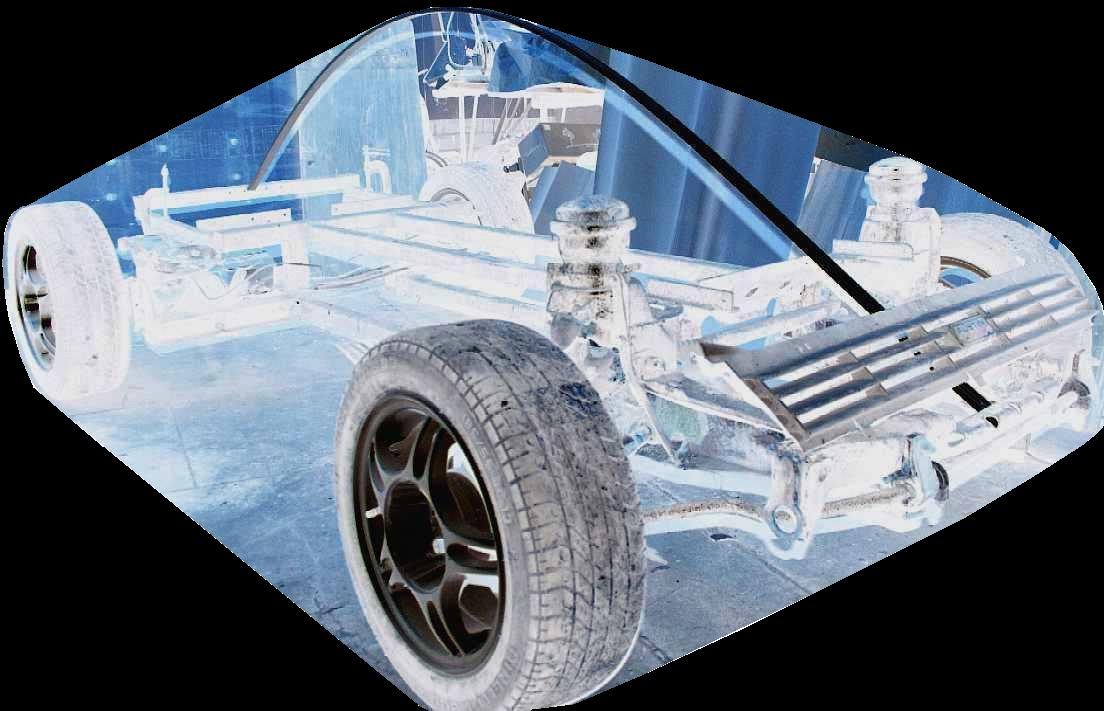 NEW for 2014 - The TOMCAT Ecostar BE4 (bare frame) DC50 city sports car concept featuring the Bluebird™ instant recharging system that is the enabling bridge between battery electric vehicles of today and the hydrogen fuel cell EVs of the future - Hydrogen Economy (HE) Ready. You wouldn't buy a TV that was not HD and 3D ready, so why buy a car that is not HE ready. Future proofed EV technology from Bluebird Marine System Ltd. Expressions of interest for collaborative consortium building are invited - aiming for a Horizon 2020 bid from 2015 >>.