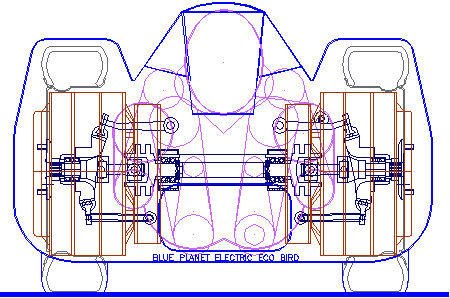 The Blueplanet Ecostar is long and low. It features battery cartridge refueling.
The driver sits at the rear dragster fashion, the battery cartridge is in the front
all the way to the nose cone. Check out the battery cartridge exchange sequence by
clicking on the drawing below.

Contact us:

or phone UK:


Intelligent Battery Support System
THE BLUE BIRDS OF HAPPINESS
The Constantly Variable Transmission has been around for many years. In industry, it was used to keep a mechanical device such as a feed water pump running at something approaching a steady speed. The principle is quite simple. When a motor accelerates from a standing start, it pulls hard on one side of a belt and relaxes the other side. If the pulley that is being pulled upon can expand and allow the belt to drop down deeper into its vee, the effective pulley ratio will change. If the pulley is constrained from expanding under belt tension by a spring, then adjusting tension on the spring will allow certain speed conditions to be maintained.
Today industrial CVTs have received something of a body blow since electronic frequency control of AC electric motors can emulate the behavior of DC motors. Designers have forsaken the CVT in favour of neat power electronics. However, such designs are far from the efficient ideal.
In the late 50s the Dutch D.A.F company started producing small cars with rubber belt CVTs. The so called 'Variomatic' transmission set their cars apart from other manufacturers. However, the engine only produced 32 horsepower, hence the performance could never be sporty, or the drive system challenged. The cheap to buy and user friendly system was driven by a lot of elderly folk, hence, became known as the "old mans car". Where D.A.F.'s core business was trucks, they decided to sell their troublesome car division to Volvo.
CVTs disappeared until recently when Audi redesigned its best-selling A4 sports sedan in 2002 and as an option added an automatic transmission that was claimed to have overcome all the problems associated with belt life and inability to transmit much horsepower. It's called the Multitronic continuously variable transmission, a long way of saying that the driver will not notice any clear shifting of gears, up or down, as you would with a traditional automatic transmission, just a moaning noise as the car cruises along.
And Audi isn't the first carmaker to offer a vehicle in North America equipped with a gearless CVT. Subaru sold such a CVT back in 1989, but it was coupled to a 66 hp engine in a Justy and wasn't much fun to drive. It droned a lot at full throttle and vibrated significantly on the over run. A replacement unit was enormously expensive. As with the D.A.F. history repeats itself.
However, now the Saturn VUE and the Nissan Murano have also adopted this style of "shiftless" transmission. There are some interesting CVT developments in the pipeline, set to boost efficiency and possibly longevity, We hope to report on these in the near future.
Another car set to use CVT, is the Blueplanet electric eco racer seen above and below.

If your land speed record car cannot refuel itself like this, you are at a huge disadvantage. Blueplanet is around 66% the weight of a car that does not have cartridge exchange refueling for the same performance.

Blueplanet has inbuilt battery loaders. It does not need a
complicated service station to refuel itself in under 2 minutes.
LEAD-WEDGE SILVER-EAGLE BATTERY-BOX LIGHTNING-ROD WHITE-LIGHTNING BUCKEYE BULLET EMOTION