One year after Neil Armstrong and Buzz Aldrin first set foot on the moon in 1969, Tony Densham set a new British Land Speed Record of just over 260 mph over the flying kilometer in his famous nitro guzzling V8 engined dragster Commuter. Even more amazing to contemplate is the idea that a hastily modified dragster could wrest the British record from Sir Malcolm Campbell's purpose-built Bluebird – and then retain it for some 30-plus years, but that it did. Commuter had entered the history books beating the official British wheel-driven record over the flying 500 and kilometre distances, held by Sir Malcolm Campbell of 174.883 mph, set on Pendine Sands in 1927.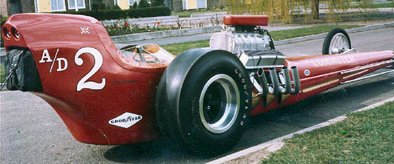 Tony Densham's 'Commuter' 260 mph
Robert Horne came along in his yellow Ferrari to capture the mile record from Tony Densham briefly. However, in September 1980's Richard Noble reset it at 248.87 mph in his Thrust 2 car, powered by an afterburning Rolls-Royce Avon jet engine at the now defunct RAF Greenham Common air base. Although, the record attempt was a publicity stunt, which ended spectacularly when the car left the track, ploughing into some trees, this record was to stand for 18 years. In 1984 Thrust 2 went on to set a new international land speed record of 633.468 mph.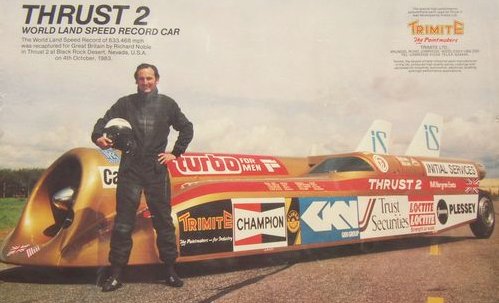 Richard Noble and Thrust 2 - 248 mph (mile)
Driver

Richard Noble (Great Britain)

Car

Thrust 2 (Great Britain)

Date
Speed

4th October 1984
633.468 mph (m)

Place

Black Rock, USA.

Power Source

Rolls-Royce Avon 302 with reheat

Max power Thrust at max reheat

7711kg. (17,000 lbs)

Construction

Tubular steel frame with aluminium panel skin

Length

8.28m (27'2")

Width

2.54m(8'4").

Height to top of tail fins

2.37m (7'2").

Height to top of engine hood

1.37m (4'6")

Wheelbase

6.35m (20'10")

Ground clearance

100mm (5")

Weight (approx.)

3,859kg (8,500lbs)
Then, in the summer of 1998, Richard Noble's long standing Outright UK Record was eclipsed by Colin Fallows in Prime Time's "Vampire" jet dragster at 269mph in a widely publicised event held at Elvington in Yorkshire.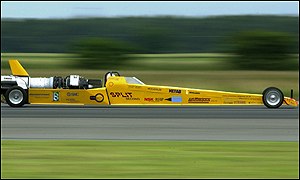 Mark Newby in 'Split Second' - 272.9 mph
Prime Time then built another jet dragster called "Split second" and pitted it against "Vampire" in a head to head combat between Colin Fallows and Mark Newby in an attempt to improve on 269mph.
Thus is November 1999 the two jet cars turned up at Elvington, but the event was washed out by the frozen conditions and fog.
The two jet cars again met at Elvington on July 5th 2000. Mark Newby was first to run in Spilt Second setting a new record at 272.9 mph, although complaining of problems with his car. Next up was Colin Fallows in his "Vampire", when he raised the record to 300.3 mph, the average of two runs in opposite directions within the hour. The team said they'd be back in 2004 to raise the record further, but it seems they were too busy running the ABB E=motion, an electric record car, in Tunisia in that year.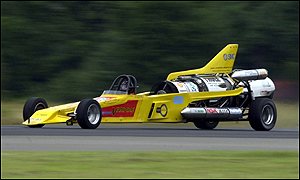 Collins Fallows in 'Vampire' - 300.3 mph
Another contender for the outright British land speed record is Nelson Kruschandl, in his Blueplanet Ecostar BE3, an electrically driven car with advanced built in battery cartridge exchange. Could it be that a wheel driven electric car might possibly take the record from the last three jet propelled vehicles? Nelson says we'll just have to wait and see. Nelson needs a prime sponsor to underwrite the attempt. It is planned to hold trials at Pendine Sands in south Wales in 2007 to commemorate the 72nd anniversary of Sir Malcolm Campbell on 3rd September 1935, when he achieved 301.13 mph in his Rolls-Royce V12 engined Napier-Railton Bluebird.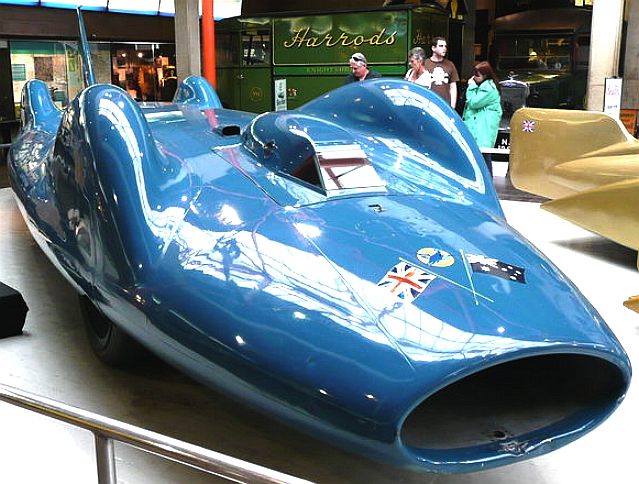 Another jet powered car
Nelson says: "As a boy I was inspired by John Cobb and his Mobil Special and Donald Campbell's Bluebird CN7." "I was living in Seaford, when as a child I heard the news on the radio, that Donald had flipped his K7 boat and died." "Much later, and some years after building my first car in 1987 - a joystick controlled sportster, I met up with Sir Malcolm's grandson. So it was that in 1991 I christened my first electric racing cars Bluebird Electric. Don Wales and I had a period working together, after 1997 we split up and I decided to go it alone to develop the battery cartridge refueling system." "I design and build my own cars in a purpose built workshop in my back-yard." " I guess that makes them back yard specials, but I get just as much satisfaction rolling out a new car as any factory boss, who's not done any of the grunt himself."
"I funded the design and build of my earlier vehicles myself, but I cannot afford the expenses involved to make attempts, for which I will need the help of a sponsor, or sponsors - if anyone is interested please call me."
Richard Hammond and the 280 mph Vampire Crash 20 September 2006
While filming for Top Gear at Elvington, Richard lost control of the Vampire after deploying his chute at around 300mph...... READ MORE
A - Z DIRECTORY of MOTOR MANUFACTURERS
---
---
A taste for adventure capitalists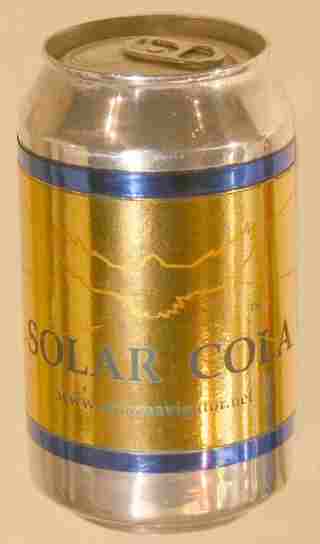 Solar Cola - a healthier alternative