Two teams met at Bruntingthorpe Aerodrome in Leicestershire on 27th August 2003 for a competition to set the first World Milk Float Land Speed Record.
CBL Electric Vehicles of Bampton, Oxfordshire, were the brains behind the Electric Dream Team, led by driver Daniel Hoffmann-Gill from Nottingham. Their vehicle was a Morrison Electricar dating from the 1950s, with a much altered driveline and control equipment, extra cell packs and safety equipment.
The opposition was EV engineering firm VXL Automotive, a subsidiary of Symonds Hydroclean, based near Newport, Gwent. Their entry was a development vehicle for their latest model, the Electron E150. It is powered by a 12000rpm AC motor and features an exchange battery pack system similar to that pioneered by General Motors, Lucas and other van companies in the 60's and 70's.
Design consultancy was provided by Bluebird Automotive Group Ltd of Swansea, a company formed by the directors of Bluebird Technologies Limited (Co. No. 03469526) Martin Rees and David Hammond-Williams, to take over from 'BTL', that company having run into financial difficulties.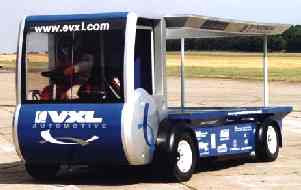 VXL Automotive Milk Float
The CBL 'Morrison' Milk Float conversion featuring 3 motors - With thanks to Dave Root for photos
CBL's engineers appeared keen to beat VXL's record in the future, and intend to use HOT 306 again for the purpose. For their part, VXL believe their float should be capable of 100mph, so it is entirely possible that this event may be repeated at a future date.
Links to news articles about the event:
Other Modified Floats
The race held at Bruntingthorpe was not the first time milk floats have travelled at high speed, although previous attempts have all resorted to alternative means of propulsion, such as a petrol engine or even a jet engine!
Another Arla Morrison Milk Float conversion
EV Innovations Limited
The Bluebird Centre
The Old Market
Melville Street
Pembroke Dock
Pembrokeshire
SA72 6XR
UNITED KINGDOM
Telephone: 0845 456 0571
Company Registration Number 07918747
COMPANIES HOUSE WEBCHECK
Name & Registered Office:


BLUEBIRD PERFORMANCE ENGINEERING LIMITED
4 HARGRAVE CLOSE
BINLEY
COVENTRY
WEST MIDLANDS
CV3 2XS
Company No. 07918747


Status: Active
Date of Incorporation: 20/01/2012

Country of Origin: United Kingdom

Company Type: Private Limited Company
Nature of Business (SIC):
82990 - Other business support service activities not elsewhere classified

Accounting Reference Date: 31/01
Last Accounts Made Up To:

(NO ACCOUNTS FILED)


Next Accounts Due: 20/10/2013
Last Return Made Up To:

20/01/2013


Next Return Due: 17/02/2014

Mortgage: Number of charges:

( 0 outstanding / 0 satisfied / 0 part satisfied )


Last Members List: 20/01/2013

Previous Names:
Date of change
Previous Name
22/10/2012
EV INNOVATIONS LIMITED
LATEST NEWS

A taste for adventure capitalists

The world's fastest solar powered electric car: 350mph + batteries charged
using energy from nature