Chain drive is often overlooked for its efficiency, when in fact it is an extremely effective method of transmitting drive with up to 95% of the power being transferred from one shaft to another. In addition to efficient transmission, chain drive is also flexible and adaptable, avoiding the need to cut special gears to change ratios, when off the shelf products can be matched to most tasks, simply be changing sprockets.
The drive chain of any vehicle is one of the most important components and yet normally gets the least attention. The standard drive chain of older motorcycles and cars are of the "Roller Chain" type. The chain consists of two major parts, 1) the pin link and 2) the roller link.

Both links get their linear strength from the side plates that keep them together. A "Heavy Duty" chain will have thicker, stronger side plates and thus greater overall strength. The pin link is very simple in design having only two rods or pins connecting the side plates. The roller link is more complex, consisting of two hollow bushings connecting the side plates surrounded by a movable roller.

There are several types of drive chains to cope with everyday cycling, industrial applications, to racing superbikes:

Common Drive Chains

| | | |
| --- | --- | --- |
| Chain reference # | Pitch | Width |
| 415 | 1/2 inch | 3/16 inch |
| 420 | 1/2 inch | 1/4 inch |
| 428 | 1/2 inch | 5/16 |
| 520 | 5/8 inch | 1/4 inch |
| 525 | 5/8 inch | 5/16 inch |
| 530 | 5/8 inch | 3/8 inch |
| 630 | 3/4 inch | 3/8 inch |


Master link:
most vehicle chains are connected into a loop by a master link. This is a single pin link with
extended pins that allow the attachment of a removable side plate. The side plate is held in place by a spring clip.
Endless Chain: some vehicles are equipped with an endless chain that does not contain a master link but are connected back unto itself when produced. These chains must be removed by removing the swingarm of the bike.


Maintenance:

The more you care for your chain, the longer it will last. In this case where high pressures are applied for short duration, lubrication is important. After each run in adverse salt or dusty conditions the final drive should be cleaned and lubricated.
remove the chain from the vehicle and soak in kerosene (I know gasoline will also clean a chain but due to its fire potential, use kerosene).

if road grime and slight rust is a problem, scrub lightly with a hard bristle or metal brush.

hang the chain over the pan of kerosene and drip dry.

work your way down the chain testing the rollers and flexibility between each link. If you find links that will not flex freely even after forcing them, the chain needs replacing.

place the chain on the floor and measure out 1 foot. Grab the chain at each end of this foot length and push the chain links together. Now pull outward on the chain and note any change in its length. It is recommended that this movement be no more than 1/4 inch. Check the rest of the chain in 1 foot lengths. If the slack is more than 1/4 inch for any foot, the chain should be replaced.

relube the chain.
This is commonly done by using one of the aerosol can chain lubes available. CAUTION: if your chain is of o-ring design, make sure the chain lube is compatible.

A second way to lube your chain is by purchasing a can of solid lube. This material has to be heated, melting the solid, and the chain dipped in. The chain is hung over the can and allowed to drain and harden. This form of lube is longer lasting and will protect your chain the most.
reinstall your chain and set the slack to your manuals specs. If the chain adjuster on your rear axel indicates that the chain needs replacing, do so.

the master link spring clip open end MUST face away from the direction of rotation.

Sprockets

Whenever you check your chain, check your rear and drive sprockets also. The teeth on both sprockets should be uniform and symmetric. If they appear hooked or worn, they probably need replacing. Grant you, not an easy thing to do between land speed record runs.

| | | | | |
| --- | --- | --- | --- | --- |
| 1.Standard | 2.Strands | 3.Select a chain | 4.Select Centre Distances | |
Currently Selected Chain
Chain Description
Selection Data
Enter Data Here
110166
ISO 606 32B-1 Bush Roller Chain
Selected For/Customer :
Input Power
KW
Input Speed
rpm
Drive Teeth Z1

Driven Teeth Z2

Drive Load

Driven Load

Calculated Data

Chain Pitch
2.000 Ins
50.80 mm
Ratio
:1
Output Speed
rpm
Max Speed
380 rpm
Centre Distance mm
Links

Date Created :08/22/2004
Selected By :
Application :
Email address:
Summary Data
Corrected Power: 10.00 KW
Max power at this speed: KW
Power Deviation: %
Chain Velocity: m/s
Bearing Pressure: N/mm˛
Safety Factor: :1
Approx Wear Life: hours
Approx Fatigue Life: hours
Chain Statics
Chain Dynamics
Modified Centre Distance
mm
Chain linear velocity
m/s
No of chain links
Chain working load
N
Chain Length
mm
Chain peak loads
N
Chain total mass
Kg
Chain Breaking load (min)
N
Pitch Circle Dia Z1
mm
Safety factor (Peak loads)
:1
Z2
mm
Bearing area
mm˛
Bearing Pressure
N/mm˛
Chain selection power limit
KW
Power compared to max
%
Recommended lubrication
Speed compared to max
%
Contacts:
Renold plc, Renold House, Styal Road,
Wythenshawe, Manchester, M22 5WL UK
Tel: +44 (0)161 498 4500 Fax: +44 (0)161 437 7782
E-Mail: enquiry@renold.com
New Chain catalogues available online
Royal Accolade for Holroyd
Renold announces preliminary results for the year ended 3 April 2004
Syno I I - Maintenance-Free Chains From Renold
Change Of Group Chief Executive
Renold Gears Drives the Ups-and-Downs of Mass Transit Systems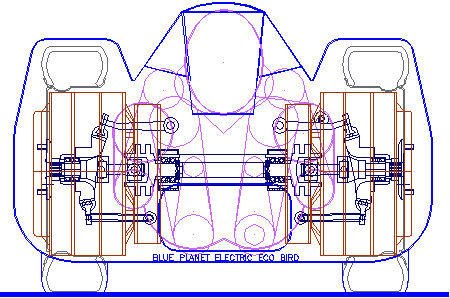 The Blueplanet Ecostar is long and low. It features battery cartridge refueling.
The driver sits at the rear dragster fashion, the battery cartridge is in the front
all the way to the nose cone. Check out the battery cartridge exchange sequence below.

Contact us:

or phone UK:

+44 (0) 1323 831727 +44 (0) 7842 607865
Bluebird Marine Systems Ltd

Intelligent Battery Support System
THE BLUE BIRDS OF HAPPINESS

If your land speed record car cannot refuel itself like this, you are at a huge disadvantage. Blueplanet is around 66% the weight of a car that does not have cartridge exchange refueling for the same performance.

Blueplanet has inbuilt battery loaders. It does not need a
complicated service station to refuel itself in under 2 minutes.
LEAD-WEDGE SILVER-EAGLE BATTERY-BOX LIGHTNING-ROD WHITE-LIGHTNING BUCKEYE BULLET EMOTION