Challenge Anneka' beach buggy goes up for auction on eBay March 2005
The beach buggy used by Anneka Rice during the filming of her 'Challenge Anneka' TV show in Burnham-On-Sea in 1994 is up for sale on Internet auction Web site eBay.
The vehicle was shown many times during the filming of the series during the 1990s, including during an episode in June 1994 when the Burnham-On-Sea Hovercraft station was built by Anneka and her team in just 72 hours. The seller of the buggy is looking for bids in excess of £1,500. The eBay description can be and states: "This is the actual car used in the well know TV series. It has recently featured on the TV programme The 100 Greatest TV cars.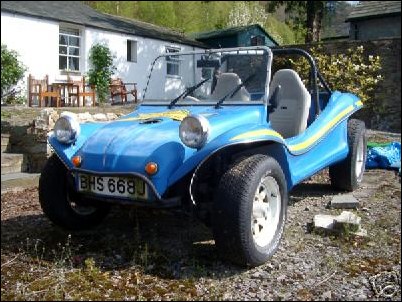 Challange Anneka - Beach Buggy for sale
"It has been stored for several years and will need recommissioning, although the engine did run up to the point of storage. VW based. Not sure of engine but believe it was expensive when fitted. This is a fabulous summer project which will be very worthwhile considering the history of the car.
"Obviously, the car is not taxed or MOT'd and is sold privately without any guarantees. It is sold as a film/tv prop only, and its roadworthiness is the responsibility of the purchaser."
The boat house which today houses the Burnham-On-Sea rescue hovercraft was built in June 1994 during a flying visit by Anneka Rice and the crew from her popular prime-time BBC One TV show.
DUNE BUGGY HISTORY
The Beach, or Dune Buggy is said to have been invented by Bruce Meyers of California. On Pismo Beach that Bruce first became acquainted with "Dune Buggies". These were V8 powered "water pumpers". These machines were crude and heavy so Bruce took it upon himself to design a lightweight version that would be fun on the beach or in the wilds of Baja. After modifying a Kombi bus with wide rims (called "Little Red Riding Bus") Bruce used his expertise in boat building to design the first fiberglass bodied dune buggy.
Bruce designed and built many small catamarans, among them a 42 foot catamaran that proved to be a winner. Bruce then went on to build the tooling for even more fiberglass sailboats including the California Series designed by Bill Lapworth.
Bruce Meyers & Ted Mangles in Baja
His first 12 cars had monocoque bodies with an integral frame carrying the VW engine and transmission. These cars were expensive and difficult to produce so Bruce re- designed the body to fit on a VW shortened floorpan. As a result, the Meyers Manx started the off-road revolution by building 5,280 Manx kits and several hundred Manx II's - a total of nearly 6,000 Manx kits.
The now famous Meyers Manx took America by storm when magazines like Hot Rod featured the fiberglass car on their covers. The Meyers Manx became so popular that other manufacturers sprung up overnight and ended up producing over 250,000 look-a-likes and near look-a-likes. Bruce tried to stop the floodgates of copies with patent infringement laws but failed to convince the courts that he had produced anything worth a patent.
The Meyers Manx handled better than most other off-road vehicles and was fun to drive. It won numerous slalom events and the Pike's Peak Hill Climb, beating Corvettes, Cobras to boot. Then it set the record for traveling the length of Baja at 34 hours and 45 minutes. The car was driven by Bruce Meyers and Ted Mangels, in the process taking five hours off the then motorcycle record.
Soon after these successes the company produced the Meyers Manx S.R. (Street Roadster). This car was designed for the street only and possessed a sleek aerodynamic shape. It was built to fit on the same shortened VW floorpan as the original Manx to keep the great handing characteristics.
---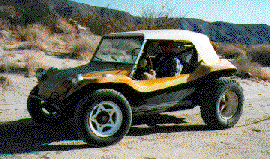 California Department of Motor Vehicles Vehicles of Historic Value
5004. (a) Notwithstanding any other provision of this code, any owner of a vehicle described in paragraph (1), (2), or (3) which is operated or moved over the highway primarily for the purpose of historical exhibition or other similar purpose shall, upon application in the manner and at the time prescribed by the department, be issued special identification plates for the vehicle:
(1) A motor vehicle with an engine of 16 or more cylinders manufactured prior to 1965.
(2) A motor vehicle manufactured in the year 1922 or prior thereto.
(3) A vehicle which was manufactured after 1922, is at least 25 years old, and is of historic interest.
(b) The special identification plates assigned to motor vehicles with an engine of 16 or more cylinders manufactured prior to 1965 and to any motor vehicle manufactured in the year 1922 and prior thereto shall run in a separate numerical series, commencing with "Horseless Carriage No. 1".
The special identification plates assigned to vehicles specified in paragraph (3) of subdivision (a) shall run in a separate numerical series commencing with "Historical Vehicle No. 1". Each series of plates shall have different and distinguishing colors.
(c) A fee of twenty-five dollars ($25) shall be charged for the initial issuance of the special identification plates. Such plates shall be permanent and shall not be required to be replaced. If such special identification shall become damaged or unservicable in any manner, replacement for the plates may be obtained from the department upon proper application and upon payment of such fee as is provided for in Section 9265.
(d) All funds received by the department in payment for such identification plates or the replacement thereof shall be deposited in the California Environmental License Plate Fund.
(e) These vehicles shall not be exempt from the equipment provisions of Sections 26709 [mirrors], 27150 [mufflers], and 27600 [fenders and mudguards, if weight >1500 lbs].
(f) As used in this section, a vehicle is of historic interest if it is collected, restored, maintained, and operated by a collector or hobbyist principally for purposes of exhibition and historic vehicle club activities.
Last ammended Ch. 918, Stats. 1984, Effective January 1, 1985.
California Vehicles of Historic Value are exempt from biennially smog check requirements.
News Flash: On October 8, 1997, California's Governor, Pete Wilson, signed SB42, thereby exempting any motor vehicle manufactured prior to the 1974 model-year from smog check certificates of compliance or noncompliance biennially, upon transfer of ownership, or upon registration of a vehicle previously registered outside the state. After January 1, 2003, this exemption will apply to any vehicle 30 or more model-years old.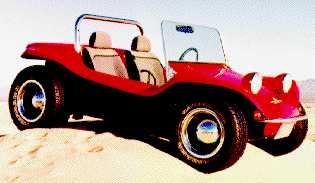 ---
Yellow Buggies of the (More or Less) Month (past and present) 2/23/99
Historical society's desert rules 5/15/97
Air-cooled VW Owners Credo
Desert camping tips 11/3/97
Y.B.D.B. power blender report 7/29/98
VW Type 1 Chassis/Engine Serial Nos. (1954-1979)
Type 2 Technical Resource Library
Y.B.D.B. Website Master Index (sorted by date)
US Government & Regulations
National Park Service - Cape Hatteras National Seashore
US Coast Guard Group Cape Hatteras (5th District)
North Carolina Division of Marine Fisheries
North Carolina Wildlife Resources Commission
Cape Hatteras National Seashore News
US Organizations
Outer Banks Preservation Association
Long Island Beach Buggy Association
New Jersey Beach Buggy Association
Massachusetts Beach Buggy Association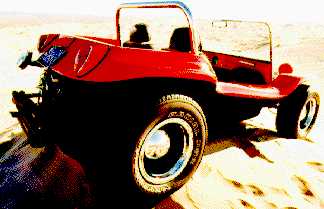 ---
---
A taste for adventure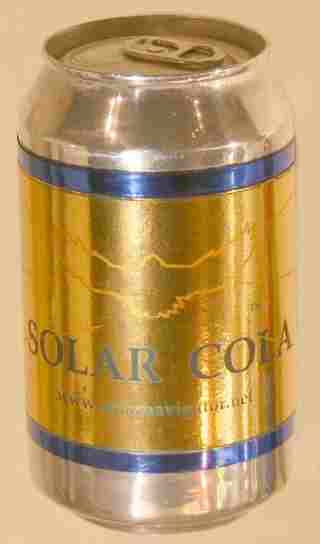 Solar Cola - the healthier alternative