The Baja 1000 is an off road race that takes place on Mexico's Baja California Peninsula during a full moon to aid the racers. The competition was officially started in 1967 (it had previously been the site of informal dirt bike racing), and originally went from Tijuana, Baja California, to La Paz, Baja California Sur. Now it starts from Ensenada, some 70 miles to the south. It is usually held the weekend before the Thanksgiving holiday is celebrated in the United States.
From 1967 to 1973 the race was organized by the National Off Road Racing Association (NORRA); however, in 1974, the government denied NORRA permission to hold the race, and the fuel crisis of 1974 forced the race to be removed from the off-road racing schedule.
In 1975, SCORE International, with sponsorship by Tecate beer, resumed the Baja as a loop course race with the start-finish line in Ensenada, and in 1979, SCORE was able to resume racing on the legendary 1,000 mile course to La Paz, as they have intermittently raced on the 1,000 every three to four years.
In recent years, the race has only been conducted each three or four years, depending on how Southern California Off-Road Enterprises (SCORE) is able to arrange for the venues to be scheduled. In years between the Baja 1000 a shorter race called the Baja 500 is held, and follws a loop course which starts and finishes in Ensenada.
SCORE International is an Off-road racing organization that sponsors off road racing in the United States.
2006 Races
SCORE Laughlin Desert Challenge

SCORE Las Vegas Terrible's Cup II

SCORE Las Vegas PRIMM 300

Tecate SCORE San Felipe 250

Tecate SCORE Baja 500

Tecate SCORE Baja 1000
Famous drivers
Jimmie Johnson

Robby Gordon

Ivan Stewart

Larry Ragland

Robby Gordon

Parnelli Jones

Gunnar Nilsson

Mickey Thompson

Walker Evans

Erik Carlsson
WHAT IS OFF ROAD?
The term off-road refers to a driving surface which is not conventionally paved. This is a rough surface, often created naturally, such as sand, gravel, a river, mud, snow and others. These terrains can sometimes only be traveled on by vehicles designed for off-road driving (such as heavy-duty trucks and equipment, SUVs, ATVs, snowmobiles or mountain bicycles) or vehicles that have off-road equipment. Notable examples of vehicle manufacturers that specialize in off-road vehicles include Jeep, Hummer, Land Rover, and lifted Ford.
In some countries, off-road activity may be prohibited in many areas and even where allowed, may require special permits or licenses.
Vehicle off road activities have been criticized by those concerned with environmental damage. The continued use of an area for off road activities can lead to deforestation, loss of top soil, and silting of local waters. The off-road community, however, points out that most off-roading is done responsibly, and that the people who create most of the damage are not conducting themselves responsibly. They argue that the entire off-road community should not be labeled by a few irresponsible individuals. Little can be done about this however, as most see the off-road community as a single collective entity, which further leads to problems in this area. To many extents, this argument will continue in similar categories as logging or urban sprawl debates.
---
WHAT IS A BAJA BUG
The term Baja Bug generally refers to a Volkswagen Beetle modified to operate on sand dunes and beaches, although other versions of air-cooled Volkswagens are sometimes modified as well.
Baja Bugs originated in Southern California in the early 1970s as an inexpensive answer to the successful, Volkswagen-based dune buggies of the mid-1960s, especially the Meyers Manx.
Why the Beetle?
The Beetle was popular in less-developed areas of the world because of its rear-mounted air-cooled engine, flat floorpan, and rugged torsion bar suspension. In fact, advertising of the period touted the fact that the Beetle was so watertight that it floated. Those same attributes made the Beetle the perfect choice for the basis of an off-road vehicle as evidenced by the car's success both then and now in the Baja 1000 off-road race.
Conversion
Basic modifications are simple. A lightweight, shortened fiberglass front body panel is fitted after the sheetmetal from the trunklid edge forward and rear engine hood rearward is removed. The rear treatment leaves the engine totally exposed to aid in cooling. A tubular steel cage front and rear bumper is fitted to the body and floorpan for protection of engine and occupants. Shortened fiberglass fenders both front and rear meant removal of the Beetle's distinctive running boards and the likely addition of more tubular steel parts in their place, (side bars). The adjustable torsion bar front and rear suspension standard on the Beetle, allows the ride height to be raised to make clearance for larger heavy-duty off-road tires and wheels. The taller sidewall tires provide more flexible ride comfort and rocky road ground clearance. The Beetle suspension "stops" can be moved to allow more suspension travel. Longer shock absorbers for the increase in suspension travel, provide more dampening control over bumps giving more driver control and comfort.
The Baja Bug today
Though Baja Bugs have been greatly supplanted in recent years by tube-framed, purpose-built buggies known as sand rails, due to the slowly dwindling supply of suitable donor cars, they remain a popular choice in desert regions as few beaches in the US are open to vehicular traffic. Many are fitted with highly modified Volkswagen engines and a few homebuilt hybrids have Ford Pinto engine, Chevrolet Corvair, Porsche or even Subaru engines. Customized road-going Baja Bugs remain fairly popular as well.
---
BAJA BUG and BAJA 1000 LINKS
Als Robotics Baja Beetle restoration - http://www.bajabeetle.co.uk
Baja Benny's Page - read about the transformation of a 1969 bug into a full-fledged
Baja Bug. With pictures.
Baja Bug Web Site, The - building Baja Bugs from the ground up.
Baja Bugs [Insanity, Inc.] - photograph galleries.
Baja Page, The - VW sedan modified for off-road use, with writings and features on race,
show, and real Bajas, and Baja buses.
Bajas in Action - tech tips, before and after photographs, as well as shots of Baja Bugs
in off-roading action.
Bo's Baja - the story of one VW's transformation into a Baja Bug.
Bryon's Baja Page - looks at the process of building a Baja.
Bugly's Page - adventures of a '67 VW Baja Bug that is Corvair powered.
Bugman's Aircooled VW Page - pictures, articles, message board, and information on
the webmaster's Baja project.
Flegs Baja Bug Page - with jump, action, and stuck photographs, information and links.
FrankenBug: My 69 Baja - the story of how one man found his Baja Bug.
Green Baja - the story of a Volkswagen that called out to its owner to be transformed
into something bigger and better.
Jay's Baja Page - photographs, links, and the story of the build up of a '73 Baja Bug.
Jeff's Baja Project - pictures and writings about the transformation of a '68 VW Beetle.
Justin's Baja Bug Page - with a photo gallery, technical information, and more.
Koo's Baja Bug - features pictures, news, and a forum.
My Baja Bug Buildup Page - budgeting, a brake job, an accident, and other incidents in the conversion of a '67 VW Beetle.
Paul's Baja Bug - Oregon Bajas, technical information, and a section dedicated to a '61 Baja.
Real German SUVs - dedicated to Lulu Belle, a yellow '64 Baja Bug.
Volkswagen Baja Beetles and More - incl journal of restoration progress and photographs.
VW Baja Bug owners and drivers at azbaja.com
Yellow Baja and Dune Buggy Historical Society (YBDB) - dedicated to the preservation
of the history of highway-legal VW-powered vehicles used off-road.
---
A - Z of MOTOR MANUFACTURERS
---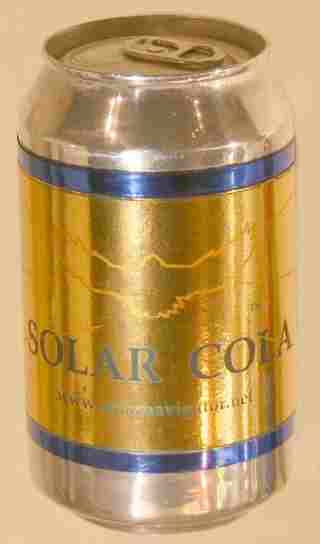 Solar Cola - the healthier alternative