The chassis of the BE3 is hand crafted in high strength corrosion resistant steel. Through careful design the main chassis assembly weighs in at an incredibly light 52Kg. The designer is particularly proud of this achievement because the BE3 chassis is built to handle many times the horsepower of the BE1 chassis; it is torsionally stiffer, yet it weighs roughly the same.
The most important part of the car is the chassis. It is important to make it square. It is important that the dimensions are to tolerance, which means a keen eye and careful measurement. In short good workshop theory and practice. In this sequence of photographs, you can see that I've used trestles. If you do so, be sure that they are level at both ends. Many chassis builders work on the floor using chalk lines. Use whatever method works for you.
Work clean. Start by sweeping and clearing out the workshop of anything but that for the job in hand. Workshops get cluttered up very easily.
I make a cutting list for each job. I like to cut all the tube in one go. Usually this can be done in less than an hour with a good chop saw and a keen eye. I use a sharp scribe to mark my cutting lines. That way they are thin. I also mark on which side of the scribed line to cut. This is just as important for cabinet makers as it is for welder/fabricators.
I also use four or more set squares when jigging a frame. Tack lightly on both sides sequentially, to avoid twisting as the weld metal cools. I can't teach you this. You'll have to do a dummy run. If the frame twists, cut the welds out with a thin cutting disc. It's better to start fresh and get it right, rather than try to correct a twisted frame. Make sure you cut the metal tubes square - unless of course there are angles.
Sponsors are invited to underwrite showing of the vehicle in the spring of 2014 through 2015 at events to be arranged in the UK. The car will be available for rolling displays next year along with the BE1 and BE2. Contact us with your interest. We are particularly keen to collaborate with academics and companies looking to compete in the forthcoming Formula E series.
The chassis featured here is not suitable for circuit racing, but a concept that will allow instant cartridge refueling for Formula E is on the drawing board. Confidentiality is vital until partners are in place and intellectual property rights are secured.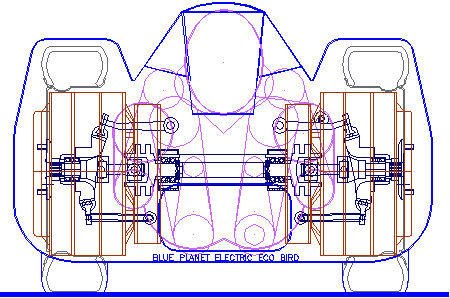 The Blueplanet Ecostar is long and low. It features battery cartridge refueling.
The driver sits at the rear dragster fashion, the battery cartridge is in the front
all the way to the nose cone. Check out the battery cartridge exchange sequence below.

Contact us:

or phone UK:

+44 (0) 1323 831727 +44 (0) 7842 607865
Bluebird Marine Systems Ltd

Intelligent Battery Support System
THE BLUE BIRDS OF HAPPINESS

If your land speed record car cannot refuel itself like this, you are at a huge disadvantage. Blueplanet is around 66% the weight of a car that does not have cartridge exchange refueling for the same performance.

Blueplanet has inbuilt battery loaders. It does not need a
complicated service station to refuel itself in under 2 minutes.