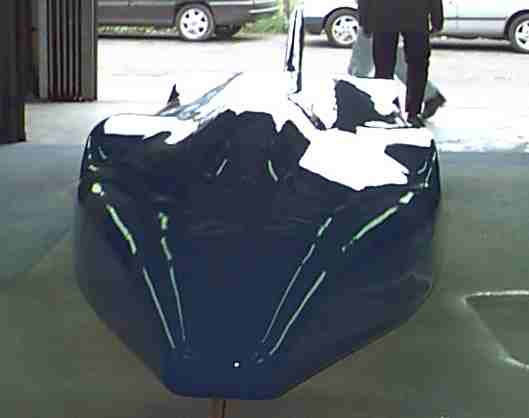 The completed buck was towed to our local bus depot at Eastbourne. These were the only workshops with a suitable spray booth and a window of opportunity to help us. Primers and 2 pack paints, including the cost of painting were covered by Sikkens.
At time of writing the MKIII BE3 has no corporate paint sponsor. If your company would like to offer support to the BE3 project, we would like to hear from you.
HOME JEANTAUDE JAMAIS-CONTENTE BAKER-TORPEDO LEAD-WEDGE SILVER-EAGLE BATTERY-BOX LIGHTNING-ROD WHITE-LIGHTNING EMOTION NEMESIS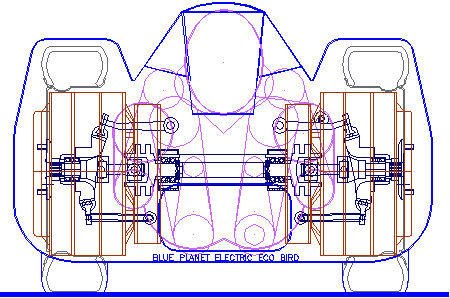 The Blueplanet Ecostar is long and low. It features battery cartridge refueling.
The driver sits at the rear dragster fashion, the battery cartridge is in the front
all the way to the nose cone. Check out the battery cartridge exchange sequence by clicking
on the outline drawing below.

Contact us:

or phone UK:

+44 (0) 1323 831727 +44 (0) 7842 607865
Bluebird Marine Systems Ltd

Intelligent Battery Support System
THE BLUE BIRDS OF HAPPINESS

If your land speed record car cannot refuel itself like this, you are at a huge disadvantage. Blueplanet is around 66% the weight of a car that does not have cartridge exchange refueling for the same performance.

Blueplanet has inbuilt battery loaders. It does not need a
complicated service station to refuel itself in under 2 minutes.