McMaster Solar Car Project Unveils Third-Generation Vehicle for 2005 North American Solar Challenge


Hamilton, ON, June 3, 2005 … Team members of the McMaster Solar Car Project unveiled one of Canada's entries into the first-ever North American Solar Car Challenge today.


Named Phoenix, the solar car features a redesigned aerodynamic shell, a three-wheel chassis system for reduced road resistance, a more efficient solar array with 479 solar cells, and new suspension, steering and braking systems for improved performance and handling.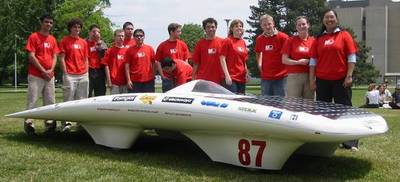 Mc Masters solar car


"We've engineered Phoenix based on what we've learned from our previous two cars, Fireball 1 and Fireball 2," explains Avery Yuen, Project Manager, McMaster Solar Car Project. "We've found better ways to tap the sun's energy and overcome earth's natural resistances to make Phoenix travel faster over a longer period of time while making it easier to drive."


The first-ever North American Solar Challenge is a special edition of the biannual American Solar Car Challenge and will run from July 17 to 27. More than 30 teams from across North America will race on a highway route that starts in Austin, Texas, crosses the Canadian border into Manitoba and finishes in Calgary, Alberta. Cars will reach speeds of over 100 km/h while using the equivalent electrical output of a toaster.


"Engineering a solar car lets us put into practice what we've learned," said Karleen Dudeck, Business Manager, McMaster Solar Car Project. "It also lets us explore engineering solutions in areas such as alternative energy and environmental protection."


The team has spent the last 12 months working on designing, manufacturing and fundraising for Phoenix. More than 50 local organizations and individuals have contributed to the development of the car, which is valued at over $300,000. Primary sponsors include Comtek Advance Structures of Burlington, Fiber Laminations of Hamilton, the Faculty of Engineering at McMaster University and the McMaster Engineering Society.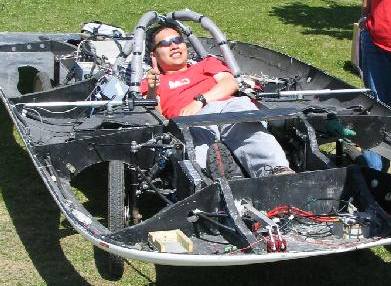 Seating - cosy
PHEONIX SPECIFICATION:
Battery Pack

Due to new regulations, Phoenix will use only 108 of the original 120 Electrovaya lithium-ion polymer cells that were used in Fireball II. The pack will be protected by a custom-built control cicrcuit that monitors voltage, current, and temperature. The pack will be capable of storing 4.4 kWh of energy at a weight of only 24 kg.


Solar Array

479 Sunpower A-300 (20% efficient) solar cells will cover the surface of Phoenix, giving an output of around 1000W in full sunlight.


The solar cells are made of single crystal Silicon and unlike previous solar cells on our cars, the A-300 cells are back-contact, meaning that they are easier to connect together. Each module of cells was individually encapsulated at Sunwize Technologies in Kingston, NY and mounted to the car using a film adhesive.


Peak Power Trackers

Phoenix will be using custom designed and built Peak Power Trackers. The team has decided to embark on this endeavour as a senior design project for several of our senior members.


Motor

A high efficiency motor from New Generation Motors allows the solar car to reach highway speeds while using the equivalent electric power of a toaster. The motor also comes equipped with regenerative braking, which allows for the braking energy to be transferred into electrical energy for the battery, rather than heat. This motor operates at around 100V.


Telemetry

Phoenix will be equipped with a telemetry system to send data such as current, voltage, temperature, and speed to the support team, who can use this information to develop a winning strategy.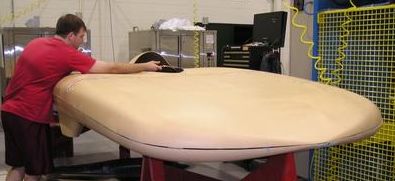 Structure

The structure of Phoenix will be comprised of four main components-the aeroshell, the belly pan, the spaceframe and the wheel fairings. The aeroshell and bellypan are the top and bottom halves and are both made of composite materials (Kevlar with Nomex core)


The aeroshell's main purpose is to hold the solar array. Measuring 5 metres long by 1.8 metres wide, it offers approximately 7 square metres of flat area to hold the 479 solar cells. The aeroshell must also reduce aerodynamic drag on the vehicle. To this end, the design of the aeroshell is based on a shape that is a good compromise between aerodynamics and solar array design. The design involves curvature in the front-back direction, with a fairly sharp side wall.


The belly pan is the mating part to the aeroshell, and is essentially a skin that is used for aerodynamic purposes.


The spaceframe is formed from aluminum tubing that act as hardpoints for all suspension parts to be mounted, and also holds compartments for the driver, the batteries, and the various circuitry.


Last but not least, the wheel fairings are integrated into the bellypan, and again act as a skin for aerodynamics to cover the spinning wheel and tire.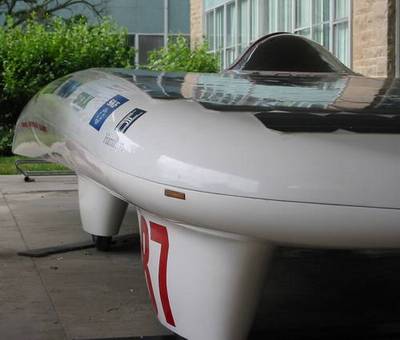 Suspension, Steering and Braking

Phoenix has a 3 wheel design, with the front two suspended with 6061 aluminum custom machined double A-arms. Mountain bike shocks will be used on all three wheels to protect the driver and delicate solar cells from potholes and bumps. Hydraulic disc brakes will be mounted to the front suspension.


The motor is mounted in the hub of the rear wheel and operates without the aid of gears, chains, or belts.


Phoenix's wheels are made of lightweight 6061 aluminum, machined using a CNC mill at McMaster's Manufacturing Research Institute. The wheels accommodate 14" Bridgestone Ecopia tubeless tires.


The steering system of Phoenix uses a steering wheel mounted inside the cockpit. This was chosen as it is the most intuitive to drive.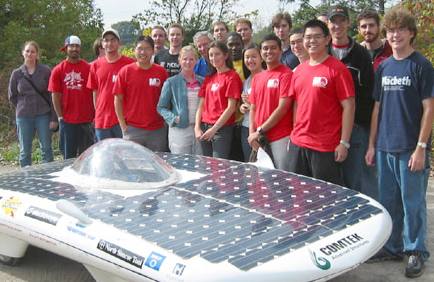 Mc Masters 'Fireball' team 2004
THE TEAM :
The McMaster Solar Car Project consists of over 50 members from all faculties at McMaster University. The core of the team is structured as follows:

Executive
------------------------
Faculty Advisor - Dr. John Preston
Technical Advisor - Peter Jonasson
Project Manager (Engineering) - Avery Yuen
Systems Specialist - Scott Cameron
Team Advancement Officer - Karleen Dudeck
------------------------


Design Optimization Committee
------------------------
Chief Electrical Engineer - Amin Ahmadi
Chief Structural Engineer - Ronny Theiss
Chief Mechanical Engineer - Kyle Buckle
Chief Aerodynamics Engineer - Misha Lelli
------------------------


Management
------------------------
Electrical Manager - Jonathan Lannan
Dynamics Manager - Brian Malowany
Structural Manager - Scott Cameron
------------------------


Miscellaneous
------------------------
External Consultant - Darryl Wallace
------------------------


Team Bios
------------------------
Dr. John Preston - Dr. Preston is the Director of the Brockhouse Institute for Materials Research at McMaster University, and is a Professor in the Department of Engineering Physics. A graduate of both McMaster and University of Toronto, his research specializes in applications of high temperature superconductors and optical processing of materials. In his spare time, he enjoys hassling his summer students. He has been the faculty advisor for the McMaster Solar Car Project since fall, 2001.
e-mail: prestonjATmcmasterDOTca

Peter Jonasson - Peter is a technician in the Department of Engineering Physics and specializes in laboratories related to Solid State Electronics and Optics. Peter is experienced in television broadcasting and has covered the Commonwealth Games and the Olympic Games. Peter has been the technical advisor since fall, 2001. e-mail: jonassoATmcmasterDOTca

Avery Yuen - Avery is a 5th year Engineering Physics and Management student and has been with the team since fall, 2001. In 2002 he was named the Power Systems Manager, where his specialty was in solar array, batteries, and race strategy. Following ASC 2003, he was chosen to be the Engineering Manager and has continued in this role since then. In his spare time, he enjoys watching and playing football and writing about himself in 3rd person.
e-mail: yuenapATmcmasterDOTca or solarcar@mcmaster.ca

Scott Cameron - Scott is a 5th year Engineering Physics and Society student and has been with the team since fall 2002. As a key member of the ASC 2003 team, Scott rose to the level of dynamics manager in fall 2003. In his spare time, Scott enjoys watching and playing basketball and hockey, as well as building large wooden horses. e-mail: camerosaATmcmasterDOTca

Karleen Dudeck - Karleen is a 3rd year Engineering Physics student and has been with the team since summer 2003. Karleen's role on the team is to organize and arrange for public and educational events for local organizations. In her spare time, Karleen enjoys jogging, biking, and cracking the whip at people that don't do what they were supposed to. e-mail: dudeckkjATmcmasterDOTca

Amin Ahmadi - Amin is a 4th year Electrical Engineering student and has been with the team since fall 2001. As a talented electrical team member, Amin was hired as a summer student in summer 2002, after which he became the Control Systems Manager. In fall 2003, he then became the electrical manager. His current role on the team is to oversee the design, construction and testing of the circuitry on the car, including battery protection, telemetry, and motor controller circuitry. In his spare time, Amin enjoys making Ave nervous by running, making loud noises, or using tools other than a soldering iron.
e-mail: ahmada2ATmcmasterDOTca

Ronny Theiss - Ronny is a 3rd year Mechanical Engineering and Management student and has been with the team since winter 2004. His impact on the team has been notable as our jack of all trades, including aerodynamics, composites, and programming. Despite only being on the team for a matter of months, Ronny was immediately hired as a summer student and promoted to his current title as Chief Structural Engineer. In his spare time, Ronny enjoys being clutch.
e-mail: theissrmATmcmasterDOTca

Kyle Buckle - Kyle is a 2nd year Mechanical Engineering and Management student and has been with the team since fall 2003. As a first year, Kyle designed the cable driven steering system of Fireball 2, and was hired as a summer student in 2004 to continue his work with F2 and the design of Phoenix. In his spare time, Kyle enjoys dieting and losing weight in order to become a driver.
e-mail: bucklekATmcmasterDOTca

Misha Lelli - Misha is a 4th year Engineering Physics student and has been with the team since fall 2001. As a summer student in 2002, Misha designed the aeroshell and chassis of Fireball 2 with aerodynamics in mind. Misha is now experienced with composites and is our resident aerodynamicist and artist. In his spare time, Misha enjoys video games and disregarding e-mails from his team members.
e-mail: lellimeATmcmasterDOTca

Jonathan Lannan - Jonathan is a 2nd year Engineering Physics student and has been with the team since fall 2003. After showing quite the iniative in his first year, Jonathan was pegged as an eventual array and battery specialist. Having mastered these, Jon has branched out into telemetry and subsystems wiring. In his spare time, Jon enjoys video games, swimming, and being a good, wholesome boy.
e-mail: lannanjATmcmasterDOTca

Brian Malowany - Brian is a 3rd year Mechanical Engineering and Management student and has been with the team since winter 2003. Brian is a well rounded individual, also having executive positions in the Engineering and Management club, as well as the Student Walkhome Attendance Team. In his spare time, Brian enjoys biking and spending time with his Volvo.
e-mail: malowabjATmcmasterDOTca

Darryl 'Wally' Wallace - Wally is a 4th year Engineering Physics student and has been with the team since fall 2003. When problems become too complicated to handle by ourselves, we consult Wally for help. Wally is also our lead driver. In his spare time, Wally enjoys video games, Boston Pizza, and singing songs opera-style.
e-mail: wallacdjATmcmasterDOTca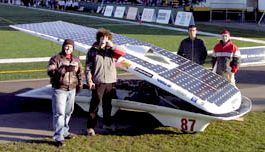 ---
McMaster SolarCar Project
E-mail: solarcar@mcmaster.ca
Website: www.solarcar.mcmaster.ca


Mailing Address:

McMaster University
John Hodgins Engineering Building
Room 261
1280 Main St. West
Hamilton, Ontario
L8S 4L8


Phone: (905) 525-9140 ext. 27388
Fax: (905) 528-4952
Home | News | Education | Donate | Media
The Team | Races | Photo Gallery | Past Cars | Contact Us
---
SPONSORS:
Platinum Level ($25 000+)
Comtek Advanced Structures
www.comtekadvanced.com
HQ: Burlington, Ontario


Comtek advanced structures is a leader in the field of the manufacturing and engineering of structural and interior aircraft components fabricated from advanced composite materials. With recent expansions at its headquarters and abroad, Comtek continues to maintain a competitive industrial edge in Canada and worldwide. Comtek has forged a strategic alliance with the McMaster Solar Car Project, becoming its only platinum-level sponsor and an integral and reliable part of the team through a number of invaluable contributions to both Fireball II and Phoenix, including financing and facilities.


Gold Level ($10 000+)
Fibre Laminations Ltd.
www.fibre-lam.com
HQ: Hamilton, Ontario

Fibre Laminations has been a fixture in the greater Hamilton area since 1976, when it was founded in Stoney Creek, Ontario. Over the years of growth, Fibre Laminations has become a manufacturer of diverse fiberglass products. Its focus on customer satisfaction and the employment of high performance talent has provided the company with continued growth and success. Fibre Laminations has provided the McMaster Solar Car Project with integral services in the molding and fabrication of fiberglass parts that are essential to the success of the team and Phoenix.

McMaster Faculty of Engineering
www.eng.mcmaster.ca
HQ: Hamilton, Ontario

The McMaster Faculty of Engineering is one of the top Engineering Faculties in North America and is regularly recognized as the most innovative. Not only has the faculty provided most of the team members with their educational backgrounds, but it has also been an integral sponsor of the McMaster Solar Car Project through the donation of finances and facilities for both Fireball II and Phoenix. Being that much of the team is also enrolled in McMaster's Engineering Faculty, having the faculty's support raises spirits and creates a greater sense of pride on the team.

McMaster Engineering Society (MES)
http://mes.mcmaster.ca
HQ: Hamilton, Ontario

The McMaster Engineering Society is student run group in the Faculty of Engineering at McMaster University. The engineering student body votes on all of the projects - including the MSCP - funded by the MES. Clearly the McMaster Solar Car Project is of interest to McMaster's engineering students, having received funding for Fireball II and Phoenix - evidence that McMaster's future engineers are a community oriented and environmentally conscious group. They are certainly a group that has pride and faith in their student projects.
Silver Level ($5 000+)
North Simcoe Tool
http://northsimcoetool.ca
HQ: Simcoe, Ontario

North Simcoe Tool is a progressive machining facility committed to supplying quality products and services to all customers in a timely fashion. They have helped the McMaster Solar Car Project in many ways for the Phoenix design cycle. This includes donations to the project and also, through open house events, creating awareness in their community about the McMaster Solar Car Project and about the environment.

The TD Friends of the Environment Foundation
http://www.td.com/fef/
HQ: Toronto, Ontario

The TD Friends of the Environment Foundation supports the efforts of Canadians who are dedicated to the well-being and sustainability of our environment. This is a great partnership for the McMaster Solar Car Project, as it emphasizes one of the MSCP's primary ideals - the partnership of likeminded groups that recognize the importance of a sustainable environment.

The Yves Landry Foundation
www.ylandryfund.org
HQ: Toronto, Ontario

The vision of the Yves Landry foundation is to forge an enlightened partnership between industry and education, train a world-class pool of skilled manufacturing workers, technicians, technologists and engineers, and secure a technological advantage in a rapidly changing world. The McMaster Solar Car Project was awarded the YLF's prestigious "Progress Towards Sustainable Development" award, accompanied by a $5000 cash prize sponsored by Shell Canada.

Plascore
www.plascore.com
HQ: Michigan, U.S.A.

Plascore is a materials manufacturing company that creates honeycomb cores, which are used in the fabrication of lightweight structures typically used in aerospace and commercial markets. A honeycomb-enforced panel offers one of the highest strength to weight constructions available for the design of Phoenix. Plascore has aided the McMaster Solar Car Project with a substantial financial donation of $5,000.

McMaster Physical Plant
http://ppims.services.mcmaster.ca/
HQ: Hamilton, Ontario

The McMaster University dept. of Physical Plant is responsible for the maintenance, repair, renovations and operations of facilities around McMaster. Physical Plant has been an essential part of the success of the McMaster Solar Car Project and has been on board for both the Fireball II and Phoenix projects. They provide the MSCP with many key services such as storage for the car and are always available their assistance is needed.

Mr. Moped
www.mrmoped.ca
HQ: Oakville, Ontario

Mr. Moped is a new silver level sponsor for Phoenix. Being that Mr. Moped is Ontario's #1 Authorized Tomos Dealer, it is obvious why the McMaster Solar Car Project has joined forces with such an incredible sponsor. With a $5,000 donation of top quality tires, Phoenix will definitely be a stylish vehicle.

MSU - McMaster Students Union
msu.mcmaster.ca
HQ: Hamilton, Ontario

The MSU is the representative body of all McMaster students, and by backing our project they have shown that McMaster is supportive of its student projects, community-conscious, and environmentally concerned.

McMaster Manufacturing Research Institute
http://mmri.mcmaster.ca/mmri
HQ: Hamilton, Ontario

MMRI is one of Canada's most advanced and best equipped research laboratories and combines the expertise of several of McMaster's engineering faculties to conduct industry-relevant research and educate and train McMaster's students and post-degree professionals.

Cameron Motorsports
www.cameronmotorsports.com
HQ: Hamilton, Ontario

Cameron Motorsports provides track racing facilities for the greater Hamilton area including the Hamilton Regional Kart Club.

Cayuga Speedway
www.cayuga2000speedway.com
HQ: Hagersville, Ontario

Cayuga Speedway is a premier race track featuring 5/8 miles of paved track, seating for 11 000 as well as a concert stage and dance area.
---
SOLAR CAR EVENTS
American World Solar Challenge - Formula Sun
Australian World Solar Challenge
Canadian Solar Discovery Challenge
Dream Cup Solar Car Race Suzuka 2003 - Japan
Japanese World Solar Car Rallye
North American Solar Challenge
Solar Express - Solar Bike Race
During these competitions, students learn about solar panels, electric motors, electronics, vehicle chassis, bodywork, aerodynamics, suspension, batteries and how to solve practical problems during the design process, while working as a team. It's demanding stuff and more fun that laying in bed watching TV, where individuals may seek inspiration, but achieve very little.
---
A taste for adventure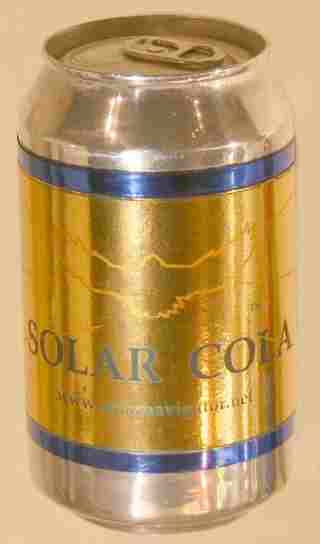 Solar Cola - a healthier alternative