A SUSTAINABLE FUTURE
Never mind the politics, people need a place to live, food and energy. Imagine a world where there is abundant energy for transport, the home and our factories, and that energy does not harm our environment. Imagine that the world economy is stable and that the population is under the threshold where the planet can meet our needs. Isn't that a wonderful vision?
That ideal may not be totally within our grasp. But we can at least strive for clean energy for living, which is technologically within sight.
SPONSORSHIP

In 1996 London Electricity sponsored the BE1 electric land speed record car.
In September 2012 Ecotricity sponsored Nick Ponting to drive the Nemesis, a converted Lotus, to take the British Electric Land Speed Record.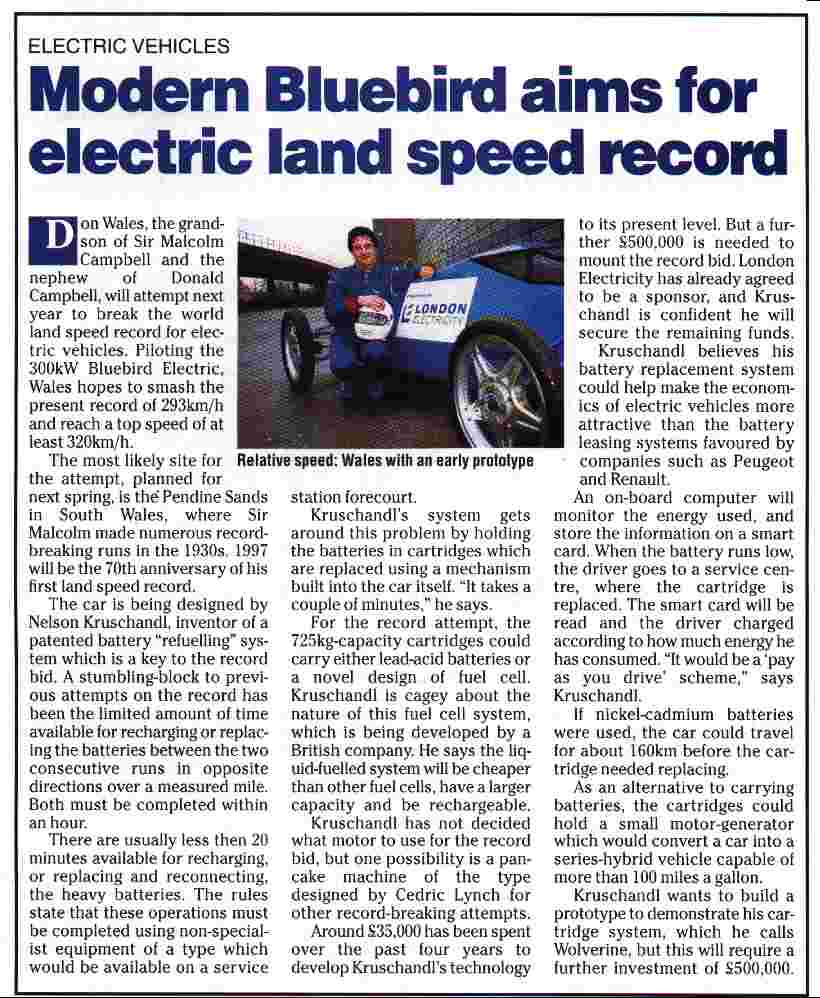 DON WALES - The grandson of Sir Malcolm Campbell, leapt on the opportunity to drive this innovative machine, that was years ahead of its time. For a time this was a land speed record project to promote the use of EVs where battery swapping would take transport to the next level by grabbing the world speed record. Unfortunately, Mr Wales appears not to have fully understood the concept upon which the project was founded, ditching cartridge exchange and converting an old Formula Ford that had no chance of success. Not only that, it is alleged that he never paid the inventor for making him a household name, when he could have driven this electric Bluebird himself. Without the inventor all the efforts of the Wales' family came to nothing. They never took the world record. Unsurprisingly, nobody wanted to sponsor a Campbell relation for any electric project thereafter. What is perhaps more terrible, is that EV development was stifled, in not remunerating the champion that was working for a cleaner future.

RENEWABLE ELECTRICITY
Solar power from micro generation is now a growing industry as many Youtube videos are demonstrating. As these conversions and new builds gain in popularity electric vehicles will also gain favour, especially for households generating excess energy, which they could get better value from by using for transport. Electricity used in this way might reduce transport costs by up to 200%. So provide a higher quality of life with lesser environmental damage.
If buying an EV, it would make sense to have the latest future proof technology, such as battery cartridge exchange built into the vehicle, for self servicing, or exchanges at local stores or cooperatives. This technology exists but has not yet been incorporated in production vehicles.
When EVs become available with cartridge refueling, it would make sense to have in place at least a few service stations to cater for eventual demand. The technology would thus be in place when it is needed. Such a move when it is implemented will greatly reduce carbon dioxide build up in the atmosphere and ease the transition from oil based economies to abundant clean energy.
THE CHICKEN AND EGG SITUATION
This vehicle and the batter cartridge recharging system, represents the egg that might have grown into the chicken in different circumstances. There are two ways of evolving:
1. As with petrol cars, eventually there were so many that the service station for pumped fuel was inevitable. This could happen with electric vehicles, but why wait? We need load levelling from battery storage. Why not combine the two functions?
2. Alternatively, if there were service forecourts to cater for battery cartridge exchange, that might in turn persuade motor manufacturers to produce vehicles with the system. This is a classic chicken and egg situation. Who should do what first?
Given the scale of the infrastructure problem - in that we don't have one - it might be prudent for every corporation involved in the industry to at least investigate the potential that any emerging technology might offer for the future of mankind, which is after all the future of their company and eventual profits for their shareholders.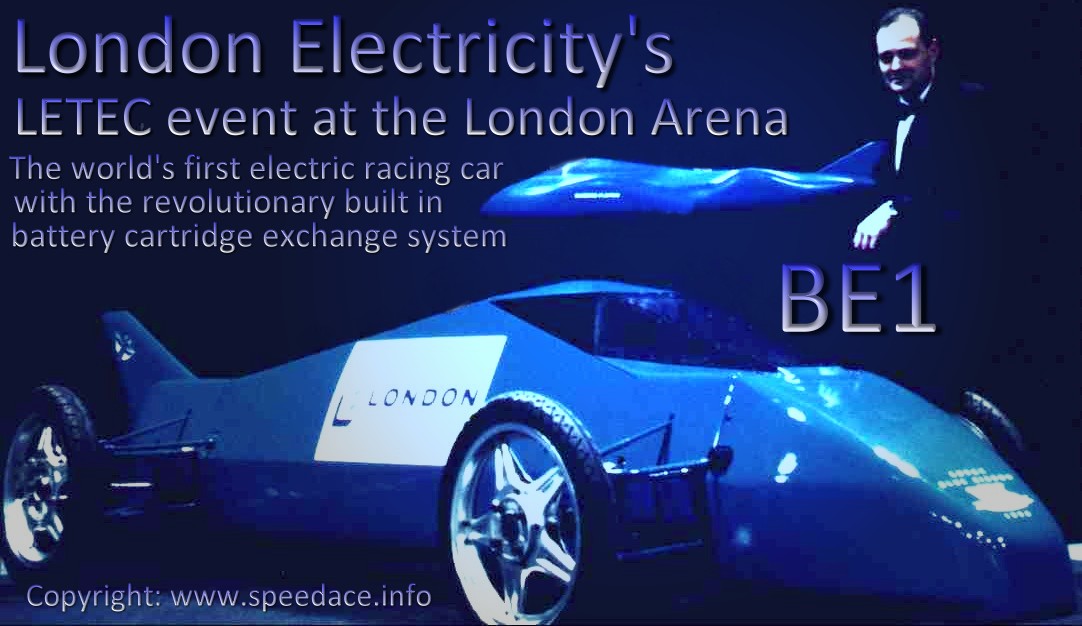 LINKS
Daily Mail new British electric land speed record beats Malcolm Cambell's grandson
http://www.bbc.co.uk/news/uk-england-19510051
BBC News England September 27 2012 British Electric LSR Nemesis, Elvington
Guardian news online environment 2012 September 27 Nemesis electric land speed record
http://www.ecotricity.co.uk/about-ecotricity/eco-labs/nemesis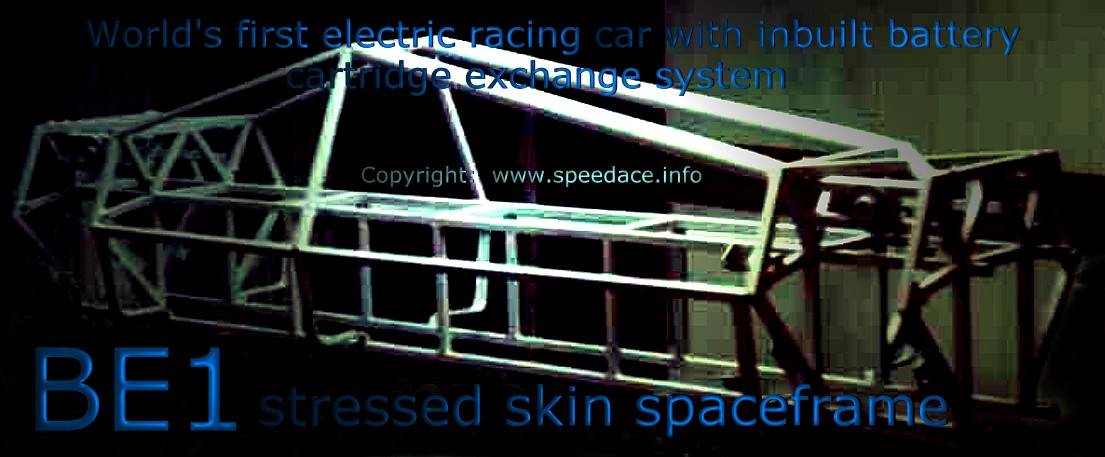 ENERGY GENERATING-DISTRIBUTION UTILITIES
TOP ELECTRICITY POWER COMPANIES A - Z
According to Power-Technology.com, a website that provides market and customer insights in this sector, they listed these power companies (according to the 2018 Forbes calculation of net market capitalization, assets, sales and profit) as the biggest utilities:
KEPCO Korean Electric Power Corporation
National Electric Grid & Central Electricity Authority (India)
National Energy Board (Canada)
National Grid plc (formerly Central Electricity Generating Board UK)
Scottish & Southern Energy
State Grid Corporation of China
TEPCO Tokyo Electric Power Company
LINKS and
REFERENCES
...

SMARTGRID - Service stations that use standard energy cartridges with (smart) compatibility built in for universal rapid charging of cars, buses and trucks - one size fits all.