EnergyAustralia is a large Australian electricity and natural gas supplier and retailer. A subsidiary of TRUenergy, it primarily supplies the Sydney, Newcastle and Central Coast areas of New South Wales and has, since market deregulation, increased its focus on retail supply opportunities in electricity and gas to the Victorian market and electricity in the deregulated South East corner of Queensland.
EnergyAustralia has origins over 100 years old, and was formed after a merger in 1996 between Orion Energy (formerly Shortland Electricity and Shortland County Council) and Sydney Electricity (formerly Sydney County Council, Mackellar County Council and St George County Council). It was a state government enterprise of the Government of New South Wales. In March 2011, EnergyAustralia's retail business and company name was sold to TRUEnergy, with the distribution business to remain a state government enterprise renamed Ausgrid.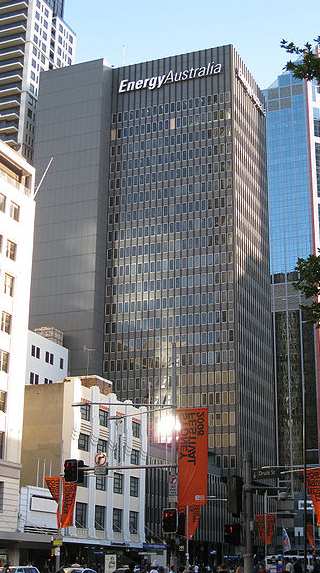 Operations

Previously the company had a price-regulated monopoly for the supply of electricity to its supply area. The residential energy market was deregulated in 1997 and full retail contestability introduced in 2002. EnergyAustralia also increasingly conducts electricity retailing outside of New South Wales, with the introduction of full retail contestability in South Australia, Victoria and Queensland.

EnergyAustralia also offers renewable green power which is accredited by the National GreenPower Accreditation Program. Depending on tariff type and locality, EnergyAustralia provides retail customers with a choice of 10%, 25%, 50% or 100% accredited GreenPower options. The independent watchdog organisation for Australian Green energy is Green Electricity Watch.
A SUSTAINABLE FUTURE
Never mind the politics, people need a place to live, food and energy. Imagine a world where there is abundant energy for transport, the home and our factories, and that energy does not harm our environment. Imagine that the world economy is stable and that the population is under the threshold where the planet can meet our needs. Isn't that a wonderful vision?
That ideal may not be totally within our grasp. But we can at least strive for clean energy for living, which is technologically within sight.
RENEWABLE ELECTRICITY
Solar power from micro generation is now a growing industry as many Youtube videos are demonstrating. As these conversions and new builds gain in popularity electric vehicles will also gain favour, especially for households generating excess energy, which they could get better value from by using for transport. Electricity used in this way might reduce transport costs by up to 200%. So provide a higher quality of life with lesser environmental damage.
If buying an EV, it would make sense to have the latest future proof technology, such as battery cartridge exchange built into the vehicle, for self servicing, or exchanges at local stores or cooperatives. This technology exists but has not yet been incorporated in production vehicles.
When EVs become available with cartridge refueling, it would make sense to have in place at least a few service stations to cater for eventual demand. The technology would thus be in place when it is needed. Such a move when it is implemented will greatly reduce carbon dioxide build up in the atmosphere and ease the transition from oil based economies to abundant clean energy.
THE CHICKEN AND EGG SITUATION
If there were service forecourts to cater for battery cartridge exchange, that might in turn persuade motor manufacturers to produce vehicles with the system. This is a classic chicken and egg situation. Who should do what first.
Given the scale of the problem, it might be prudent for every corporation involved in the industry to at least investigate the potential that any emerging technology might offer for the future on mankind, which is after all the future of their company and eventual profits for their shareholders.
ENERGY GENERATING-DISTRIBUTION UTILITIES
Nelson Kruschandl is new to the publishing world. The first book (in a series) is written in the first person about his archaeological discoveries at Herstmonceux, in East Sussex now with the scientific backing (reports) of English Heritage, Archaeology South East and his County Archaeologist. The building the subject of this book is now on a Monument Protection Programme as a result of the author's struggles over 30 years (the process of discovery for which is included). This is an informative trip back in time with eye witness testimony from two local residents who lived in Herstmonceux in the early 20th century supplemented with masses of good photographs and a recent professional time team like survey. Despite the title, the book covers the period 1890 to 2005. (Please note that the Kindle version of this book does not contain the illustrations due to a 5Mb upload limit.)
New release: The Energy Age (illustrated) 1890 - 1936
available for Kindle and other readers from June 2012.
This is the first in a series of factual volumes about the writers
personal experiences, successes, struggles and vindication.
LINKS and REFERENCES
http://www.energyaustralia.com.au/
http://hornsby-advocate.pennant-hills-locals-powerful-opposition-to-sub-station
http://inner-west-courier.whereilive.com.au/resistance-to-electrical-substation-plans
Clean energy from wind generation