Intelligent Battery Support System
Nelson Kruschandl is the engineer behind the original BE1 and BE2 electric world challengers. He believed that the 2008-2011 design seen on this page was the most powerful electric vehicle in the world. Codenamed project Blue Max (BE3=blueplanet ecostar) the design of this LSR contender was conceived in 1998 as a 500hp successor to the 400hp BE2. Time has moved on calling for a redesign. It looks as though 1,0000 to 2,000 horsepower is now available using the latest motors that produce between 165 -190 hp each.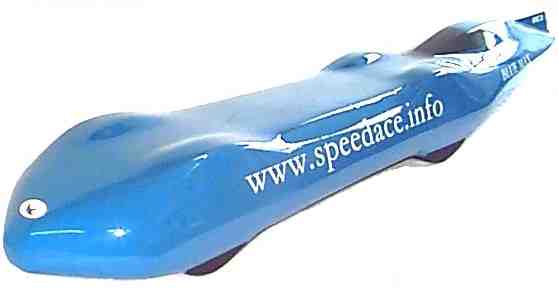 Project Blue Max - BE3
For 2015-16 the chassis has been up-rated to accommodate more power and a new transmission. The bodywork has been lowered and extended. A package the designer hopes will propel this battery exchange concept vehicle into the international record books and eventually break the 400 mph barrier. Would it not be be great if we can get an electric vehicle to go faster than its piston petrol, or jet-engine powered rivals. The record would then have gone full cycle, where the first land speed record was indeed electric.
The only distinction we need to make here is that the record we are tackling is wheel-driven.
There were three teams to beat:-
The UK competition is the "ABB sponsored E=Motion" a British team also aiming for 300 electric miles per hour. Primetime's contender: 'E=motion', set out to challenge the then 245mph record this year at the Chott el Jerid salt flats in Southern Tunisia, in June 2004. Unfortunately, the dessert surface was unusable this time round due to freak weather. Commiserations to the team. According to their sponsors ABB Drives website, Emotion is 24ft long with a design speed of 305mph. Emotion uses 50 Exide lead acid batteries in series to give 600 volts and two ABB 50 hp motors.
The speed record to beat is Ohio State University's 271mph international (flying Km) record set in 2004 on the Bonneville Salt Flats in their 30' car "Buckeye Bullet."
Pat Rummerfield's White Lightning is waiting in the wings to race again, should any car take his one mile record.
That has now changed with Formula E knocking on our door, racing teams are going to want to have a bash at the LSR.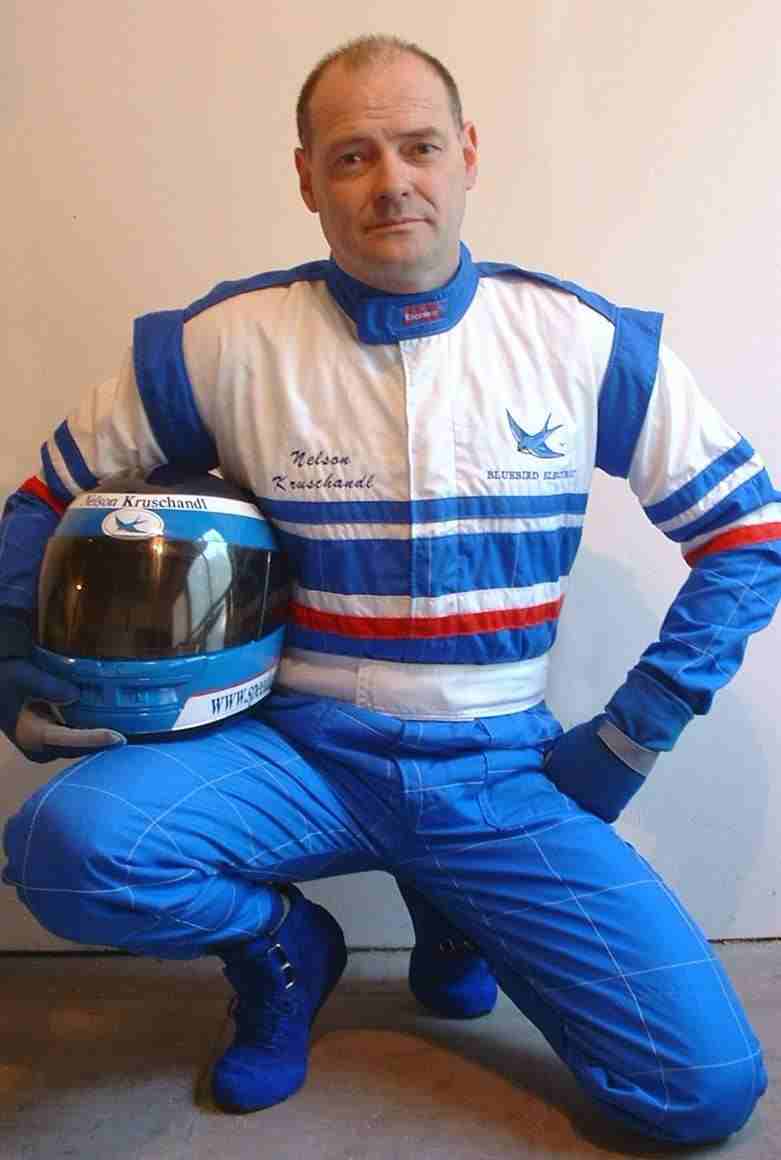 Nelson Kruschandl - designer: BE1, 2 and 3
Featuring all wheel drive and curvaceous styling, computer analysis reveals that in its current form the BE3 is capable of significantly exceeding 350 mph. The car is now under construction in Sussex, England, aiming for a showing in 2014. However, Nelson points out that he is still searching for a Prime Sponsor, without whom, the attempts planned for 2015 could not take place,
As and when John Campbell breaks the 350 mph barrier and more, he hopes his feat will underpin the hopes of many Governments for efficient road going performance EV's.
Contact us: SPEEDACE.INFO

BE3 - side and plan elevations 2011 design

Nelson has been building vehicles in his back yard since 1982. He uses Autocad to design them in his study, which is handy, when he's out in the garage cutting metal and finds he needs a dimension, or wants to incorporate a design modification - then it's straight on the computer to update a detail.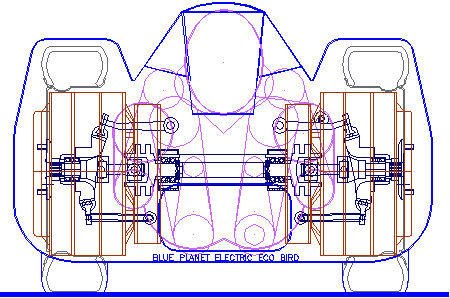 The Blueplanet Ecostar is long and low. It features battery cartridge refueling.
The driver sits at the rear dragster fashion, the battery cartridge is in the front
all the way to the nose cone. Check out the battery cartridge exchange sequence below.

Contact us:

or phone UK:

+44 (0) 1323 831727 +44 (0) 7842 607865
Bluebird Marine Systems Ltd

Intelligent Battery Support System
THE BLUE BIRDS OF HAPPINESS

If your land speed record car cannot refuel itself like this, you are at a huge disadvantage. Blueplanet is around 66% the weight of a car that does not have cartridge exchange refueling for the same performance.

Blueplanet has inbuilt battery loaders. It does not need a
complicated service station to refuel itself in under 2 minutes.