Intelligent Battery Support System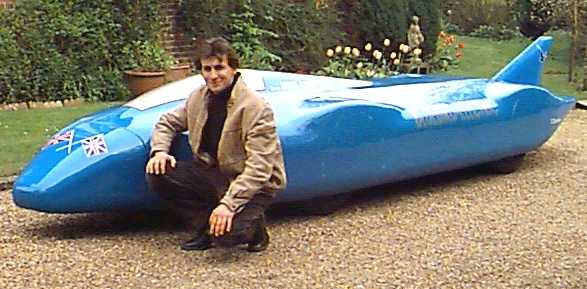 John Campbell and the famous BE2 Bluebird-Electric in 1998, now a collectors classic.
On of the most beautiful electric LSR cars ever, the BE2 WLSR contender 1996 was unveiled in 1997 at Sir Terence Conran's Bluebird Store. She was designed and built by Nelson Kruschandl to challenge Roger Hedlund's 174 mph record in Battery Box. Featuring 4 wheel drive and 400 hp DC motors, this was the second car to feature his patent cartridge refuelling system. The driver sat upfront facing forward. This car was extremely aerodynamic and thought to be capable of exceeding 270 mph. However, like it's predecessor (that was only ever run unofficially - hence not timed) it never got the chance when the *company licensing the technology elected to abandon cartridge exchange, diverting all sponsor monies to converting a Formula Ford instead, featuring 200hp AC motors and rear wheel drive - but crucially, no cartridge exchange.

CAMPBELL LINK - Don Wales, grandson to Sir Malcolm and nephew to Donald Campbell CBE, poses for the press atop the stunning BE2 outside the Bluebird Store in London, 1997. It is no wonder that Sir Terence Conran backed this blue beauty - and what a shame that all the money he pledged to support this car went astray and that the designer was not paid for his work. Bluebird Holiday Homes (Bourne Leisure) also backed this project, but got something rather less exotic - and massive disappointment for all of those attending special weekends. It is planned that this car should be on permanent display in a Museum in Sussex from 2017.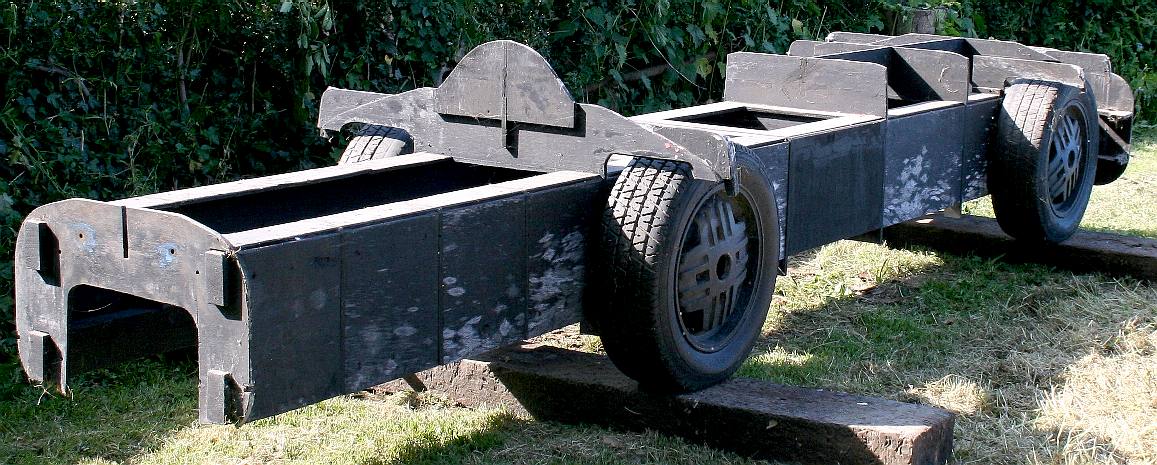 KEEPING IT SIMPLE - The chassis of the original and genuine Bluebird Electric 2 is shown here incomplete in June 2016. The forward cockpit looks very much like a carbon fibre formula one safety cell - with substantial composite beams going aft to the rear wheels. All four wheels were driven in this design, using a synchronous setup to provide equal torque to each wheel, hence reliable traction on the salt surface at Bonneville. The wheels shown in these pictures were only for transport purposes, mounted on dummy axles. Details of the actual transmission and suspension were never revealed by the designer, who, apparently, was never paid for his work. Just as well then, at least that limited those passing off, or at least trading on the paternal rights (and significant efforts) of the original Project Leader.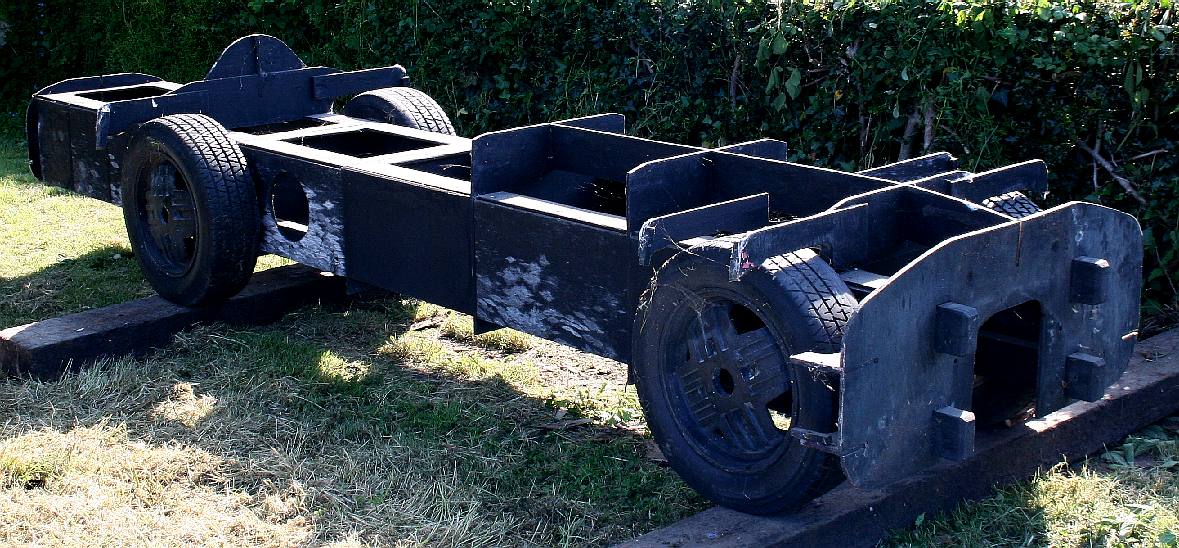 When working for Donald Campbell, Ken Norris never revealed the full details of his designs until he was paid, ensuring that invoices were settled. Other suppliers who were less cautious are on record being unhappy about non-payments in relation to the K7 and CN7. Many of course were paid and many provided services, etc., on a free basis in return for some tangible media returns. The frame above was displayed several times in 1997, but not as seen here - it was usually enveloped in GRP bodywork - as seen above.
By the time the designer recovered his patterns (and equilibrium) first 'Lightning Rod' set a new 215 mph record, then 'White Lightning' was on the scene. Needless to say the converted Formula Ford failed to get anywhere near the 200mph the *company were aiming at, achieving only 116mph. As Nelson is at pains to point out that he had nothing to do with that *company's decision and tried to show them the error of their ways - if only for the sake of the sponsors that he had presented to in good faith, who'd so generously poured their cash into a project, expecting to see results. The Formula Ford conversion used in their subsequent attempts failed to achieve anything of note and lost the lead for them at home and in the world record stakes.
The present British electric land speed record now stands at 204.185mph set on the 30th June 2013. Former science minister, businessman and racing driver Lord Drayson was behind the wheel of the Drayson B12 69/EV electric Le-Mans Prototype. In near perfect conditions, the Oxford-based sustainable motorsport company smashed the previous 175mph record, which had stood for nearly forty years, by 29.2mph - also shattering the 151.6 MPH record as set by Nemesis, a heavily-modified Lotus Exige. The Nemesis car was designed and built by a team of British motorsport engineers in Norfolk, and driven by estate agent Nick Ponting, 21, from Gloucestershire, to set a new record in September of 2012.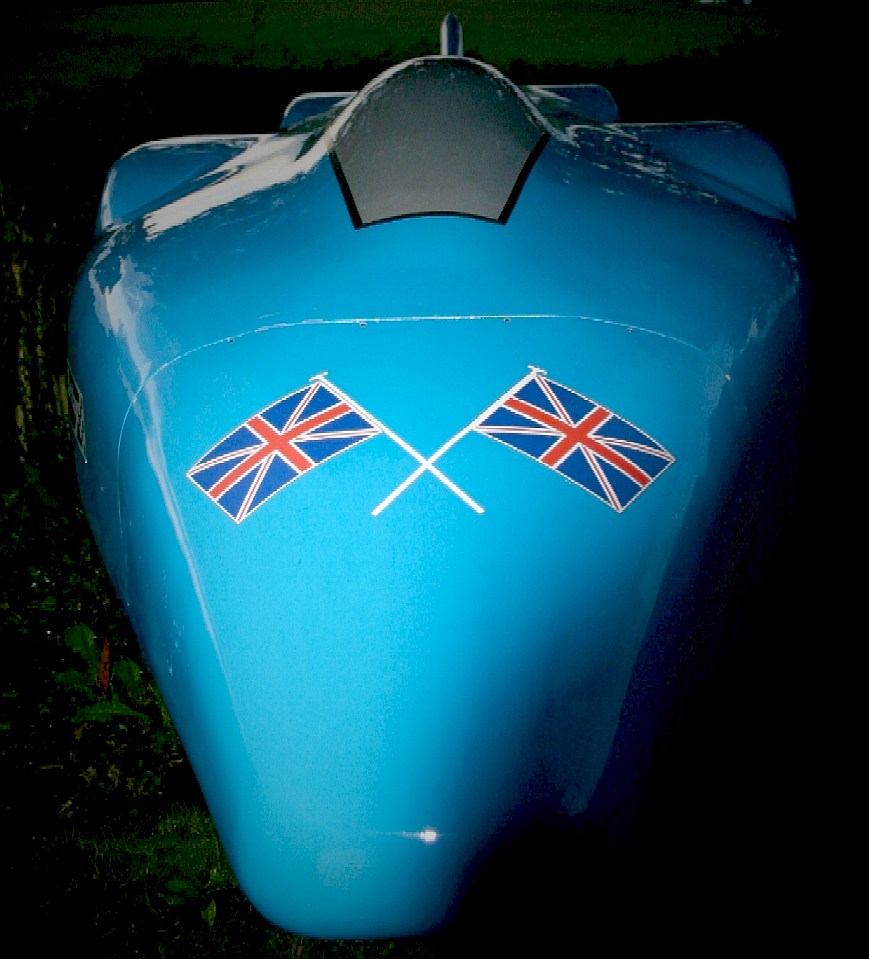 Development build stages:-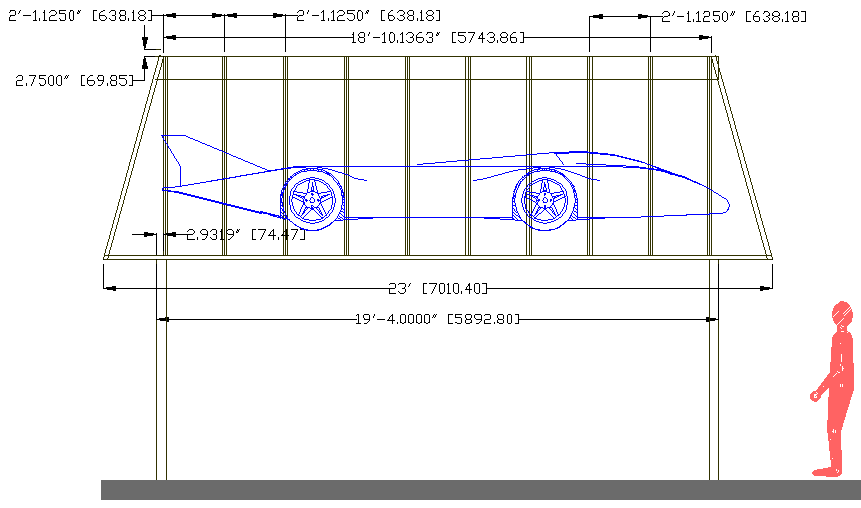 The BE2 is to be on show in a purpose built laminated glass display case. From this diagram you can get some idea of just how compact this car is - where the human figure is drawn to scale.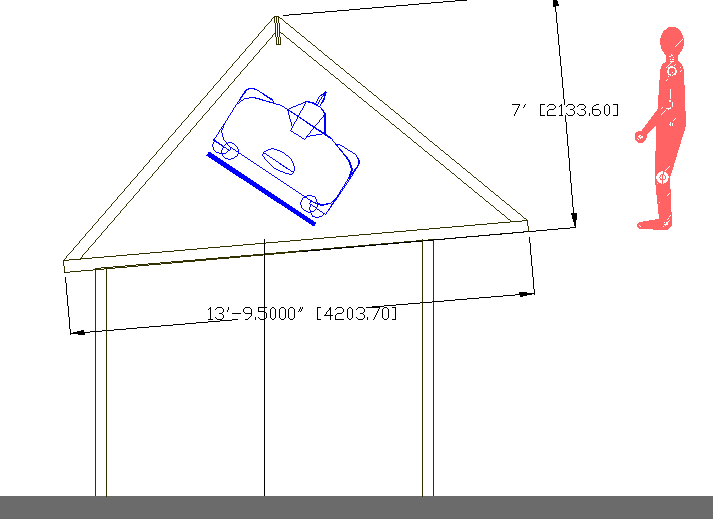 The display case will be floodlit to enhance the viewing experience. Visitors to the Museum will be able to see the car from a vantage point as indicated by this diagram. Other exhibits relating to the development of this machine, including its predecessor, the BE1, will also be on display to the public at certain time of the year.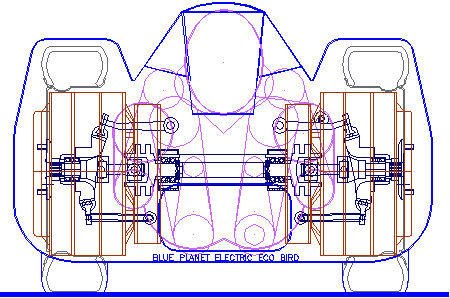 The Blueplanet Ecostar is long and low. It features battery cartridge refueling.
The driver sits at the rear dragster fashion, the battery cartridge is in the front
all the way to the nose cone.

Contact us:

or phone UK:

+44 (0) 1323 831727 +44 (0) 7842 607865
Bluebird Marine Systems Ltd

Intelligent Battery Support System
THE BLUE BIRDS OF HAPPINESS

LEGENDARY - The blue bird legend lives on: Inspired by Reid Railton and his designs for the Napier Lion and Rolls Royce engined Blue Bird LSR cars in the 1930s, the Blueplanet BE3 features instant battery recharging using the patent Bluebird™ cartridge exchange system under license from BMS. This beautiful machine is also solar assisted. She is designed for speeds in excess of 350mph using clean electricity and could be run at Daytona Beach, Pendine Sands and other historic venues quite economically, including Bonneville - should any event want to capture the spirit the golden years of LSR. BMS require at least 6 months notice for hire of this vehicle, or 3 months with considerable additional premium attaching.
If your land speed record car cannot refuel itself like this, you are at a huge disadvantage. Blueplanet is around 66% the weight of a car that does not have cartridge exchange refueling for the same performance.

Blueplanet has inbuilt battery loaders. It does not need a
complicated service station to refuel itself in under 2 minutes.