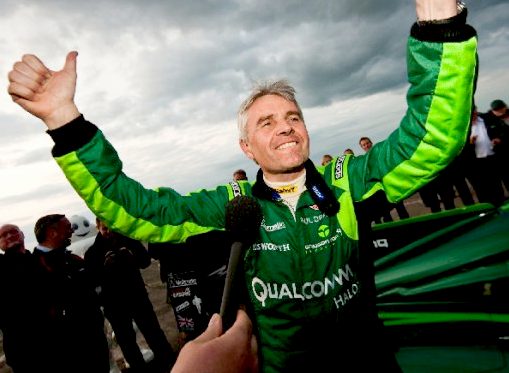 BBC NEWS - 25 JUNE 2013 204.2 MPH
Drayson Racing Technologies has broken the world land speed record for a lightweight electric car.

Its Lola B12 69/EV vehicle hit a top speed of 204.2mph (328.6km/h) at a racetrack at RAF Elvington in Yorkshire.

Chief executive Lord Drayson, who was behind the wheel, said the achievement was designed to highlight electronic vehicle technology's potential.

The previous 175mph record was set by Battery Box General Electric in 1974.

Drayson Racing is not the only electric vehicle-maker hoping to use motorsport to spur on adoption of the technology.

Last week Nissan unveiled the Zeod RC (Zero Emission On Demand Racing Car), which can switch between electric and petrol power.

The firm intends to enter the vehicle into next year's Le Mans 24 race saying the competition would act as a "challenging test bed" for technologies that could eventually find their way into road cars.
Recycled chassis

Drayson Racing was founded in 2007 by self-declared "car nut" Paul Drayson, who was then a minister in the Labour government.

The firm, based in Kidlington, Oxfordshire, works with others to develop more sustainable automotive technologies and uses motorsport competitions as a means to focus its efforts.

In order to qualify for an attempt on the Federation Internationale de l'Automobile's (FIA) world electric land speed record it had to make its vehicle weigh less than 1,000kg (2,204lb) without the driver.

To do this it adapted a Le Mans Series car it had previously designed which originally had a bio-ethanol fuel engine and replaced the part with a lightweight 20 kilowatt hour battery offering 850 horsepower.

It also adapted the vehicle's chassis, which is made out of recycled carbon fibre, to minimise air friction.

"What it, I hope, shows to people is just what the future potential of electric cars is," Lord Drayson told the BBC shortly after his record-breaking time was confirmed.

"Obviously this is a very special racing car, but by setting this new world record here in Britain we say two things.

"One it is a pointer to the future - the technology that we developed for this car will filter down to the cars we use every day.

"And secondly it's a message about how here in the UK we're a world leader with this technology. We've led motorsport engineering, now we're also leading with electric motorsport engineering."

Google's chairman Eric Schmidt spent two hours at the race track watching practice runs but was not able to stay for the record-setting drive.

"Google has a very active R&D programme with regard to electric vehicle technology so it's great that one of the world's leading technology companies came to our event today," Lord Drayson added: "It was lovely meeting him."


FORMULA E

Drayson Racing's attention will now switch to the launch of the FIA's Formula E championship, which is due to begin in September next year.

London will host the first electric car race. Rome, Miami, Beijing and Rio de Janeiro are among the other seven locations.

A different vehicle - similar to a Formula One machine - is being developed for the firm by Singapore's Spark and Surrey-based McLaren for the first year of the competition.

However, Drayson Racing plans to build its own machine for the 2015 competition using some of the same components used in its record breaking Lola B12 69/EV.

One analyst said such such efforts were an excellent way to promote electric cars, but questioned how many of the technologies being developed would actually find their way onto the road.

"I think that any kind of competition-led design will have spin-offs - it might be that electric motors become more efficient," said Paul Newton, auto analyst at IHS Global Insight.

"The problem is that making an electric car go faster is relatively straightforward.

"Making it go further and become more practical is infinitely more difficult, and that's down to the basic physics of how batteries store energy and release it."
BBC NEWS 27 September 2012 - 151.6mph
A battery-powered car has broken the UK land-speed record for electric vehicles at Elvington airfield near York, its makers have said.

The Nemesis, a heavily-modified Lotus Exige which was originally bought off eBay, clocked an average speed of 151.6mph (244km/h). The car was designed and built by a team of British motorsport engineers in Norfolk, and driven by estate agent Nick Ponting, 21, from Gloucestershire.

The old record was 137mph (220km/h). The vehicle clocked 151.607mph during two runs along the mile-long course.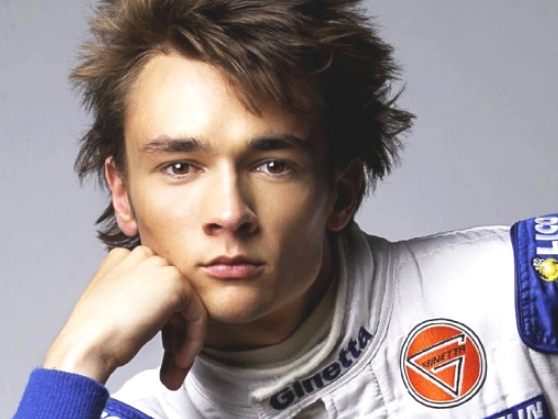 Traditionally, land speed record attempts in the United Kingdom were held at Pendine Sands in Wales. This is not always a successful venue, requiring extreme skill and concentration. Parry Thomas lost control of Babs on Pendine Sands when a drive chain snapped, with fatal results. There are viable alternative locations, such as Elvington airfield near York, provided that a short run up is okay and your suspension can cope with the sometimes uneven surface.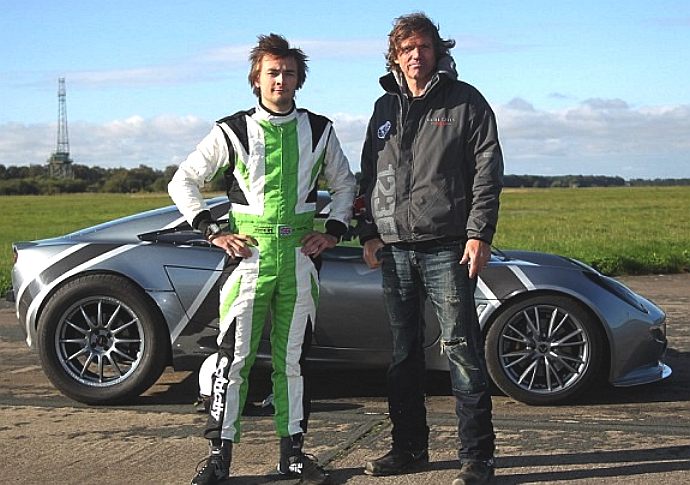 PERFECT CONDITIONS

During an earlier attempt it managed an average speed of 148.419mph. Mr Ponting said: "It was brilliant. The car felt really good. The conditions were perfect. "We've smashed the record and then gone and done a second run and done it again. "The acceleration is phenomenal. It gets to the top speed very quickly."

The car runs on green electricity which has been generated by wind turbines, run by the Stroud-based company Ecotricity. Dale Vince from Ecotricity said: "We built the Nemesis to smash the stereotype of electric cars as something Noddy would drive - slow, boring, not cool."

The previous record had been held by Don Wales, the grandson of Sir Malcolm Campbell. An attempt by Mr Wales's son, Joe Wales, to beat the record in Bluebird Electric last year, was thwarted after the vehicle's suspension was damaged by a pothole at Pendine Sands in Carmarthenshire.

The record still needs to be ratified by the Motor Sports Association before the record can be officially declared.
It is the brainchild of Dale Vince, founder of green electricity company Ecotricity, of Stroud, Gloucestershire. Now called 'the Nemesis', the car was originally a second-hand Lotus Exige which was bought on eBay for £10,000. Another £750,000 was spent modifying the car over a two-and-a-half year period with the aim of changing the image of electric vehicles.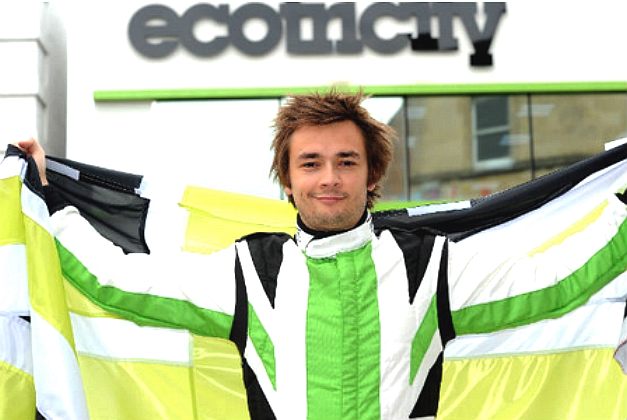 BBC NEWS 6 September 2012
A battery-powered car will attempt to beat the UK land-speed record for electric vehicles later this month. Nemesis, a heavily-modified Lotus Exige body, will be driven by estate agent Nick Ponting, 21, from Gloucester. Nick was born in Cheltenham, lives in Gloucester and works for an estate agent in Stroud. He is 21-years-old.

Dale Vince said he had built the car to "smash the stereotype of electric cars as something Noddy would drive - slow, boring, not cool".

The record attempt is due to be made at Elvington Airfield, near York, on 27 September. Nemesis was designed and built in under two years by a team of British motorsport engineers in Norfolk.

It can travel from 100-150 miles between charges, depending on driving style, and can be charged from empty in about 30 minutes using a rapid-charger. The team believes theoretically the motors are capable of about 200mph but "real world" constraints like aerodynamic lift have to be addressed before the attempt.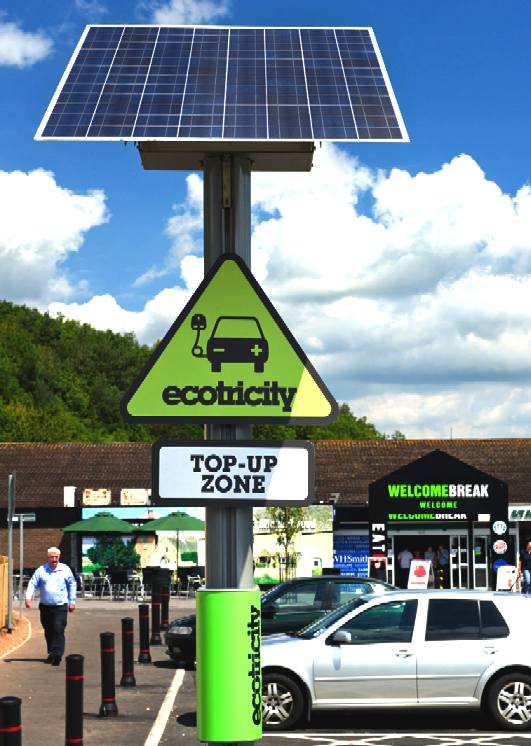 Mr Vince, who runs the electricity company Ecotricity, said he was quietly confident the team would break the record. The current record of 137mph (220km/h) was set by Don Wales, from Addlestone, Surrey, in 2000. A separate attempt to beat the record last August was thwarted after the vehicle's suspension was damaged by a pothole.

The Bluebird Electric was being driven along Pendine Sands in Carmarthenshire by Mr Wales's son Joe, who suffered mild whiplash as a result.
LINKS
http://www.bbc.co.uk/news/uk-england-19510051
BBC News England September 27 2012 British Electric LSR Nemesis, Elvington
Guardian news online environment 2012 September 27 Nemesis electric land speed record
http://www.ecotricity.co.uk/about-ecotricity/eco-labs/nemesis
Daily Mail new British electric land speed record beats Malcolm Cambell's grandson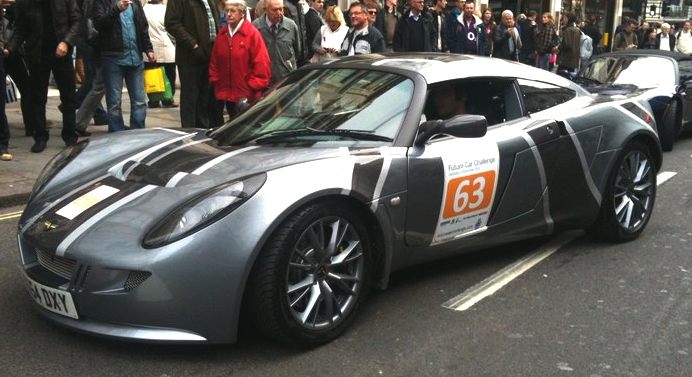 SPONSORSHIP

Ecotricity sponsored Nick Ponting to drive the Nemesis, a converted Lotus, to take the British Electric Land Speed Record in September 2012.
Please note: Disputed records are on a lighter grey background. Planned attempts/projects are signified by a dark blue background.
While we consider most of the information above is accurate but don't consider it as an absolute reference.
External links

SMART-CHARGER - This graceful electric car concept (inspired by Reid Railton is potentially the world's fastest vehicle to be powered by hydrogen energy cartridges. This streamliner is theoretically capable of 400mph using the latest production electric motors, but is designed to beat 208mph at Pendine Sands in the United Kingdom, to beat the Ford Fusion 999 record, and then 350mph at the Bonneville Salt Flats in the USA, to beat the Buckeye Bullet 2 record of 303mpm. Featuring built in energy cartridge swapping system, charged using renewable solar energy. A unique PR opportunity in celebration of the EU banning petrol and diesel cars in Europe and the UK from 2030.