SVOC - Sussex Volkswagen Owners Club Summer Festival 2006
The sun was shining on Sunday afternoon when we arrived at the Yew Tree Inn at Chalvington in Sussex, in a trusty 35 year young Volkswagen Beetle, seeing it's first outing after several years off the road.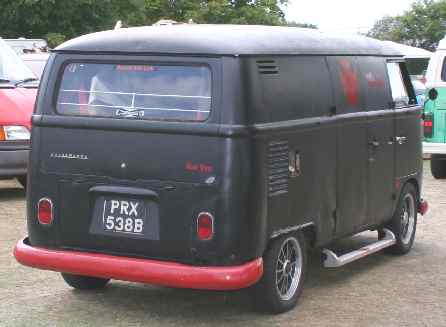 Interesting matt black split screen
This was an event organised by the Sussex Volkswagen Owners Club, the Summer Festival of 2006. We had decided to go on the spur of the moment, after a late night had overtaken our agenda, but then a conversation in the Six Bells the evening before, when this event was mentioned, finally came back to the old gray matter just in time to retrieve the afternoon.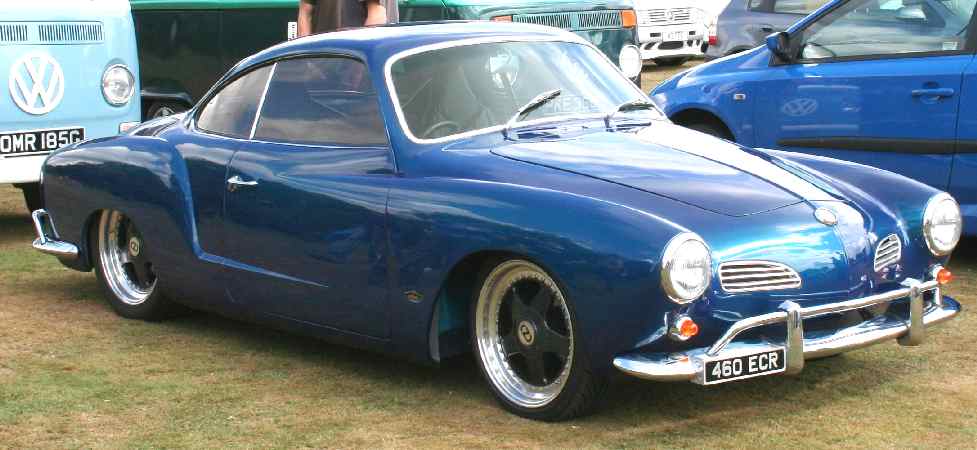 Neat paint job - Karman Ghia featuring
Ford Cosworth engine at the front!
The event was crammed full of Vdubs of every persuasion and in various states of completion, from tatty, to concours. Spit screens, bajas, beach buggies, and a huge number of nicely turned out beetles and bay window campers.
We were is search of some wheel adapters, having heard a specialist might be at the show. Would you believe it, we got talking to the owner of one of the first vans spotted with 18" rims and adapters, and guess what? Yup, he knew the gent we were after. His friend very kindly gave him a call on his mobile - and bingo - a few minutes later we were in business. We are doing up a camper for a newly formed Sussex based girl group - The Sunshine Girls.
The event was well organised an planned, but was nearly rained off, which must have been disappointing. Nevertheless, the people came, the sun came out and everyone had a good time after all. Best of all we got our wheel adapters, which are being made as we write this. The girls will be pleased. Don't you just love happy endings.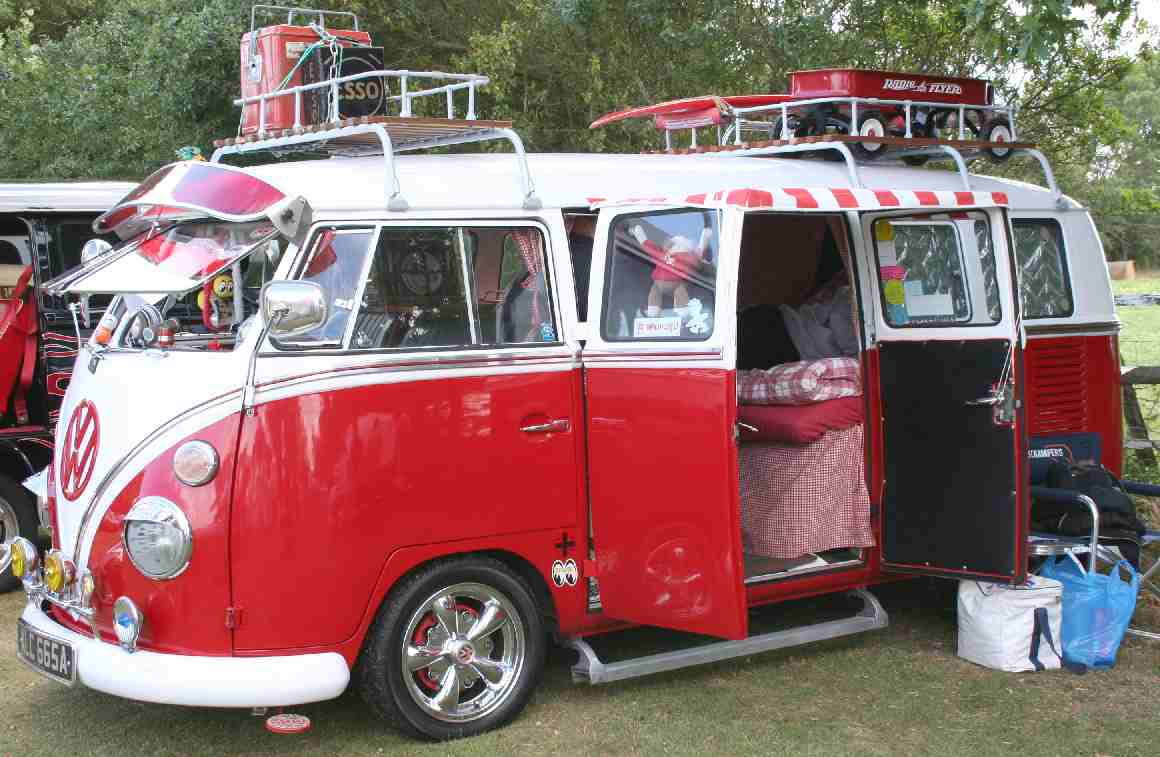 Split screen VW camper - coca cola colours
Contact: Nigel 07817478059 svwoc@hotmail.com
Venue: The Yew Tree, Chalvington, East Sussex
(Formerly Magham Down)
SVOC LINKS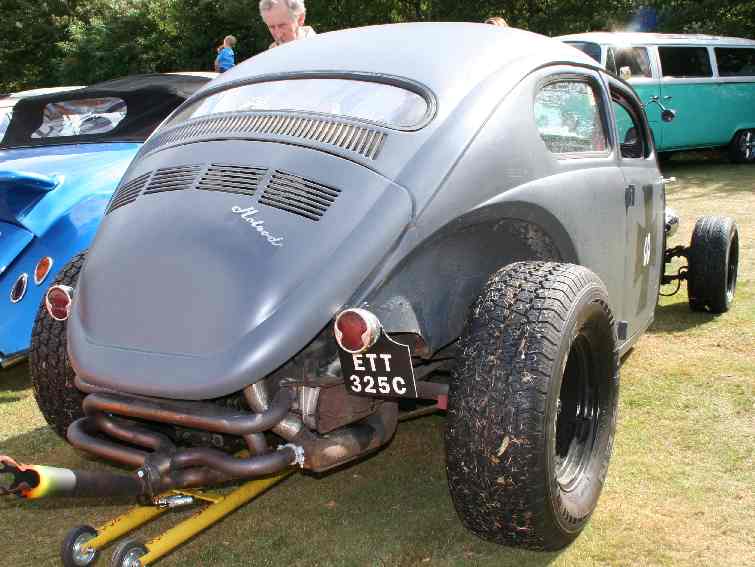 VW street rat conversion custom car
---
---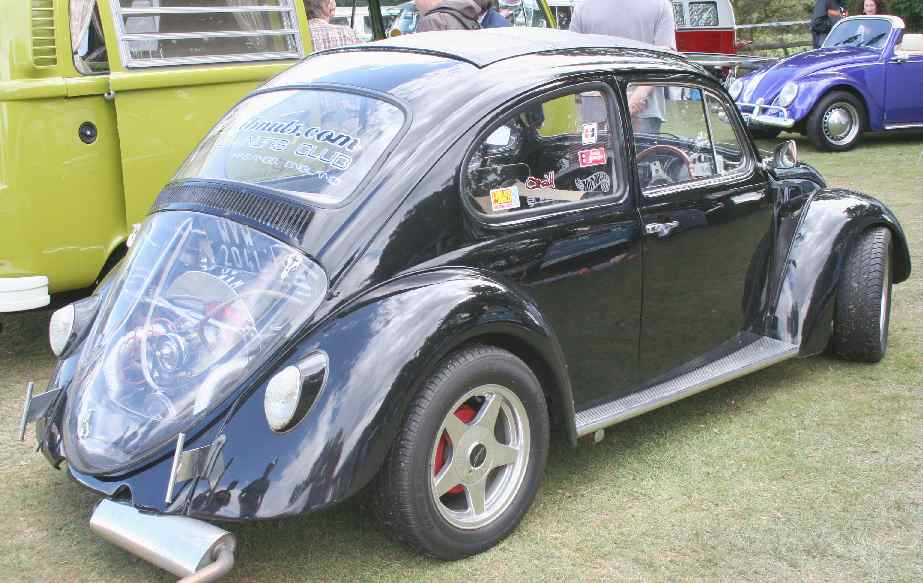 A nice black beetle with clear engine cover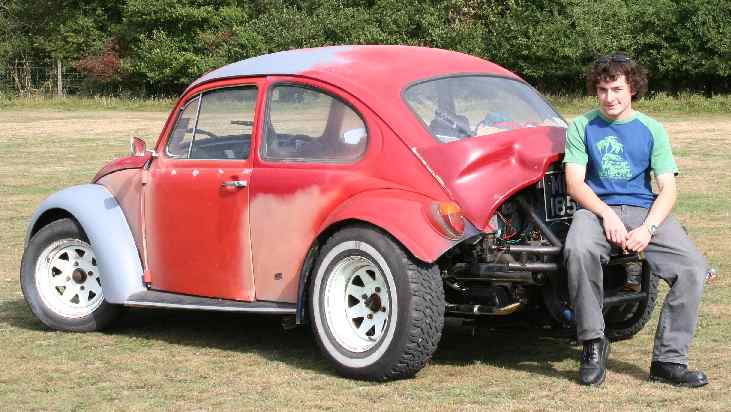 Alex Martin - electronics designer, with Monty