The Ecostar team are looking for corporate sponsors and collaborative research partners. If your company or academic organisation would like work with our group on the BE3 project, the new management team would like to hear from you.
Sponsors are invited to underwrite testing of Blueplanet Ecostar Electric (BE3) in the summer of at 'Pendine Sands' and/or 'Elvington Airport' in the UK prior to an attempt on the World record at the Bonneville Salt Flats, USA.
The BE1 and BE2 vehicles have generated articles in the following media:

Meridian TV (Borzoi joystick car)  
The Big Breakfast (BE1)
BE1 featured at the London Arena LETEC awards ceremony 1996
Olympia 1996
The BE2 was shown at the Goodwood festival and the Bexhill 100 events 1997 & 1998
The BE1 and BE2 vehicles are available for displays along with the BE3 from 2014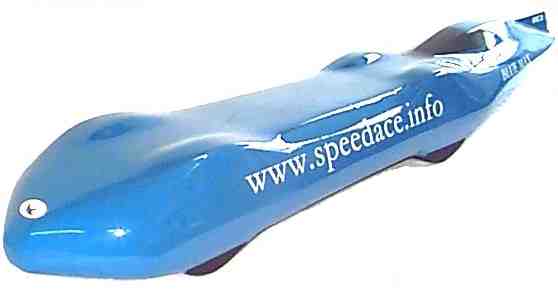 Project Blue Max above in 2011. The Blueplanet Ecostar Electric BE3
has now been redesigned for 2014 onwards. it is now
lower, narrower, longer and solar assisted.
BRITISH LSR HISTORY
                       
Richard Noble set a new British land speed record in the early 1980's with Thrust 2 powered by an after-burning Rolls Royce Avon jet engine, beating the 200+ mph of Tony Densham. Richard's record stood for 18 years. In the summer of 1998, Richard's record was beaten by Colin Fallows in his Vampire jet dragster, attaining 269 mph at Elvington Airport in Yorkshire.  

Then in July of 2000 Colin's record was improved by Mark Newby reaching 272.9 mph, swiftly followed by Colin again in his Vampire, reaching 300.3 mph.

The current British electric land speed record stands at a little over 151 mph, set bu Nick Ponting in the Ecotricity sponsored Lotus Nemesis.
This current BELSR has already been surpassed by the BE1 unofficially at 160mph. The new BE3 team would like to raise the record officially with the Blueplanet Ecostar Electric.

The prototype BE1 and BE2 electric racing cars have already been reported in:

The Evening Argus
Daily Mail
Autocar
Sussex Express
Eastbourne Herald
The Times 
The Telegraph
Popular Science Magazine

This site (and associated eco subject partner sites), generate some 130,000 hits a day, every day, 365 days a year. Help the team further serious transport research. The cartridge exchange system may be developed for EVs to refuel at service stations far more economically than those currently being installed - where with the Ecostar system there is no need for deep subterranean excavation - also, an EV using the Ecostar system may exchange cartridges anywhere using its built in loaders.


Benefits of sponsorship include:

1) Prominent logo placement on: the car - on team clothing & team vehicles.

2) Personal appearances by the drivers (to be nominated) and car at your company's functions or exhibitions.

3) Promotion of your company at events attended by the team.


PARTNERSHIPS
BANKING
BATTERIES
BEARINGS
BRAKES
CABLES
COMMUNICATIONS
COMPUTERS
CONNECTORS
COPYING
DRIVES
ELECTRONICS
ENGINEERING
FIXINGS
FINANCE
INSTRUMENTS
INSURANCE
LAMINATES
LAMINATING
METALS
MOTORS
PAINTS
PRINTERS
TIMING
TRANSPORT
TOOLS
TYRES
SOFTWARE
WELDING CONSUMABLES
WELDING EQUIPMENT
WHEELS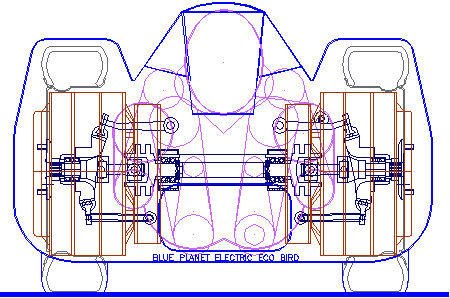 This racing car can refuel in around 2 minutes by expelling one battery cartridge
and replacing it with another. It does not need a complicated service station to
do this. It does it with built-in load servos - so that is can turn around on the
Salt Flats at Bonneville, completely recharged ready for the best of three runs.
Don't you wish your EV could do that?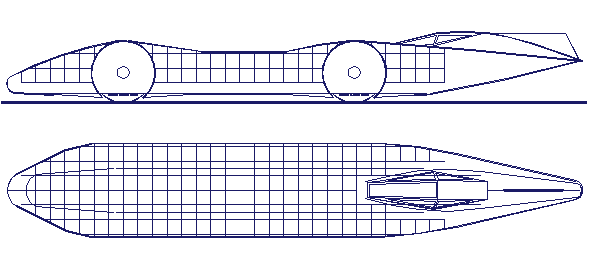 Probably the world's fastest solar powered Eco electric car: 350mph +
This car's batteries are charged using natural solar energy.
A green eco sporting event - looking for sponsorship for 2015/2016.
Chasing the blue bird of clean air happiness - Maurice Maeterlinck.