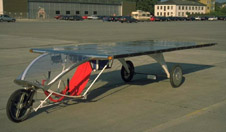 Heliodet – "Heliodet 6"
Nicknamed the 'suitcaseman' because his solar car can be dismantled and folded into the size of a suitcase, German solar car enthusiast Detlef Schmitz first became actively involved in these events in 1985. He built his first solar vehicle for the inaugural Tour de Sol, held in Switzerland. He has also entered every WSC event.
He is one of only two teams to have taken part in every WSC, and is yet to complete the 3010km course from Darwin to Adelaide. Unlike other solar vehicles, the overall array of the Heliodet 6's solar panels is flat. The solar panels are lightweight and a thin type of 'Gochermann' solar technology. One unique feature of the Heliodet 6 is that the motor, brake and suspension compact are in a disk-wheel. When building the Heliodet 6 solar car, the team took into consideration Australia's harsh conditions, and produced a technical system that would be efficient and safe against heat and vibration.
Despite the Heliodet 6 averaging speeds of about 50kph, and the team being the smallest in this international event, Detlef Schmitz, his daughter Steffi, Michael Viebach and Bernhard Scharl are confident this little solar car will this year cross the finish line in Adelaide.''
Congratulations to the team for a job well done and for advancing the cause of clean, sustainable, electric transportation.