The BAJA is one of the wildest and toughest Beetle hybrids. They had to be because the name comes from the Baja desert in California. Several VW Beetles were modified in the now familiar fashion to compete in the Baja 1000 off road race in Mexicali. This tough race took place in sandy undulating terrain, hence the competitors had to have cars that would take the fast pace and the rough ride. Fortunately, Professor Porsche designed the Beetle to work as a jeep for the German army - see the Kubelwagen and Scwimwagens.

Many VW enthusiasts would rather die than cut up the perfect shape of a classic VW Beetle. However, if you have a less than perfect example and you are into modifying vehicles to something more radical, the Beetle is just crying out for some artistic attention. To some this might transmute to a low-slung Cabriolet, or Wizard with wide wheels and a big engine. I that doesn't look purposeful enough, and for people not sacred off by a little welding or shaping - the Baja Bug is for you.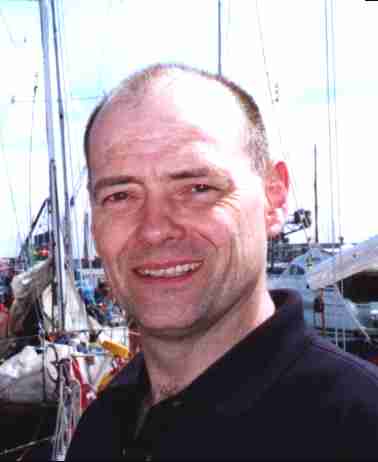 Nelson Kruschandl - Vdubber


The Baja beetle was and remains a cheaper, yet tougher and more practical alternative to the stylish beach buggies. Instead of buying an entire GRP lightweight shell for a buggy, VW enthusiasts were cutting the back fenders of a stock beetle, slipping on some big off-road tyres, and heading for the tracks - and all for a few pounds or dollars.
Of course it's not really that simple. A Baja bug is basically a normal stock beetle body, which has had its fenders replaced with GRP panels that are shorter and higher, in order to accommodate bigger wheels and tyres. The Baja look also requires the removal of the front and rear valences, and replacing them with GRP panels that give greater ground clearance and better engine accessibility. I can do and engine change, or clutch service in around 30 minutes.

Creating your own - what are the key elements of the Baja look:
Theoretically speaking, the remake of a standard untouched Beetle into a Baja is a job which can be carried out by a knowledgeable VW enthusiast, given the right tools. A suitable donor car is required, and basically any beetle will do except bear in mind that Mac Pherson strut front suspension seriously detracts from conversion potential and of course, the look.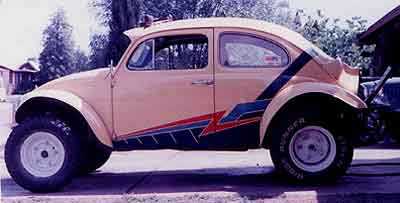 A hi-lift Baja

At the front of the car it is a good idea to fit a bumper. This is generally attached to the front suspension unit, and will protect you from those nasty trees and rocks that move in front of you when you aren't looking. The same applies to the back. This is especially important to stop other cars damaging your engine, and also to stop prying hands burning themselves on the engine components. Some countries require by law a guard over the fan, and sometimes the exhaust. A vital accessory, if the law in your country allows it, is a set of ancillary lights mounted across the roof. This will add to the hardcore look.

Next we come to the wheels. These can make or break your Baja. The choice that you make should take into account the driving that you will be doing, whether it will be predominantly off or on-road. A set of skinny wheels and tyres will not only make your Baja look weedy, it could reduce it's mud, or sand gripping abilities. One thing to remember when choosing your big fat tyres, is that the bigger the overall diameter, the higher your gearing. This may also cause speedometer inaccuracies, as your instrument is directly couple to the front wheel via a rotating cable driven from the hub cap.

The interior of the Baja is generally somewhere between a full on race look and an average street racer. Bucket seats will hold you in place and a roll-cage will protect you in case you get too enthusiastic in turns and hillclimbs. Extra gauges will add to the racer look and keep you better informed. For Vdubbers who live in the UK where we are blessed with excessive poor weather, the Baja could well be the answer to those longings for something a little different. If you have a Baja that you are particularly proud off, please send us in photos and conversion details or other information.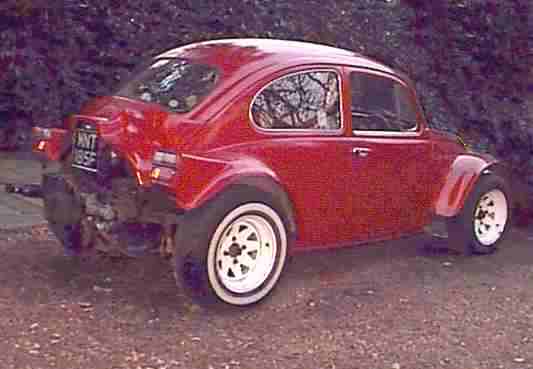 Nelson's converted 1972 beetle
---
BAJA LINKS
Baja Benny's Page - read about the transformation of a 1969 bug into a full-fledged Baja Bug.
Baja Bug Web Site, The - building Baja Bugs from the ground up.
Baja Bugs [Insanity, Inc.] - photograph galleries.
Baja Page, The - VW sedan modified for off-road use, with writings and features on race, show, and real Bajas, and Baja buses.
Bajas in Action - tech tips, before and after photographs, as well as shots of Baja Bugs in off-roading action.
Bo's Baja - the story of one VW's transformation into a Baja Bug.
Bryon's Baja Page - looks at the process of building a Baja.
Bugly's Page - adventures of a '67 VW Baja Bug that is Corvair powered.
Bugman's Aircooled VW Page - pictures, articles, message board, and information on the webmaster's Baja project.
Flegs Baja Bug Page - with jump, action, and stuck photographs, as well as information and links.
FrankenBug: My 69 Baja - the story of how one man found his Baja Bug.
Green Baja - the story of a Volkswagen that called out to its owner to be transformed into something bigger and better.
Jay's Baja Page - photographs, links, and the story of the build up of a '73 Baja Bug.
Jeff's Baja Project - pictures and writings about the transformation of a '68 VW Beetle.
Justin's Baja Bug Page - with a photo gallery, technical information, and more.
Koo's Baja Bug - features pictures, news, and a forum.
My Baja Bug Buildup Page - budgeting, a brake job, an accident, and other incidents in the conversion of a '67 VW Beetle.
Paul's Baja Bug - Oregon Bajas, technical information, and a section dedicated to a '61 Baja.
Real German SUVs - dedicated to Lulu Belle, a yellow '64 Baja Bug.
Volkswagen Baja Beetles and More - with a journal of restoration progress, as well as photographs.
Yellow Baja and Dune Buggy Historical Society (YBDB) - dedicated to the preservation of the history of highway-legal VW-powered vehicles used off-road.
---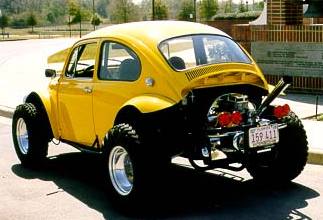 Cool Baja with street cred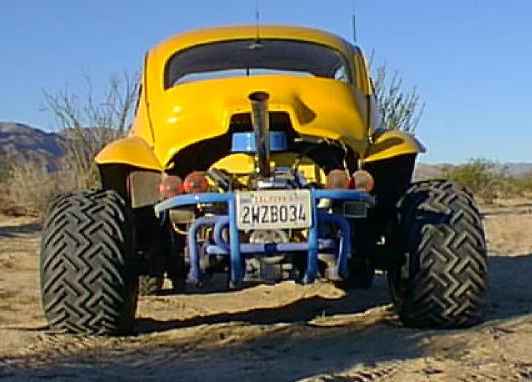 Wide track Baja with sand tyres
---
---
A taste for adventure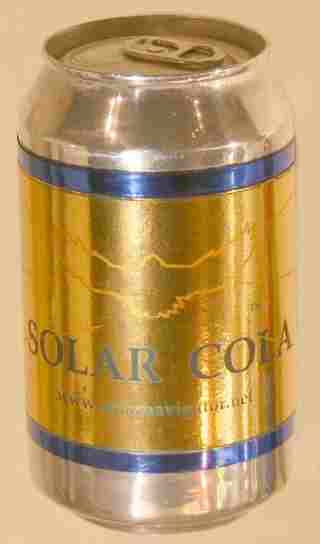 Solar Cola - the healthier alternative