Art Arfons (born February 3, 1926 in Akron, Ohio) was the world land speed record holder three times in 1964 - 1965 with his Green Monster series of jet powered cars, after a series of Green Monster piston engine and jet engined dragsters. He subsequently went on to field a succession of Green Monster turbine engined pulling tractors, before returning to land speed record racing.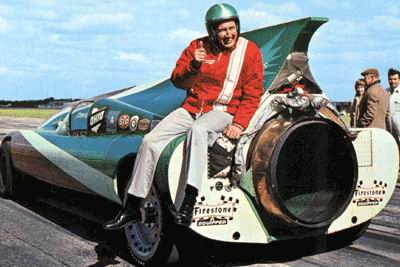 Art Arfons and Green Monster
His father, Tom, was born in Greece and came to the United States at age 14; he died in 1950, at age 52. His mother, Bessie, was half Cherokee, and died in 1984 at age 84. Arfons had two half brothers by his mother; Walt Arfons, ten years older, who was to become his partner and later competitor in autosports, and Dale, eight years older, as well as one sister Lou, eighteen months older.
Arfons' family operated a feed mill in rural Ohio, where the Arfons brothers exercised their mechanical skills and ingenuity. After his junior year of high school, at just under 17 years of age, Art joined the United States Navy. He was sent to diesel mechanic school, then assigned as a mechanic to a landing craft in the Pacific Theater. This was a very good job for Arfons to utilize his mechanical talents. He participated in two battles including the invasion of Okinawa, and then was discharged after three years, as a Second Class Petty Officer. He returned to Ohio, was married, and had a son. In 1952, he and his half-brother Walt became fascinated with drag racing and built their first Green Monster. In this endeavor, they were supported by their mother, who was also fascinated by the sport. Art and Walt continued their drag racing partnership with a series of Green Monster cars until the late 1950s, parting amicably but competing against each other.
Arfon's path led almost inevitably to land speed record racing at Bonneville, first in 1960 with the "Anteater", a car modeled after John Cobb's "Railton Special" and powered by an Allison V-1710 aircraft engine. In 1961 he reached a top speed of 313.78 miles per hour before burning out the clutch. Arfons sold the car to Bob Motz.
In 1962, Arfons began experimenting with jet powered cars, where his innate mechanical skills proved tremendously useful. Art's first car, the 8,000 hp (6 MW) Cyclops, remains the fastest open cockpit vehicle, recording 330.113 miles per hour (531.265 km/h) in the measured mile in 1962. Unfortunately, his design had the driver sitting directly in the air intake to the engine, so that there was no way to enclose the cockpit and still supply air to the engine; this limited top speed severely. In deference to the car's less than excellent aerodynamics, Arfons introduced another innovation; it was the first land speed record car to utilize a wing to produce downforce to prevent the car from becoming airborne.
Arfons returned to Bonneville in 1964 with another Green Monster. He held the world land speed record three times during the closely fought competition of 1964 and 1965, but after a bad crash in 1966 turned his attention to jet turbine powered tractor pulling competition where he was, as usual, successful. In 1989, however, he attempted to return to land speed record competition, but was never competitive.
Art's son, Tim Arfons, has continued the tradition by competing in jet powered dragsters as well as in turbine powered pulling "funny cars", and has been a stunt and exhibition driver in a series of jet powered ATVs and even a jet powered personal watercraft. His daughter Dusty Arfons also competed in tractor pulling with her father.

Arfons Brothers - Green Monster
The Green Monster was the name of several vehicles built by Art Arfons who was often described as a "junk yard genius", and his half brother Walt Arfons. They were initially Dragsters, at first powered by junked automobile engines, then by war surplus piston aircraft engines (Ranger and Allison V-1710), which were plentiful, durable, and cheap, then by jet aircraft engines. The jet powered dragsters developed into jet powered vehicles built to break the land speed record, finally a series of turbine powered pulling tractors.
The first "Green Monster", in 1952 was a three wheeled dragster powered by an Oldsmobile six cylinder engine, and painted with left-over green tractor paint. The name was applied on the car's first outing by the track announcer, who laughingly said "Okay folks here it comes; The Green Monster", and it stuck to all Arfons' creations. The car only reached 85 miles per hour (137 km/h), 20 miles per hour (30 km/h) short of the fastest car, but by 1953 the Green Monster Number 2, a 20 foot (6 m) long six wheeled car powered by a 2000 horsepower (1.5 MW) Allison aircraft engine, was hitting 100 miles per hour (160 km/h) in the quarter mile. Green Monster Number 2 was painted by Arfons' mother to resemble the World War II Curtiss P-40 Flying Tigers fighter airplane, with an open mouth showing large teeth. The top speed of the car was estimated at 270 miles per hour (435 km/h), and it could reach 140 miles per hour (225 km/h) in eight seconds from a standing start. Running on passenger car tires, the car required four wheels on the rear drive axle to withstand the power. At the first World Series of Drag Racing at Lawrenceville, Illinois, it clocked the highest top speed at 132.35 miles per hour (213.00 km/h), and eventually a world record of 145.16 mph (233.61 km/h).
The later cars had various paint schemes where green was not necessary the dominant color. The six-wheeled Green Monster Number 6 became the first dragster to break 150 miles per hour (241 km/h) in the quarter mile. Green Monster Number 11, Art Arfons' favorite, hit 191 miles per hour to beat Don Garlits.
The Arfons brothers then split up, and each became interested in land speed record racing.

General Electric J79 on display at the USAF museum
The most famous "Green Monster" was powered by an F-104 Starfighter General Electric J79 17,500 lbf static thrust jet engine with four-stage afterburner, which Arfons purchased from a scrap dealer for $600 and rebuilt himself, over the objections of General Electric and the government, and despite all manuals for the engine being classified top secret.
Reportedly, the engine's fan had broken blades. Art Arfons tested it by tying it to trees in his garden, a procedure which drew complaints from his neighbors.
This car, painted in red and blue, won the land speed record three times during the close competition of 1964 and 1965 with 434, 536 and 576 miles per hour (698, 863, and 927 km/h) in the flying mile (despite blowing a tire on the last record run). It competed against Art's brother Walt's Wingfoot Express cars (Walt could not pilot the car himself having suffered a stroke prior to) and Craig Breedlove who eventually won the record with 600.601 miles per hour (966.574 km/h).
In 1966 Arfons returned once again to Bonneville, but reached an average speed of only 554.017 miles per hour. (891.604 km/h) On run number seven at 8:03 AM on November 17, Arfons crashed his vehicle travelling 610 miles per hour (982 km/h) when a wheel bearing froze. He subsequently built another Green Monster land speed record car, but sold it to California rancher Slick Gardner without ever driving it.
In view of his wife's concern over the risk involved in land speed record racing, Arfons instead turned his talents to turbine powered tractor pulling with great success, fielding a series of Green Monster pull tractors along with his son and daughter.
However, in 1989, Arfons returned to Bonneville with Green Monster Number 27, an 1800 pound (820 kg), 22 foot (7 m) long two wheeler. The car left the ground at 350 miles per hour (563 km/h), and Arfons rebuilt it into a less radical four wheeled vehicle for 1990, but could manage only 177, 308 and 338 miles per hour (285, 496, and 544 km/h). In 1991 he tried again, but once again had to give up with handling problems.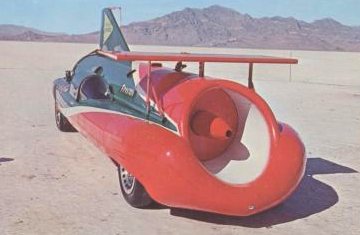 Green Monster
The Green Monster cars were never really competitive beyond being top speed contenders but they were at the majority of the NHRA national meets in the late fifties putting them in the "nationally campaigned" category. This car was well known, as were the many others they ran. This Art Arfons - Arfons Bros. Green Monster was the one I'd say was the most successful though. It's pictured here at the '59 NHRA Nationals at Detroit. From a picture, uncredited, in the defunct Car Speed & Style, 7/60.
---
A - Z DIRECTORY of CARS and MOTORCYCLES
---
UK VEHICLE INSURANCE ONLINE
---
A taste for adventure capitalists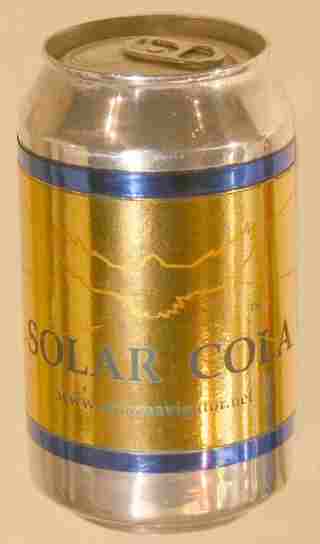 Solar Cola - a healthier alternative