THE "LONDON TO BRIGHTON SOLAR CAR RUN" 2015
NOTICE: We are in receipt of a number of entry requests for the proposed London to Brighton solar car run: L2B, for 2015, but we are no longer in a position to manage such an event, being committed elsewhere.
As a going concern in 2008, the event was cleared with the Department for Transport, Highways and the Motor Sports Association. Unfortunately, due to unforseen events, we lost our then project manager and were forced to cancel an event with no less than nine entrants. We will renew those permissions for 2015, should another organization wish to take over the running of the event - with our blessing. If you are interested in operating this project, we can advise that sponsorship was offered for the event. This is of course confidential information that will only be made available to bona fides. Please read the scans of letters/email from 2008 below, where UK officials confirmed that this event could/can go ahead, subject to conditions that we think nobody would object to.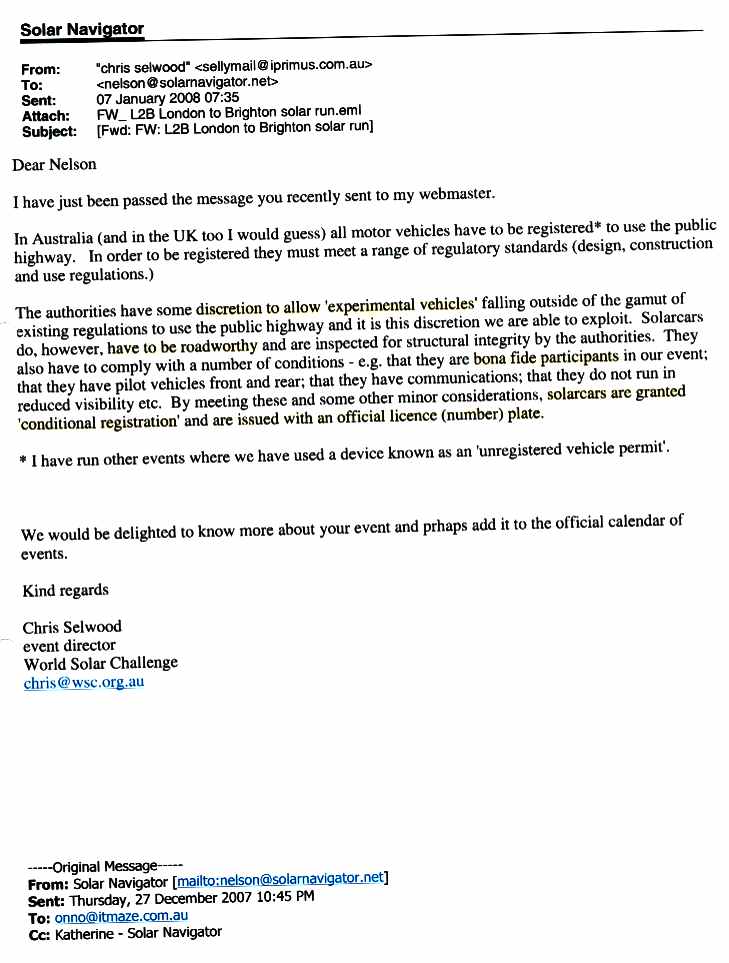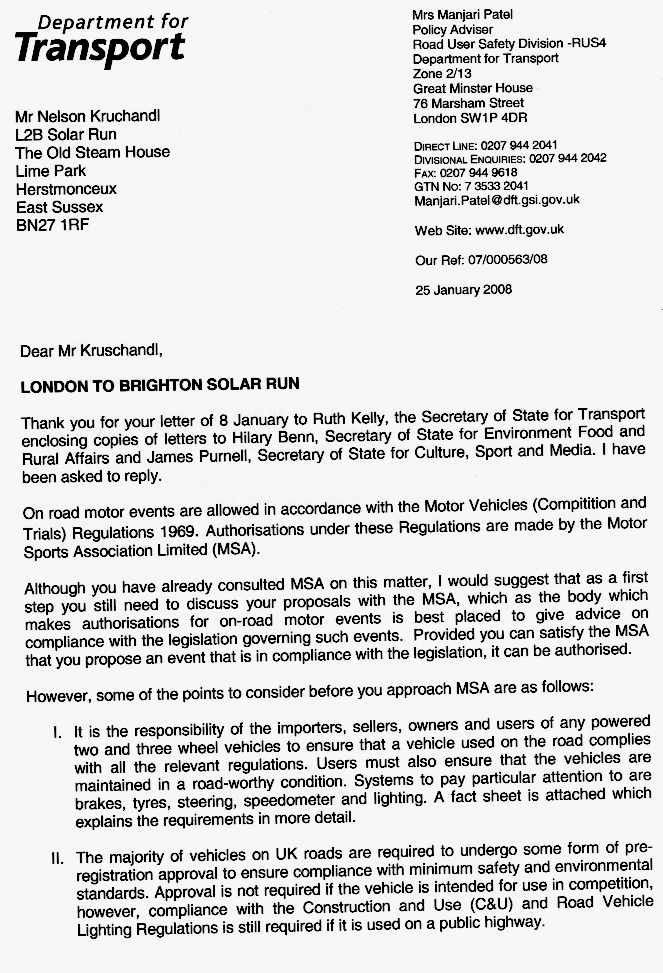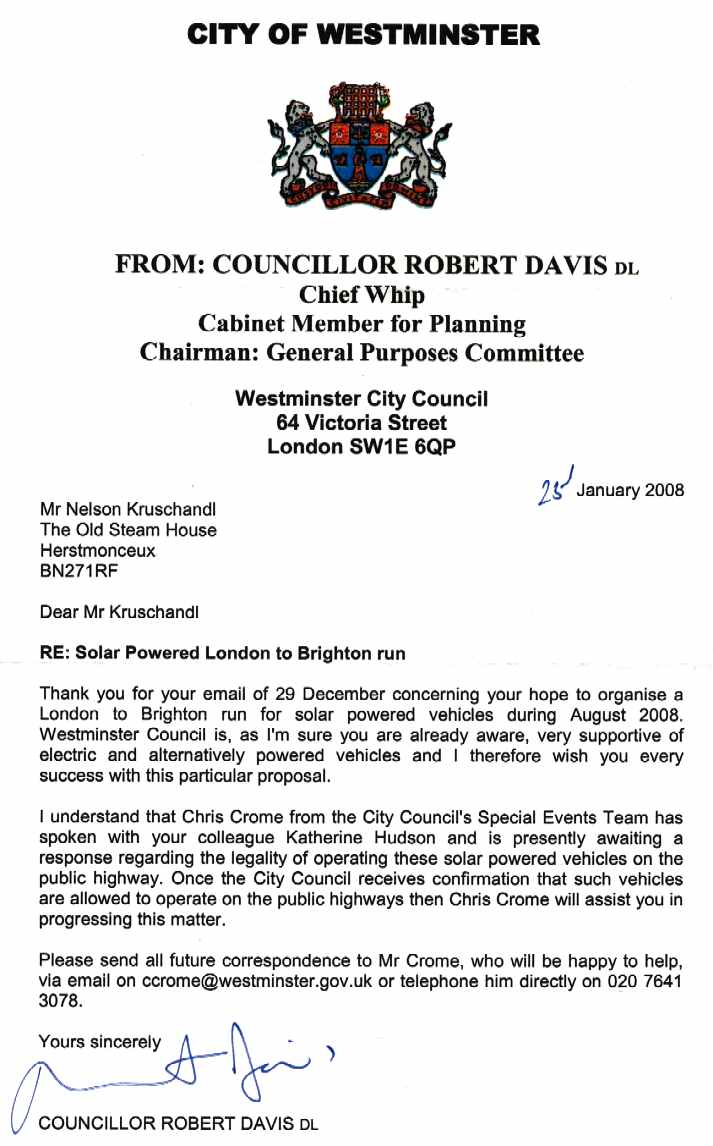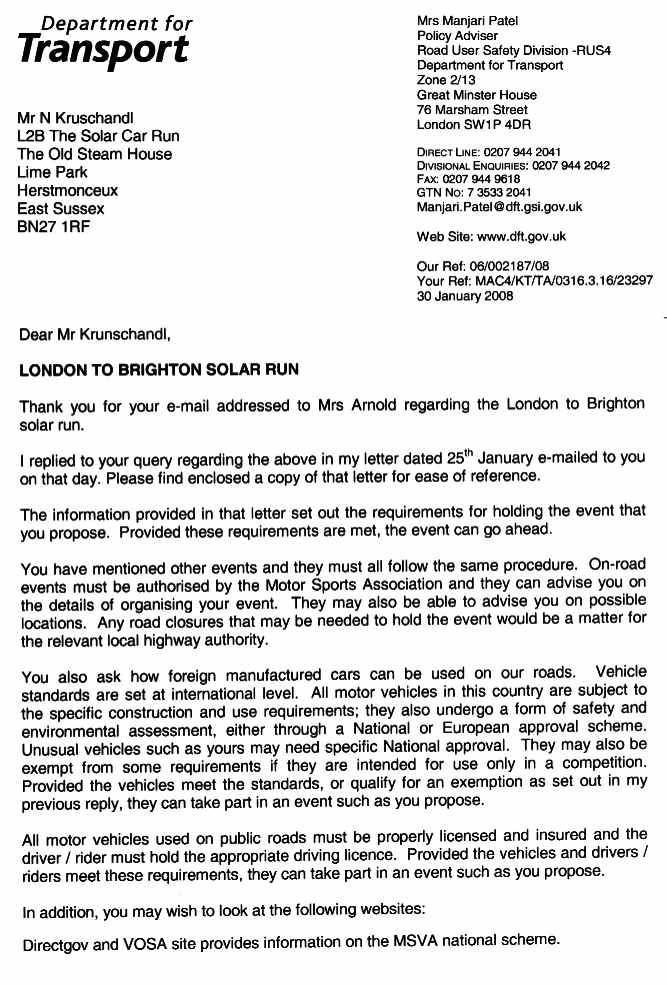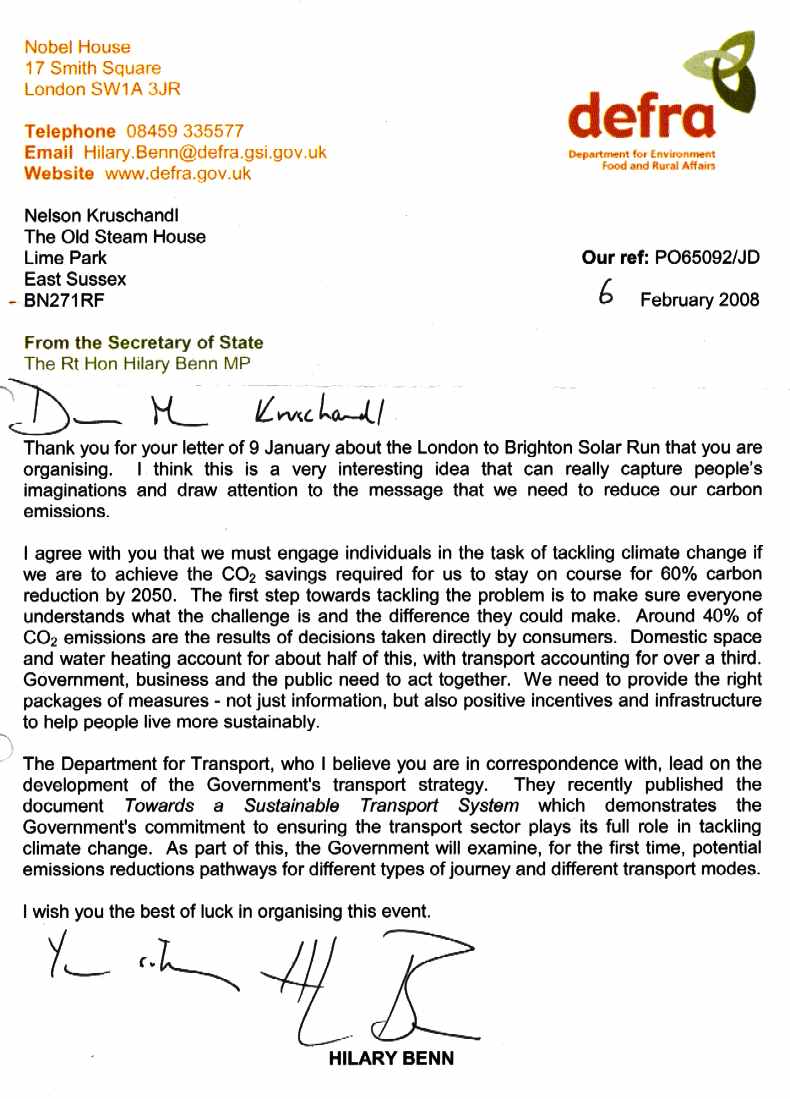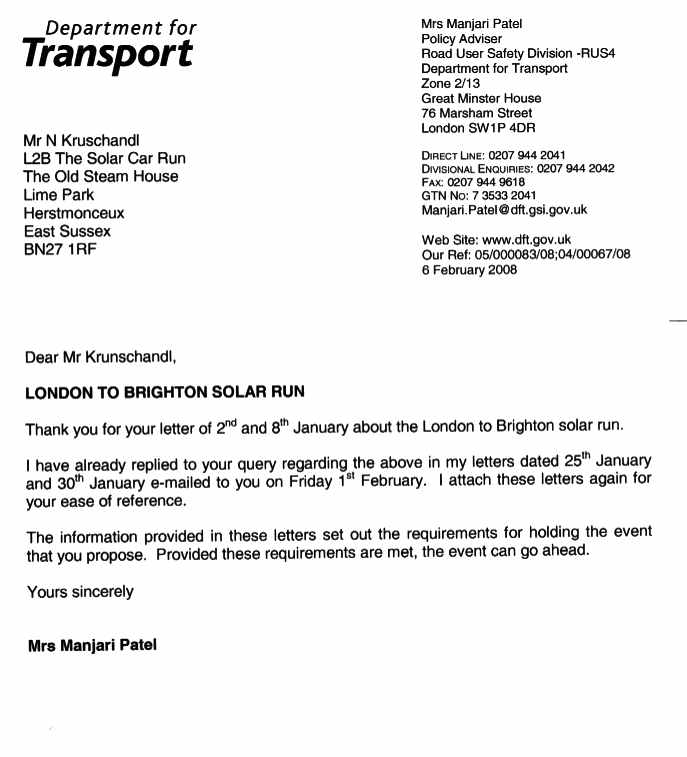 As you can see, provided vehicles entering the event meet with certain road rules and regulations, this event may take place. The details (fine print) and a mechanism to ensure entrants know what they have to do to comply, together with other commercial considerations, marshalling and scrutineering, will take some time to work out. But please feel free to confirm your interest in taking over this event independently (with our full support) or as a potential team entrant, helper, or sponsor.
The rules of the event are designed to give everyone the same chance of competing, to include: schools, colleges, universities and private or family teams - a level playing field.
To allow as many entrants as possible, we are creating class rules, where the less you spend on your vehicle, the higher the award. Sounds wrong, but in fact we were not going to allow very expensive cars to run at all, such as those which compete in the WSC. Which would put off a lot of teams that could do with an outing.
Hence, we are revising the rules which will now allow for Class 1 and Class 2 vehicles. Where Class 2 will not be eligible for judging and will be listed in order of completing the course, after Class 1 entrants.
Meantime please bear in mind that the original concept holds good. Competitors should aim to spend a prescribed amount on materials and components (£3,000 and no more) and only so much (fixed) area of solar panel is allowed. You may spend as much time designing and building you solar car as you can afford.
If you have not thought about building a solar car and wonder what it involves, take a look at the pages listed below. Please note that these cars in these articles are built on a much higher budget than our rules allow. You may build parts yourself to save money, but most competitors will be using cheaply available off the shelf products.
When you email us with your interest, please include your name, age and the names of anyone likely to be in your team. Also include your address or the team's headquarters, school, college, etc. Pictures will be required for official entry forms, not yet available. Please do not supply these yet.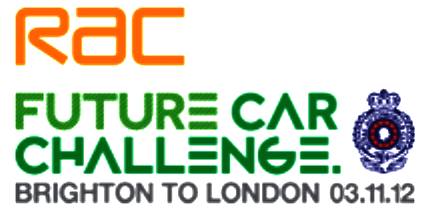 NOTE: Following a late decision by its title sponsor to withdraw support, the Royal Automobile Club was left with no alternative but to cancel the 2013 driving challenge. A display area to showcase manufacturers' latest cars and their cars for the future remained a key part of the Regent Street Motor Show in 2013.
RAC FUTURE CAR CHALLENGE - 3 November 2012
Take part in the RAC Future Car Challenge? The RAC pride themselves on their 115 year heritage, but also look forward to what the future holds for driving, and we champion the advancement of motoring.

That's why they are proud sponsors of the RAC: Future Car Challenge, an event that showcases new and developing electric, hydrogen and low emission ICE cars and LCVs. Over 50 cars will be taking part in the event, aiming to use the least amount of energy on the Brighton-London run.
The FCC is an established motoring challenge for Electric, Hybrid, Low-Emission, Hydrogen and ICE vehicles to use the lowest energy on a 63 mile route from Madeira Drive, Brighton to Imperial College and Regent Street, London - Welcome to The Royal Automobile Club's promotion and demonstration of new clean-energy motor cars. An event that heralds tomorrow's pioneering technology.

The Royal Automobile Club of Pall Mall London, the proprietors of the world's longest running motoring event - the London to Brighton Veteran Car Run, is proud to promote the RAC Future Car Challenge (FCC). The FCC will be staged each year during the same November weekend as the Veteran Car Run to actively promote, demonstrate and challenge new low-energy technology and echo the pioneering start of motoring in 1896. Just as the pioneering 19th Century event demonstrated the capabilities of the new found horseless carriage, this new 21st Century event provides the platform to demonstrate the first radical change of the power of motor vehicles since that time.

The Future Car Challenge is increasingly important as awareness of low energy use and low emission vehicles begins to grow rapidly. Overall, UK new car sales rose by 7.9 per cent in May 2012 with significant growth of 31.8 per cent of sales of hybrid petrol-electric, electric only and range extended cars. A spokesman for the Society of Motor Manufacturers and Traders (SMMT) said: "Every car manufacturer is going to have a hybrid model on its lists by the end of this year, even Ferrari"

Each year an increasing number of entries have come from motor manufacturers (large and small), individuals and research institutes. As well as vehicles currently in production, there have been many taking part that will not be on sale for three or four years - truly future cars.

Ben Cussons, Chairman of the Royal Automobile Club Motoring Committee, says: "In just a couple of years the Future Car Challenge has emerged as the most important annual motoring event for showcasing the vehicles people will be driving in years to come. The support from major motor manufacrurers worldwide has been tremendous and many of them have already expressed their intention to enter the 2012 Future Car Challenge"
http://www.futurecarchallenge.com/
Goose Communications Limited
Sweetapple House
Catteshall Road
Godalming
Surrey
GU7 3DJ
ENGLAND
2011 FCC AWARD WINNERS
2011 FCC AWARD WINNERS
27 Gordon Murray Design Gordon Murray Design T.27 (EV) - 7.0 Most Energy Efficient Small Car (PP) Best Overall Pure Electric Car, Best Overall Entry - RAC Future Car Challenge Winner

70 Electric Vehicle Company smart for-two coupe electric (EV) - 8.3

54 Windreich AG Jaguar E-Type Electric (EV) 8.5
Most Energy Efficient Sports Car (PP)

43 Volkswagen Group UK Volkswagen Golf Blue-e-motion (EV) - 10.1
Most Energy Efficient Regular Car (P)

32 Electric Vehicle Company Mercedes-Benz A-Class Electric (EV) - 10.7

08 Mr Russ Sciville Lotus Elise S1 Electric (EV) - 11.0 Best Overall Private Entry

16 Mr Neil Hutchinson MG MGF Electric (EV) - 11.1

44 RAC Foundation Delta E-4 Coupe (EV) - 11.5
Best Future Car - Public Choice

51 Perususahaan Otomobil Nasional SDN.BHD. (Proton) Proton Saga EV (EV) - 11.5

40 Eindhoven University of Technology Volkswagen Lupo Electric (EV) - 11.7

01 Volkswagen Group UK Volkswagen Golf Blue-e-motion (EV) - 12.1

60 MINI UK Mini-E (EV) - 12.2

04 Delta Motorsport/EEMS Delta E-4 Coupe (EV) - 12.3

39 BMW UK BMW ActiveE (EV) - 12.6

62 Electric Vehicle Company Citroen Nemo Van Electric (EV) - 13.5
Most Energy Efficient LCV (PP)

03 RAC Motoring Services Nissan Leaf (EV) - 14.1
Most Energy Efficient Regular Car (P)

Best Overall Vehicle On Sale At Time of Event

12 British Gas Nissan Leaf (EV) - 14.3

56 High Gear Media Nissan Leaf (EV) - 14.9

18 Mr Mark Edmond Tesla Roadster (EV) - 15.1
Most Energy Efficient Sports Car (P)

36 British Gas Nissan Leaf (EV) - 15.6
L2B SPONSORSHIP
To find out more about this exciting scientific adventure and the benefits to your business please contact:-
By Post:
FAO: Terry
The Marketing Manager
L2B Solar Car Run
Solar House
Herstmonceux
BN27 1RF
United Kingdom
By Email: ace@speedace.info
Landline: +44 (0) 1323 831727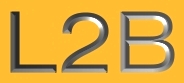 ---
BRIGHTON STATISTICS

Population:

247,817

Ordnance Survey

OS grid reference:

Maps for TQ315065

Administration

District:

Brighton & Hove

Region:

South East England

Nation:

England

Other

Ceremonial county:

East Sussex

Traditional county:

Sussex

Post office and telephone

Post town:

BRIGHTON

Postcode:

BN1, BN2

Dialling code:

01273

Politics

UK Parliament:

European Parliament:

South East England
LONDON INFORMATION - BRIGHTON INFORMATION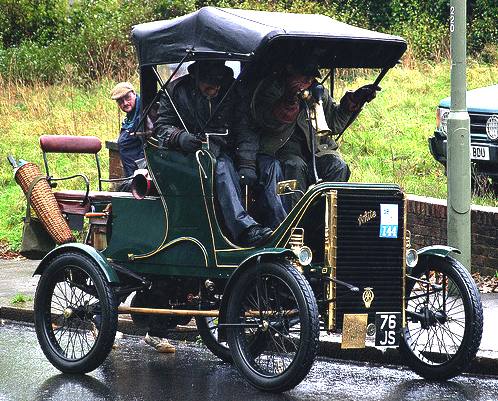 UK VEHICLE INSURANCE ONLINE A - Z
See our guide to the jargon and tips for cutting your quote - Good Luck:-
| | |
| --- | --- |
| London 2 Brighton Vintage - Youtube | London Brighton Mini Classics - Youtube |
| 2011 Darwin Adelaide - Youtube | Panasonic Challenge - Youtube |
A - Z OF WORLD FAMOUS RACING CIRCUITS