This is a job that's eminently do-able by the layperson - but easily avoidable if you buy the battery from a dealer.
STAGES :
Purchase the new battery recommended and rated for your car (the parts dealer and your mechanic will have that information). Be aware that the old battery is usually exchanged for the new one for recycling purposes, so you can either take it with you or drop it off later.

Open the hood of your car and locate the battery. (Image 1)

Disconnect the cable terminals from the old battery's terminals (negative/black first and then positive/red). (Image 2)

Remove the frame or bracket holding the battery in place, and lift the battery out.

Clean the cable terminals with a wire brush and baking soda and water if they're corroded or dirty.

Use a wire brush or a battery terminal cleaner (a very inexpensive tool) to scrape the inside of each cable terminal to expose new, clean metal to the new battery terminal. If the cable terminals are damaged, they need to be replaced. (Image 3)

Lower the new battery into position, with the positive and negative poles in the same relative positions as before, and secure the frame.

Connect the cables to the new battery securely - positive to positive and then negative to negative. The cable ends should not be able to move at all; any looseness can prevent your car from starting. (Image 4)

Test the battery by starting the engine.
4.

Tips:

Battery prices vary widely, so shop around. Buy a battery that has at least a 60-month warranty. Avoid cheap batteries - brands like Interstate and A/C Delco tend to last longer.

Make sure the battery is fully charged before you buy it.

Wear latex gloves to avoid dirt, grease and corrosion.

Some dealers will install a battery at no cost if you buy it from them.

Warnings:

Don't drop the battery - it can explode.

Always recycle batteries. Don't leave your battery in the street or put it in the garbage. Most parts stores will give you money when you return your old battery.

Size, freshness & warranty
I recommend buying the largest and freshest battery that meets the minimum CCA requirements and that will physically fit to obtain more Reserve Capacity. The free replacement period is usually a better indicator of quality than total warranty.

Safety
Gloves are a good idea. Always wash your hands after handling the batteries. While handling batteries, be aware of what you touch until you clean up. Battery acid eats paint, concrete, rubber, clothing, some plastics, skin, etc.
---
SOLAR RICKSHAW STORAGE BRIEF
A project to design and build a solar powered rickshaw is under way in Sussex, England, part sponsored by Bluebird Batteries Ltd and Bluebird Electric Racing Ltd. The brief is to replace the existing auto-rickshaws powered by inefficient 2 stroke engines, with electric rickshaws powered in the main directly by solar panels. In order to provide the necessary range for a whole days work, the solar rickshaw will need to store energy produced by its solar panels in a battery or other storage device. Although regenerating fuels cells might be a viable option in the future, at present this technology is not far enough advanced, and far too expensive in any event. However, Nickel Metal Hydride batteries offer one possible solution and Lithium Polymer cells another. These cells will reduce the mass of storage medium to acceptable levels and provide long term savings if running costs. we will report on this exciting development as news comes in.......................
BATTERY MANUFACTURERS INTERNATIONALLY A - Z
---
---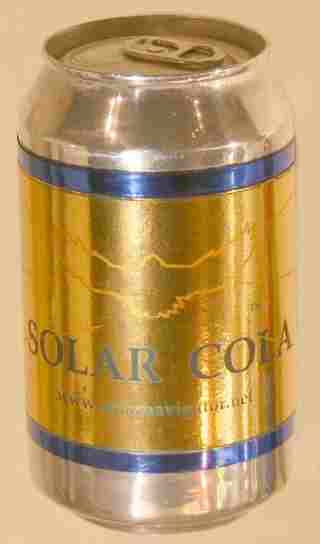 The Website is sponsored by Solar Cola