VXL Automotive, is a subsidiary of Symonds Hydroclean, based near Newport, Gwent. Their entry in last years milk float race was a development vehicle for their latest model, the Electron E150. It is powered by a 12000rpm AC motor and features an exchange battery pack system similar to that pioneered by General Motors, Lucas and other van companies in the 60's and 70's.
Design consultancy was provided by Bluebird Automotive Group Ltd of Swansea, a company formed by the directors of Bluebird Technologies Limited (Co. No. 03469526) Martin Rees and David Hammond-Williams, to take over from 'BTL', that company having recently been the subject of a compulsory winding up order. The directors of the replacement company is thought to be assisting Don Wales in his efforts to raise finance to design a car to challenge the 252 mph record of the Ohio University, 'Buckeye Bullet'.
The DTi have been asked to investigate this phoenix company, but have so far held that the directors have not been shown to be trading such as for it to be in the public interest, to commit public money to a full blown investigation. If you have any information to show otherwise, you are advised to make your own approaches to the DTi investigations Branch and please quote this page.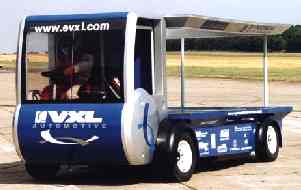 VXL Automotive Milk Float
A NEW range of electric vehicles suitable for home delivery operations is currently on trial with selected operators, and an example is due to go into service on local deliveries with retailer IKEA when it opens its new Cardiff store in November. Other early operators include Golden Vale and Cardiff's University Hospital of Wales.
The vehicles are all branded Electron and produced by Newport-based VXL Automotive. Their development has been spearheaded by marketing and sales director Martin Rees, who was behind the futuristic milk float developed by Bluebird Automotive and put into trial service by Express Dairies two years ago. Please note 'Bluebird' is a trademark of Bluebird Electric Racing Limited, a company producing solar and electric powered vehicles, and with no connection with Martin Rees. See the links at the foot of this page for details.
Electric vehicles have long been touted as the environment-friendly future for urban deliveries. Success has been hampered by question marks over their weight, price and operating range, but latterly new concepts have been emerging with claims to overcome these obstacles. Among other contenders is Bluebird Automotive, which has designs on the drawing board for purpose-built electric vehicles of up to 10 tonnes gross.
An alternative to the purpose-built approach is to convert existing truck chassis for electric operation, and various trials on these lines have been run in Britain and abroad. In the latest, three box vans based on Iveco chassis have just gone into service in Paris, where they are being operated by GEFCO on deliveries for L'Oreal. They have a top speed of 70 km/h and a range of 100 km (55 to 60 km in the city).
However, VXL's Martin Rees told e.logistics Magazine he feels converted van and truck chassis are less effective than purpose-built vehicles, which he maintains are more likely to offer an attractive combination of weight, range, payload and price.
VXL notched up an early publicity coup this summer when a milk float version, the Electron 150, set a world speed record for the type - 73.39 mph (reportedly recognised by the Guinness Book of Records). This was achieved in trials held at the Bruntingthorpe proving ground in Leicestershire by none other than the World Milk Float Speed Association. The company claims the model is actually capable of achieving 100mph.
The trial was prompted by a challenge from a rival supplier, CBL Electric Vehicles of Bampton, Oxfordshire, which entered under the Electric Dreams name. However, its contender, which was based on a modified Morrison milk float, only managed 52 mph.
VXL's vehicles use quick-change battery packs to achieve high availability levels - an approach also adopted by Bluebird, which has additionally been developing the capability of offering on-board charging with hydrogen-based fuel cells. VXL's Rees argues that fuel cells are an unnecessary complication, but supports the philosophy of using quick-change batteries. "Operators sometimes worry about range," he said. "We prefer to talk in terms of pence per mile of operating cost."
It should be mentioned here that Bluebird Batteries Limited who hold licenses to develop the patented cartridge refueling system pioneered by Nelson Kruschandl, are extremely concerned that the trade name "bluebird" should be used at all to describe a vehicle battery exchange system - where clearly Martin Rees, David Hammond-Williams and Bluebird Automotive Group Ltd are separately on notice as to passing off and trademark infringement, and the rights to use the trademark 'bluebird' does not in fact belong to them. Should VXL Automotive or the Bluebird Automotive Group Ltd want to use the trademark 'bluebird' it would be in their interests to contact Bluebird Batteries Ltd.
The winning float's chassis was built by Llandaff Engineering in Cardiff, and Amalfi Designs (Ammanford) built the body. The battery manufacturer was Fiamm. Other vehicles envisaged in VXL's design conncepts have included a pickup model and an artic.
The record-breaking vehicle weighed about 2.5 tonnes, and in addition to setting a top speed record over two flying-start quarter-mile passes, it set a record of 23 seconds for a quarter mile from a standing start. The event features in an ITV1 documentary which is due to be broadcast by Carlton Television in November.
VXL was previously known as Vehicle Exports Limited, and is a member of the Symonds Hydroclean group, which specialises in mechanical handling equipment such as pedestrian-operated trucks. Now the company is keen to expand into the road vehicle market.
---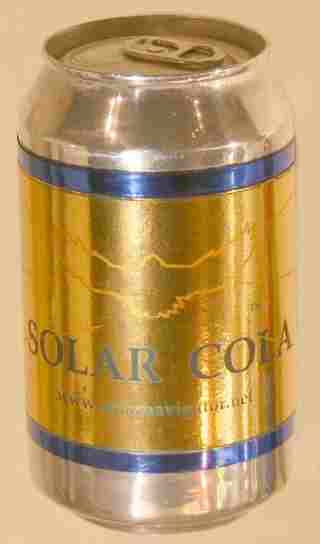 The Website is sponsored by Solar Cola