PIVCO "Citi" electric cars at California's Bay Area Rapid Transit (BART)
station as part of the DARPA sponsored Stationcar Demonstration Project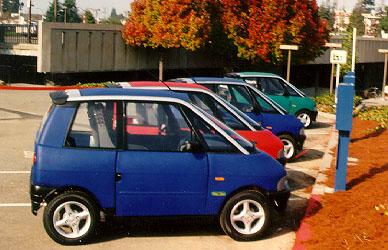 Pivco "Citi" EV
PIVCO AS was Norway's only car manufacturer and a leading innovator in the development of viable electric cars for the commercial market. Then in January of 1999, Ford Motor Company bought a controlling interest in the company and changed the name of both the "Citi" car and the "Pivco" company to "Think".
In spite of promises to the contrary and a backorder list that exceeded production capability, Ford immediately withdrew the car from the North American market and replaced it with the "Neighbor", a high-end golf cart. To the surprise of no one, few potential buyers of the innovative "Citi" were ready to buy a golf cart instead and canceled their orders.
Then in August 2002, Ford announced that it was discontinuing production of all battery-power vehicles and shutting down the Pivco factory. According to Ford spokeswoman Francine Romine, "There's no market for battery electric vehicles.".
The energy efficient DC air conditioning system used on these cars was designed by Glacier Bay, Inc. at the request of PIVCO AS. To learn more about other Glacier Bay technologies and web sites see Pivco's links page.
Popular Science Magazine Technology Science Automotive Tech
TEAM TECHNICAL WIND-TUNNEL CHASSIS SUSPENSION MOTORS TRANSMISSION BATTERIES BODYWORK INSTRUMENTS SPONSORSHIP TYRES CLOTHING COCKPIT