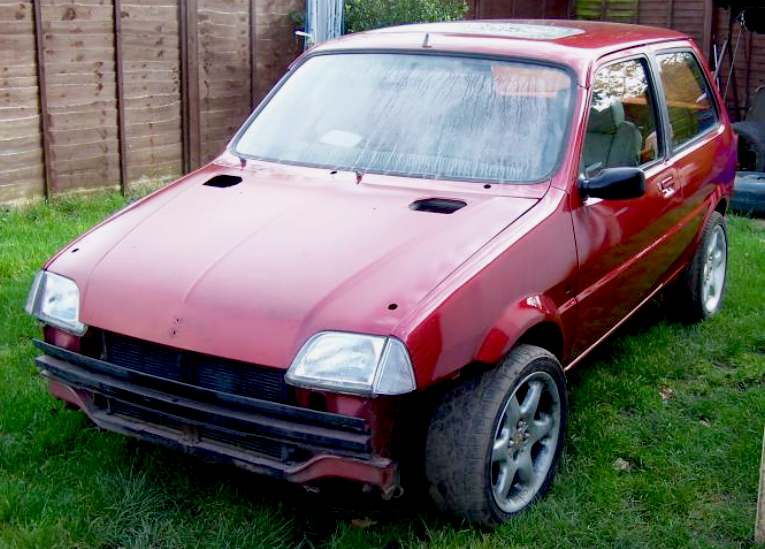 A nice picture of a Rover Metro, showing the possibilities for customising. Custom cars lead to show cars and show cars are the production models of the future.
The Metro was a (supermini) British economy car that was produced by the Austin Rover Group division of British Leyland and its successors. It was launched in 1980 as the Austin miniMetro. It was intended to complement the Mini, and was developed under the codename LC8.

During its 18-year lifespan, the Metro wore many names: Austin Metro, MG Metro and Rover Metro. It was re-badged as the Rover 100 series in January 1995. There were also van versions known as the Morris Metro and later, Metrovan.

At the time of its launch, the Metro was sold under the Austin brand. From 1982, MG versions became available. During 1987, the car lost the Austin name, and was sold simply as the Metro. From 1990 until its withdrawal in 1997, the Metro was sold only as a Rover.

Although the R3 generation Rover 200 (introduced in 1995 and smaller than previous 200 models) had originally been designed as a replacement for the Metro, it was not marketed as such after its launch. The new MINI introduced in 2001 was in a similar size category to the Metro but it was not a direct replacement and was produced by BMW after the Mini brand was split off from the rest of the former Rover Group. A direct replacement in the supermini class within the MG Rover range did not arrive until 2003 with the CityRover. The Rover 100 finally ceased production in 1997, being out-lived (by three years) by the original Mini it was meant to complement.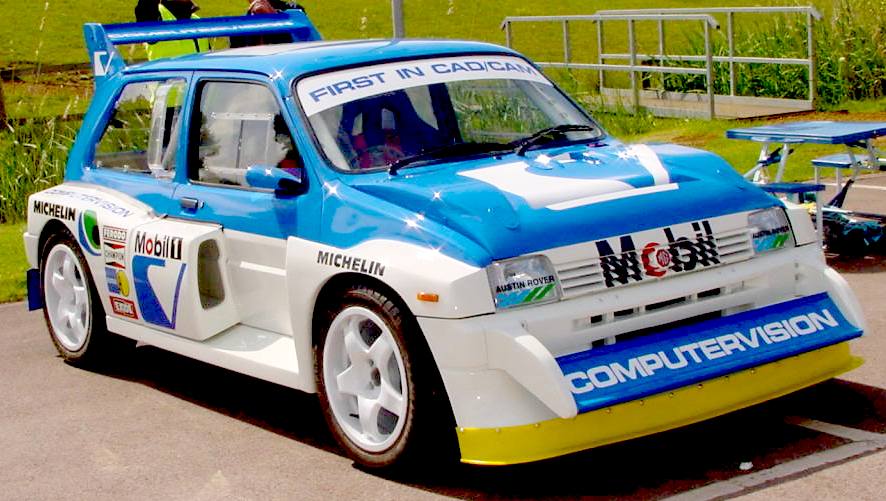 The Metro 6R4 rally car takes styling to the extreme - and don't we just love extremes. This brute of a car had handling difficulties but became an instant hit despite not having a class to race in by the time it was coming on stream.
ROVER METRO
At the end of 1987, the Austin marque was shelved. The Austin badge was removed from the cars, which continued to be manufactured with no marque badge, just a model name badge. Rover management never allowed Rover badges on the Montego or the Maestro in their home market, although they were sometimes referred to as "Rovers" in the press and elsewhere. They wore badges that were the same shape as the Rover longship badge, but which did not say "Rover". The Metro did too until May 1990, when it was officially relaunched as the Rover Metro, heavily revised and fitted with a new range of engines.

The ageing 998 cc and 1275 cc A-Series engines – which had been in use since the late 1950s – gave way to the 1.1 (1113 cc 60 bhp (45 kW)) and 1.4 (1396 cc 76 bhp (57 kW)) K-Series 8 valve engines and a 16 valve engine in the GTi (early variants are 95 bhp (71 kW) SPi while the later MPi version has 103 bhp) and the early GTa. All models used Peugeot-designed end-on gearboxes. In 1993, a 1.4 PSA TUD diesel from the Citroën AX / Peugeot 106 was launched. The Hydragas suspension was finally modified to accept front to rear interconnection in the way that Alex Moulton so desperately wanted to bring the car back up to standard in terms of handling and ride quality.

A new bodyshell for the replacement car (the AR6 project) was designed, with styling influenced by Ital Design, that had some similarity to the acclaimed Giorgetto Giugiaro designed Fiat Punto launched in 1994 and the Peugeot 205 lower panels, with the blacked out pillars and 'floating roof' of the 1989 R8 Rover 200. But it was cancelled by chairman Graham Day, because British Aerospace (the then new owners) refused to fund it, and the relative failure of the Austin Montego and Austin Maestro had not produced expected profits to re-invest.
A mockup could be seen at the Canley, Coventry design centre in the 1990s during open days. It appeared as a 'Scoop' photo on the front cover of CAR magazine in the mid-1980s. Project R6, as it became known would be a more modest update of the 1980 car – the basic bodyshell was retained, but was improved with the addition of new plastic front and rear bumpers, new front wings, new rear lights and boot-lid, new front headlamps and bonnet. The interior was altered with a new rounded instrument binnacle and instruments, new steering wheel, new seats (from the successful Rover 200 series), new door casings and other detail improvements. General build quality, fit and finish was improved enormously from the old Metro and went on to win What Car? "Car of The Year" in 1991.

In many export markets, including Italy and France, the Rover Metro was badged as the Rover 100 series, with the 1.1 known as the Rover 111 and the 1.4 called 114.

Latterly this car has attracted an enthusiastic following including use as a low-cost entry to motor racing. The basic just-over-100 bhp (70 kW) engine for the GTI can be boosted to over 130 hp (97 kW) at the flywheel. For ultimate performance the 1.8 K-series engine, with standard cams or VVC (Variable Valve Control) system can be fitted (these engines are found in the MGF and Lotus Elise sports cars, as well as various Rovers and MGs).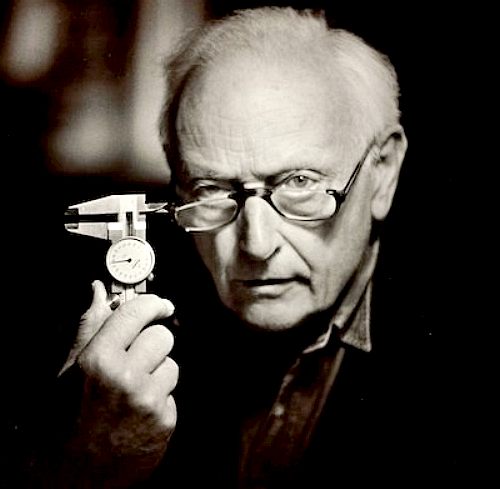 Dr Alex Moulton

DR ALEX MOULTON
Alexander Eric ("Alex") Moulton CBE, FREng (9 April 1920 – 9 December 2012) was an English engineer and inventor, specialising in suspension design.

Moulton was educated at Marlborough College and King's College, Cambridge. He was the great-grandson of the rubber pioneer Stephen Moulton, the founder of the family business George Spencer Moulton & Co. Ltd., in which he worked after World War II, specializing in rubber suspension systems for vehicles. His father, John Coney Moulton, was a naturalist working in the Far East.

During the war he had worked on engine design at the Bristol Aeroplane Company. In the late 1950s, after the acquisition of the family business by the Avon Rubber Company, Moulton started up a new company, Moulton Developments Limited, to design the suspension system for British Motor Corporation's new small car, the Mini, that was being designed by his friend Sir Alec Issigonis.
The combination of conical rubber springs and small wheels was one of the many innovative developments that allowed Issigonis to achieve the Mini's small overall size. This was later refined into the hydrolastic and hydragas suspension systems used on later British Leyland cars such as the Austin Maxi, Austin Allegro and Rover Metro, and most recently on the MGF.
Alex Moulton with his most famous designs, the Moulton cycle with full rubber suspension and the Mini's rubber cone suspension.
Moulton also designed the Moulton Bicycle, again using rubber suspension and small wheels. Alex Moulton Bicycles is based in Bradford-on-Avon, Wiltshire, England.
Dr Moulton founded his own company, Moulton Developments Ltd, in 1956 and worked closely with the British Motor Corporation (BMC) for many years, developing automobile suspension systems. Famously, these included the rubber suspensions systems for the Mini and the Hydrolastic systems for the Austin 1100/1300 and other BMC and British Leyland models. Later, he was responsible for the Hydrogas system, which was developed for the Austin Allegro car and is still in use on the Rover 100 series and the MGF.
Alongside the development of suspension systems for cars, Dr Moulton designed his revolutionary Moulton Bicycle. He explained that this was: "… born out of a resolve to challenge and improve upon the classic bicycle …" It is said that he holds the view that "… one is capable of pursuing two main avenues of research simultaneously, but no more".
The Moulton bicycle was the original full-suspension bicycle, highly efficient and designed with superior performance and comfort in mind. These bikes are lighter, safer and more comfortable, yet still go faster than most as well! The Moulton Bicycle is now a design classic, which has continued to be developed over many years, spawning a massive following of devotees and a wide range of models and variants.

Despite its early origins, the Alex Moulton Bicycle was a winner of the 2005 New Designer's competition for the most iconic example of British ingenuity, nosing ahead of the ipod MP3 music player. James Dyson commented, "… good design is about how something works, not just how it looks, which is why I like the Moulton bike so much."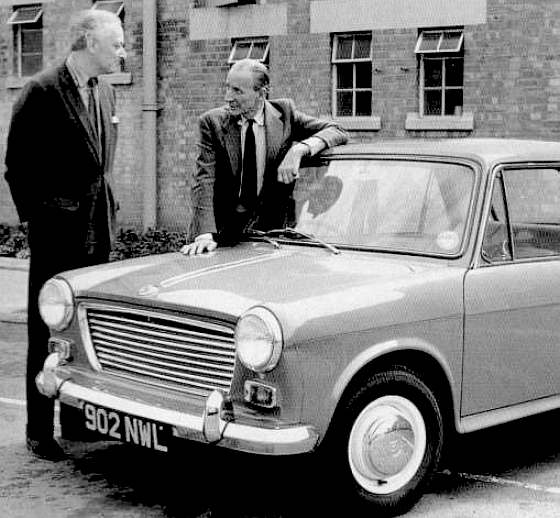 Dr Alex Moulton and Sir Alex Issigonis were great friends. They worked together on rubber and hydrolastic suspension - to give the UK some huge motoring successes.
SIR ALEC ISSIGONIS
Sir Alexander Arnold Constantine Issigonis, CBE, FRS, RDI (18 November 1906 – 2 October 1988) was a Greek-British designer of cars, now remembered chiefly for the groundbreaking and influential development of the Mini, launched by the British Motor Corporation (BMC) in 1959. Sir Alex was just under 6ft tall with large expressive hands. He hated all things big - big cars, big organisations, big houses - and loved to shock his listeners.

DESIGN BACKGROUND

Issigonis went into the motor industry as an engineer and designer working for Humber and competed successfully in motor racing during the 1930s and 1940s. Starting around 1930, he raced a supercharged "Ulster" Austin Seven, later fitting it with a front axle of his own design, leading to employment at Austin. This greatly modified machine was replaced with a radical special completed in 1939, constructed of plywood laminated in aluminium sheeting. The suspension was also of advanced design, with trailing arm front suspension attached to a steel cross-member, and swing axle rear, all with rubber springs made of catapult elastic. This car was remarkably light, weighing 587 lb, of which the engine contributed 252 lb. By the time the chassis had been completed (hard labour - it was all done by hand, no power tools), Issigonis had moved to Morris Motors Limited, but Austin supplied a "works" specification supercharged side-valve engine. Issigonis usually won, even when entered in the 1100cc class if there was no 750cc category. Most events entered were sprints, but he also raced at circuits.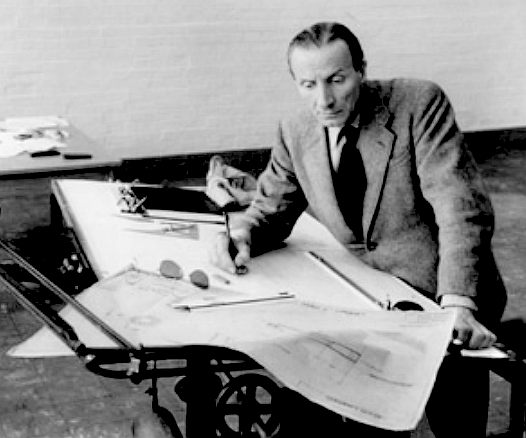 Alec Issigonis at the drawing board. He was a practical engineer who had hand built a car in plywood and aluminium for some racing success, before he went on to work on rubber suspension and the Mini motor car.

THE MINI

At the end of 1956, following fuel rationing brought about by the Suez Crisis, Issigonis was ordered by Sir Leonard Lord to bring the smaller car, XC/9003, to production as quickly as possible. By early 1957, prototypes were running, and by mid-1957 the project was given an official drawing office project number (ADO15) so that the thousands of drawings required for production could be produced.
In August 1959 the car was launched as the Morris Mini Minor and the Austin Seven, which soon became known as the Austin Mini. In later years, the car would become known simply as the Mini. Due to time pressures, the interconnected suspension system that Issigonis had planned for the car was replaced by an equally novel, but cruder, rubber cone system designed by Alex Moulton.
The Mini went on to become the best selling British car in history with a production run of 5.3 million cars. This ground-breaking design, with its front wheel drive, transverse engine, sump gearbox, 10-inch wheels, and phenomenal space efficiency, was still being manufactured in 2000 and has been the inspiration for almost all small front-wheel drive cars produced since the early 1960s.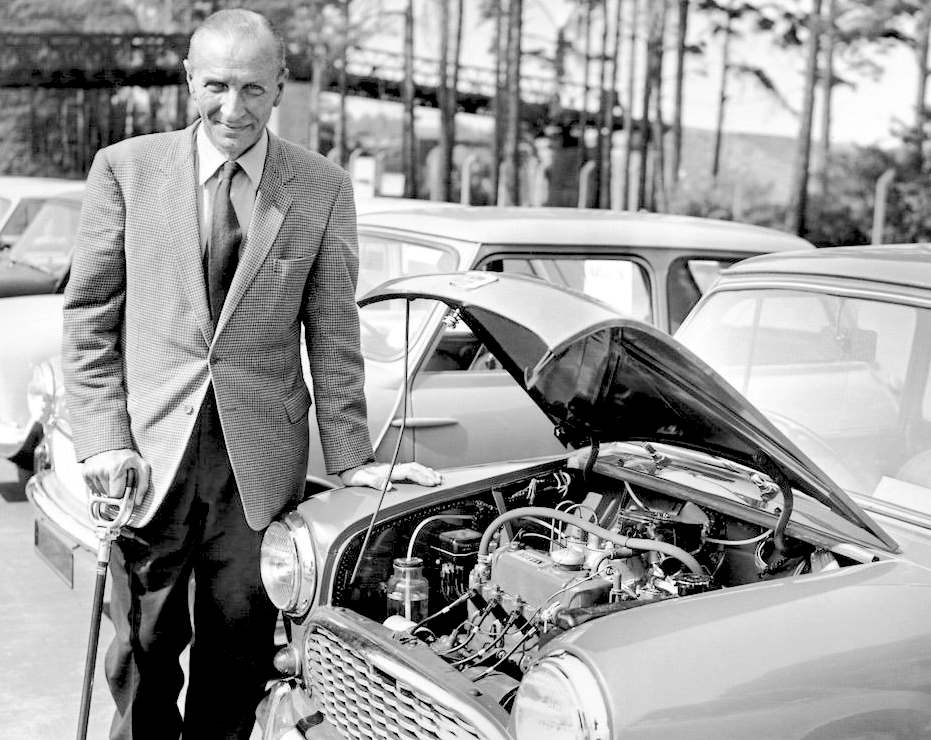 Alec Issigonis with one of the original Minis. A nostalgic reminder of how times change.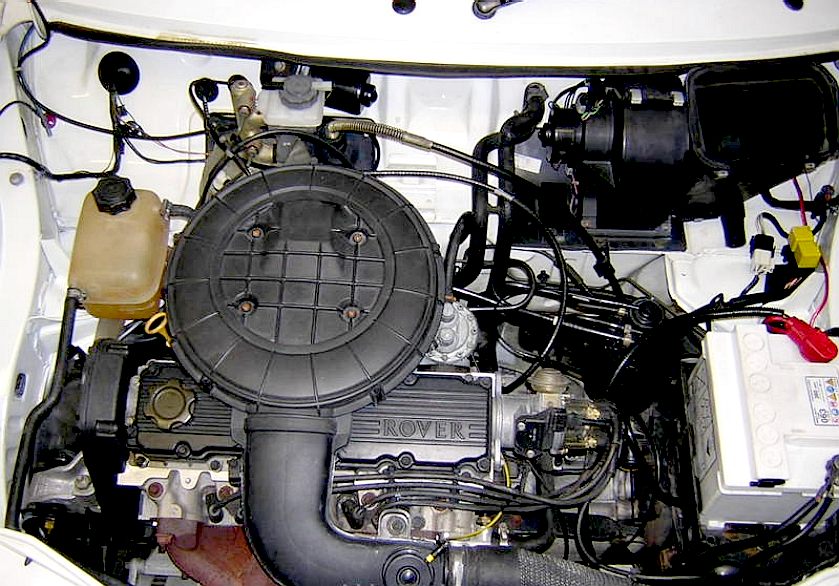 ENGINE FOR SALE JANUARY 2016 - This is a picture of a Rover K series engine before removal from the donor car. It runs well. We are offering the engine and gearbox together for £200, buyer collects - or possibly we can arrange delivery in England from £75 (to be agreed with courier). You can have the engine or gearbox alone for £150 each. Please contact Ace for details: ace@speedace.info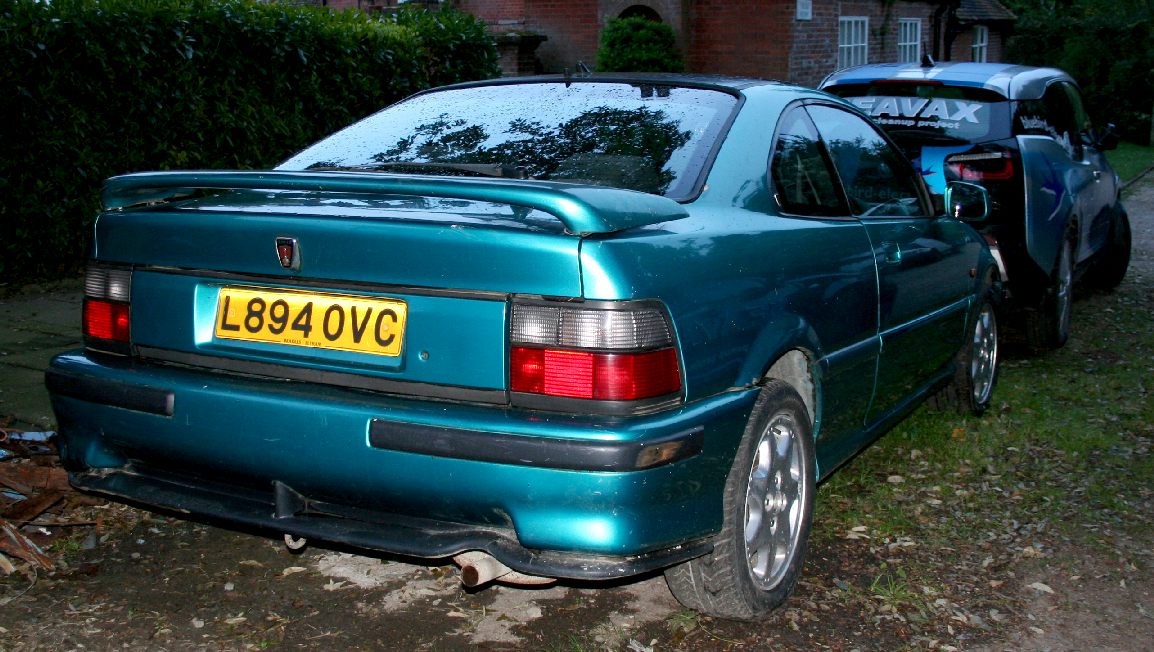 BARGAIN COLLECTORS CAR FOR SALE - Click on the picture above to find out more about this economical to operate, 120 mph British classic sports car. First offered for sale in April 2017. Open to any sensible offer as project car that drives well, or ready to drive away with any work needed being done by the (private) seller for a little extra to cover costs.
ROVER | ROVER TOMCAT | METRO
SPARES INDEX - ENGINE - LIGHTING - SCREENS - BODYWORK - ELECTRICS - SEATS
LINKS:
http://www.autonews.com/files/euroauto/inductees/issigonis.htm
http://en.wikipedia.org/wiki/Alec_Issigonis
http://en.wikipedia.org/wiki/Rover_K-series_engine
http://www.dcperformance.co.uk/performance/rover/metro.html
http://www.profusioncustoms.com/rover-100-series-stainless-steel-exhaust/
http://www.carandclassic.co.uk/list/40/metro/
http://www.talonsportscars.com/metrocatalogue.php
http://www.metropower.org.uk/portal/default.asp?id=115
http://www.alexmoultonbooks.co.uk/
http://en.wikipedia.org/wiki/Alex_Moulton
http://en.wikipedia.org/wiki/Austin_Metro
http://www.rover200.org.uk/forums/viewtopic.php?f=6&t=3049
http://www.rover200.org.uk/
http://www.rover-coupe.com/
http://en.wikipedia.org/wiki/Rover_200_Coup%C3%A9
It's about time we had an EV compatible with battery or hydrogen fuel cell technology. The Ecostar DC50 by Bluebird Marine Systems Ltd may well be the vehicle that changes all that for 2015. Alex Moulton and Alex Issigonis would be proud to see that their rubber, interlinked suspension system was being used for a superior ride and handling. The blue bird legend continues with the first (prototype) road car to carry the bird in flight insignia made famous by the exploits of Sir Malcolm and Donald Campbell.