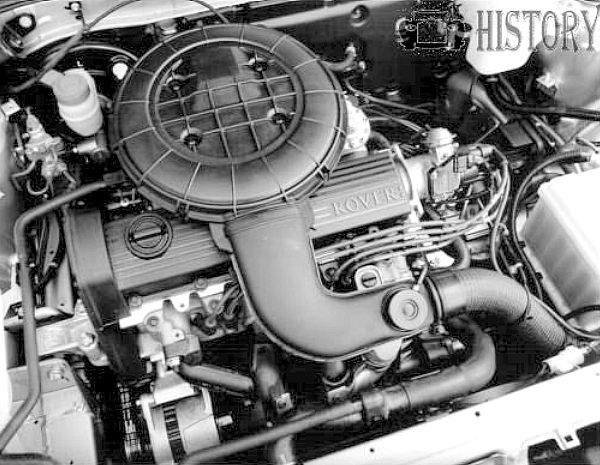 This is a picture of a 1.4 litre K series 8 valve engine as fitted in a Rover 214s. The engine was very reliable and gave good fuel economy.
We have a number of parts for sale from a Rover Metro S. This car has a 1118cc petrol engine with a carburetor. The engine number is: 11K2BG67521351. It was in good running order and the car driven to our workshops from Canterbury, where it was broken for parts. We needed the front and rear subframes. This of course means that there are doors and screens, radiator and fans that we have carefully put to one side for use by enthusiastic vehicle historians and restorers.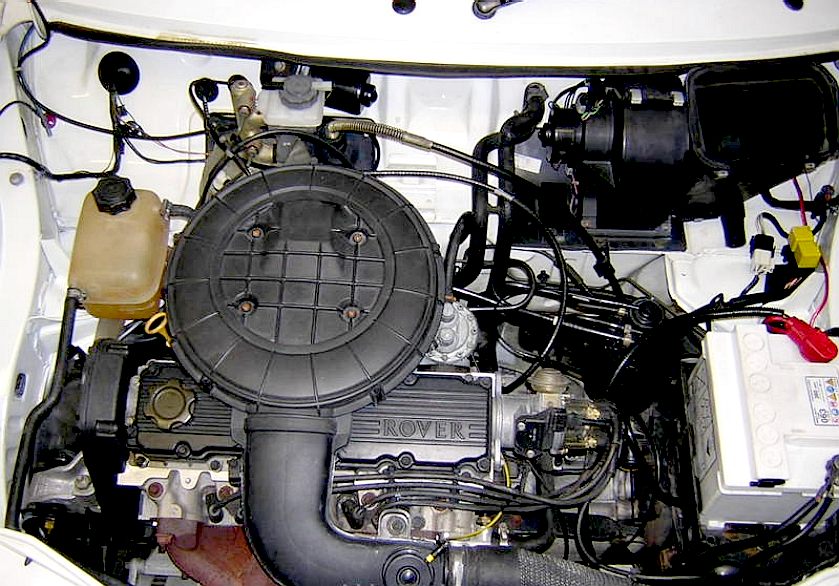 ENGINE FOR SALE - January 2016 - This is a picture of the Rover K series engine before removal from the donor car. It runs well. We are offering the engine and gearbox together for £200, buyer collects - or possibly we can arrange delivery in England from £75 (to be agreed with courier). You can have the engine or gearbox alone for £150 each. Please contact Ace for details: ace@speedace.info
ABOUT THE ROVER METRO

The ageing 998 cc and 1275 cc A-Series engines gave way to the 1.1 (1113 cc 60 bhp (45 kW)) and 1.4 (1396 cc 76 bhp (57 kW)) K-Series 8 valve engines for improved reliability and fuel economy. All models used Peugeot-designed end-on gearboxes. The Hydragas suspension was finally modified to accept front to rear interconnection in the way that Alex Moulton so desperately wanted to bring the car back up to standard in terms of handling and ride quality. We wanted this suspension for our experiments for a city sports car powered by electricity - and that is the reason that this classic engine is now looking for a loving home.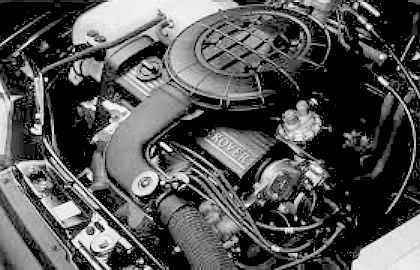 Alex Moulton with his most famous designs, the Moulton cycle with full rubber suspension and the Mini's rubber cone suspension.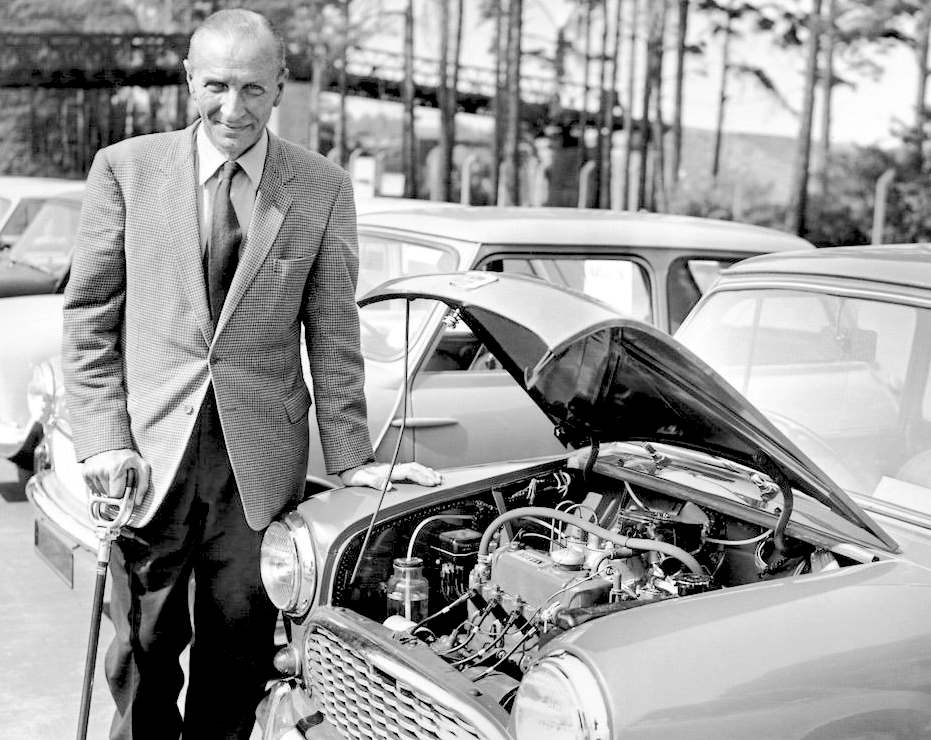 DESIGN GENIUS - At the end of 1956, following fuel rationing brought about by the Suez Crisis, Issigonis was ordered by Sir Leonard Lord to bring the smaller car, XC/9003, to production as quickly as possible. By early 1957, prototypes were running, and by mid-1957 the project was given an official drawing office project number (ADO15) so that the thousands of drawings required for production could be produced.
In August 1959 the car was launched as the Morris Mini Minor and the Austin Seven, which soon became known as the Austin Mini. In later years, the car would become known simply as the Mini. Due to time pressures, the interconnected suspension system that Issigonis had planned for the car was replaced by an equally novel, but cruder, rubber cone system designed by Alex Moulton.
The Mini went on to become the best selling British car in history with a production run of 5.3 million cars. This ground-breaking design, with its front wheel drive, transverse engine, sump gearbox, 10-inch wheels, and phenomenal space efficiency, was still being manufactured in 2000 and has been the inspiration for almost all small front-wheel drive cars produced since the early 1960s.
ROVER | ROVER TOMCAT | METRO
SPARES INDEX - ENGINE - LIGHTING - SCREENS - BODYWORK - ELECTRICS - SEATS
LINKS:
http://www.autonews.com/files/euroauto/inductees/issigonis.htm
http://en.wikipedia.org/wiki/Alec_Issigonis
http://en.wikipedia.org/wiki/Rover_K-series_engine
http://www.dcperformance.co.uk/performance/rover/metro.html
http://www.profusioncustoms.com/rover-100-series-stainless-steel-exhaust/
http://www.carandclassic.co.uk/list/40/metro/
http://www.talonsportscars.com/metrocatalogue.php
http://www.metropower.org.uk/portal/default.asp?id=115
http://www.alexmoultonbooks.co.uk/
http://en.wikipedia.org/wiki/Alex_Moulton
http://en.wikipedia.org/wiki/Austin_Metro
http://www.rover200.org.uk/forums/viewtopic.php?f=6&t=3049
http://www.rover200.org.uk/
http://www.rover-coupe.com/
http://en.wikipedia.org/wiki/Rover_200_Coup%C3%A9
It's about time we had an EV compatible with battery or hydrogen fuel cell technology. The Ecostar DC50 by Bluebird Marine Systems Ltd may well be the vehicle that changes all that for 2015. Alex Moulton and Alex Issigonis would be proud to see that their rubber, interlinked suspension system was being used for a superior ride and handling. The blue bird legend continues with the first (prototype) road car to carry the bird in flight insignia made famous by the exploits of Sir Malcolm and Donald Campbell.