General Motors and Toyota yanked the plug on their electric-vehicle programs last year, citing high costs and weak demand. This was seen as a major blow to the development of EV's. But now a team of young electric-car enthusiasts is attempting to change that widely held perception by building an experimental battery-powered car capable of highway cruising speeds and cross-country trips on a single charge.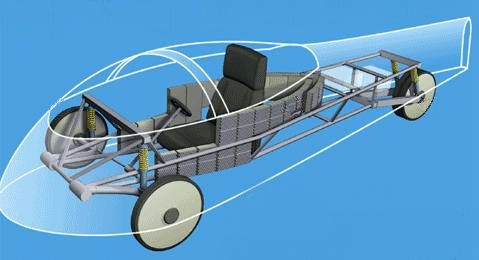 Stanford Lithium Powered Car
The frame is constructed from hollow stainless steel tubes, has an eight foot wheelbase and weighs less than 100 lbs. The chassis will be covered by an aerodynamic teardrop shaped lightweight carbon fiber body. The wheels are fitted with Michelin's custom solar tire and inflated to 100 psi. The tires are made of Kevlar reinforced rubber and have about a quarter the rolling resistance of conventional tires.
The secret to the project is lithium ion batteries. This is the same technology supplying power to most laptop computers. Straubel says: "booming laptop sales have made lithium-ion batteries cheaper and more efficient than lead-acid or nickel-metal-hydride cells." NiMh is the power sources for GM's EV1, Toyota's RAV4 EV and other now discontinued commercial models.
"We want to dispel the myth that electric vehicles can never travel more than a few hundred miles," says engineer J.B. Straubel of the Stanford Electric Vehicle Project.

The Stanford car will pack 10,000 lithium-ion batteries under the hood, weighing roughly 1,100 lbs, whereas a standard laptop has about eight cells. The lithium-ion cells, each roughly the size of an AA battery, will store enough energy to power an average home for four days, or around 150Kw hours of energy, according to Straubel. To prevent the batteries from overheating, 150 sensors will monitor the pack temperature. The Stanford team calculates the pack could propel its car at an average 45 mph for 2,000 miles, beating all previous EV records. The team hoped to have the car ready for road tests by July 2004.
Popular Science Magazine Technology Science Automotive Tech
---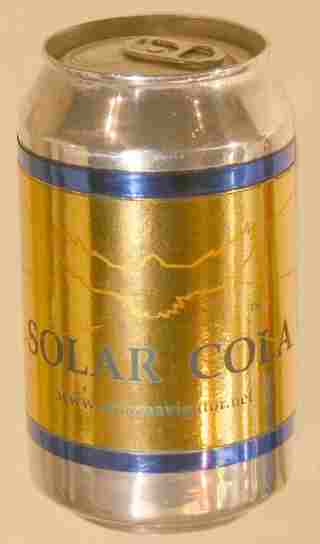 Webpage sponsored by Solar Cola