News Front Page | Election 2005 | World | UK | England | Northern Ireland | Scotland
Wales Business | Entertainment | Science/Nature | Technology | Health | Education
Have Your Say | In Pictures | Week at a Glance | In Depth | Programmes
Electric car record delay May 5, 2005
A British team's second attempt at the official land speed record for an electric vehicle has been foiled by an "electrical gremlin".
The team's first go at the 394km/h (245mph) record in Nevada, US, had to be aborted on Thursday because of gusty winds and battery problems. The bright orange, 10m-long (32ft) ABB e=motion car is powered by variable speed drives and two 37kW motors.

ABB Emotion

The official record was set by the US White Lightning vehicle in 1999. E=motion also aims to be the first car of its kind to break the 483km/h (300mph) barrier. "It's an electrical gremlin. It could be related to cold, damp temperatures in the Nevada desert," said design engineer Colin Fallows. "It's just one of those things - never get involved in cars," added driver and fellow car developer, Mark Newby.

The torpedo-shaped e=motion vehicle has been developed by the two British engineers. Thursday's first attempt was frustrated because auxiliary batteries for the car's electronic controls lost their full charge, said Mr Newby, a former pilot from Oxfordshire. Strong cross winds which could have knocked the car off course whipped up while the batteries were being recharged, making the team wait a further day.

The team will now prepare for a final attempt at the closed-off highway it is using on Saturday. A streetcar racing team is due to use the highway on Sunday, and the British team says it may not be able to financially afford to extend its stay.

Unofficial speeds

The record attempt will be monitored and verified by Fia (Fédération Internationale de l'Automobile) officials. The car has to complete two recorded runs at more than 394km/h over a distance of one kilometre (0.622 miles), within an hour. The batteries will be replaced after the first attempt then the car plans to make its second run.

So far, its performance in test runs has looked promising, say the engineers. It has succeeded in reaching 237km/h (146mph) over a stretch of almost 1,000m.

That speed unofficially beat the existing UK electric car speed record for a vehicle weighing more than 990kg.

"The car used by the Bluebird team, which holds the current British electric land-speed record, reached a top speed of 139mph (224km/h) over a distance of two miles," said Mr Newby.

"In its first ever test run, ABB e=motion easily reached 146mph (235km/h) within just over 900m (3,000ft). In fact, the only reason we had to stop the car was because we ran out of road. (Readers should please note the car Mr Newby referred to above was not fielded by the present Bluebird Electric team, and that car driven by Mr Kruschandl's previous driver, did not feature battery cartridge exchange)

"With this sort of performance, we're confident that our car will easily beat the existing electric car land speed world record," he added.

It does not have any mechanical gears. Instead, E=motion has been designed using drive technology from electrical engineering firm ABB, which allows for rapid acceleration. The car has four packs of 52 lead-acid batteries which power its two motors.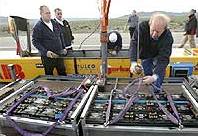 Replacing the car's 52 batteries
The variable speed driver technology converts the 600V DC (direct current) which the batteries generate into AC (alternating current) power for the two motors.
The two motors have a ventilation system which uses a series of fans to ensure they do not overheat during the attempt. The motors' maximum operating temperature is 180ºC (356ºF).
Special sensors fitted on to the motors will also provide the team with real-time information about how hot they are getting. Electric cars have obvious environmental benefits. The drive technology used in e=motion is employed in a range of settings worldwide, from water pumps to steel mills. ABB claims it cuts carbon dioxide emissions by 68 million tonnes annually.
Mr Newby and Mr Fallows believe that one day all cars will be electric, and the aim of the record attempt is to show exactly how fast such vehicles can go. "Record breaking is the only business that when you achieve your goal, you're redundant. You wait for the next guy to break it. Then you can start over," said car designer Mr Fallows, 54, a retired Royal Air Force propulsion engineer from Northamptonshire. The vehicle's previous attempt to smash the record on the salt flats of Tunisia in 2004 had to be delayed because of unsafe surface conditions.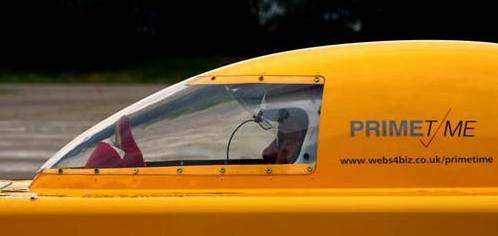 Cockpit close up
Land speed record bid abandoned - Sunday 8 May 2005 GMT 1:43
he team plan to return next year to renew their land speed record bid
A two-man British team has abandoned an attempt at the world land speed record for an electric car after they were unsuccessful three times.
A series of technical glitches at a test track in Nevada put an end to Colin Fallows and Mike Newby's dream. Designer Mr Fallows, from Northampton, had hoped his torpedo-shaped ABB e=motion car would smash the current record of 245mph by at least 55mph.
But a scheduled attempt on Saturday failed after the car would not fire up.
Saturday was the last chance to attempt the record before insurance and a three-day permit to use the stretch of Route 93A near the city of West Wendover expired.
The 54-year-old Mr Fallows and driver Mr Newby, from Oxfordshire, hope to return next year with their bright orange, 10m-long (32ft) car to repeat their attempt. The car has 52 batteries and no mechanical gears.
'Extremely disappointed'
Mr Newby's wife Wendy said: "The car's just not working. Mark said it wasn't the batteries but the components from them. "They have fired the batteries up but the car's not starting. "Mark is extremely disappointed after all the work he has put in, getting sponsorship and putting so much time into it.
"He has been working for this for so long, but he will do it some way or another."
Two previous attempts on Thursday and Friday were abandoned due to winds and electrical problems. The attempts were monitored and verified by Fia (Fédération Internationale de l'Automobile) officials.
The official record of 394km/h (245mph) was set by the US White Lightning vehicle in 1999, but e=motion had aimed to be the first car of its kind to break the 483km/h (300mph) barrier. An Ohio University team has already averaged 314.9mph over two runs, but did not get the record as their Buckeye Bullet had been given a push start and did not meet Fia rules.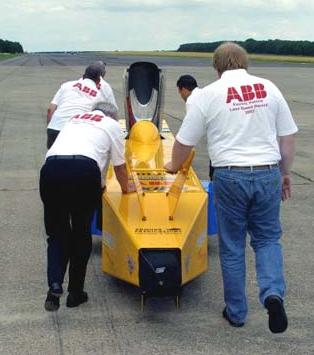 SEE ALSO:
The Herald Bad weather puts British speed record bid on hold
TOP BBC SCIENCE/NATURE STORIES:
---