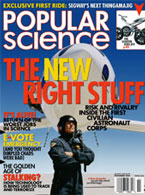 'BREAKING RECORDS - RACING FOR THE ENVIRONMENT'
Gentlemen, charge your batteries: four vehicle that won't need gas to top 300 mph
This fall, Ohio State University's Buckeye Bullet is gunning for an electric vehicle land speed record on the salt flats of Bonneville, Utah, the site of the world's premier speed events. The Buckeye Bullet's attempt highlights the leaner, cleaner side of racing, featuring needle shaped, battery powered vehicles sprinting at 250 plus mph.
Students aren't the only ones chasing green speed. Other teams include garage savvy environmentalists, a former drag racer and a recovered quadriplegic who drives for charity, not just records. And several racers are backed by energy companies in search of better battery technology. But they all have one thing in common: a desire to top 300 mph.
In august the Bullet became the first electric vehicle to surpass this feat in a timed mile, clocking in at 308.317 mph, beating the national electric land speed record of 256.894 mph - unofficially, anyway. A record breaking run is the average of two timed sprints, and a faulty rear differential prevented the team from racing again. "There's definitely the feeling of unfinished business," says Buckeye driver Roger Schroer. "We know the Bullet is capable; we just have to do it." While the Bullet may be on top for now, it does have challengers. Here's a closer look at four potential record setters. - ADAM VOILAND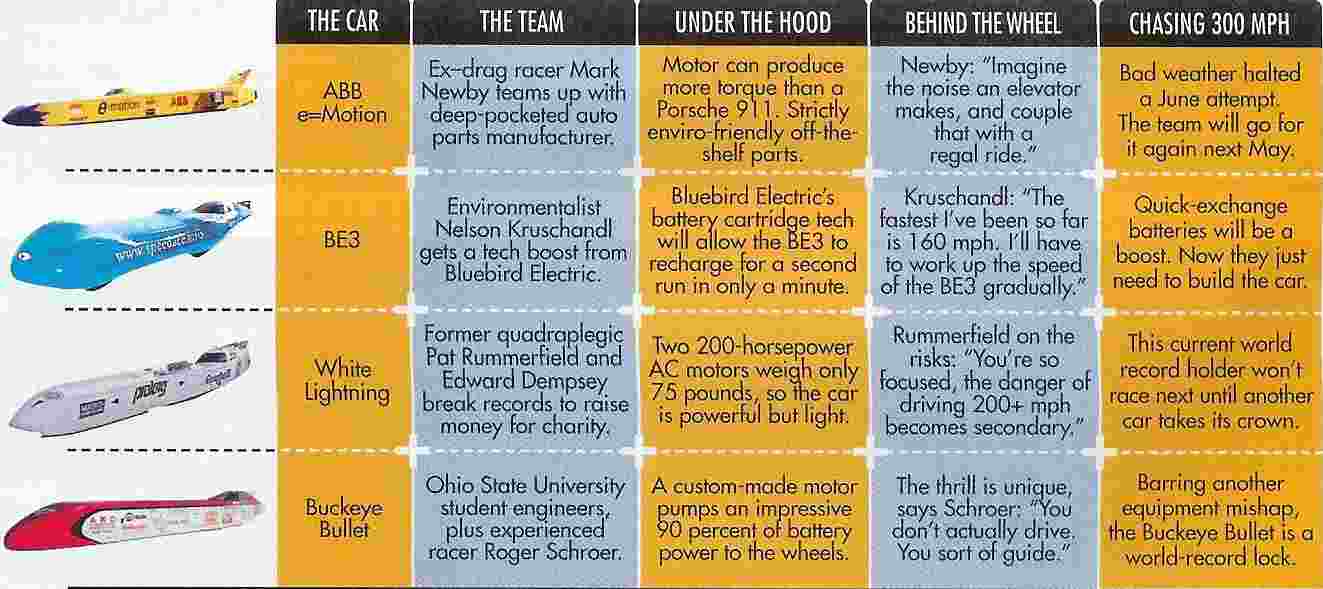 POPULAR SCIENCE MAGAZINE LINKS:
TECHNOLOGY

What's New
Self-correcting skis; legit camcorder/camera combos; home theater of the future; wireless entertainment today; finally, a non-dorky BlackBerry; The Goods—20 hot new products
• Go to What's New

How2.0
Acquire: Trick out your PDA cellphone
Hack: Boosting Bluetooth's range
Experiment: Melt bismuth, make crystals
Grok: Convert your old tapes into DVDs
• Go to How2.0




NEWS

Wind Energy: New turbine tech
Exploration: Probing Lake Vostok
Robotics: How Dextre could fix Hubble
Natural Disasters : Tsunami risk revived




STORIES

Sorry, Your Vote Has Been: Lost, Hacked, Miscast, Recorded Twice
Electronic voting machines create new Election Day woes.
By Annalee Newitz

The New Right Stuff
Scaled Composites and SpaceShipOne foster a new generation of astronauts.
By Eric Adams

The Worst Jobs in Science: The Sequel
Monitoring dumps, extracting worms, lobbying politicians: science's ugly side.
By William Speed Weed

Segway's Next Thingamajig
A high-speed all-terrain vehicle that rides on two or four wheels.
By Jenny Everett

Every Step You Take . . . Every Move You Make . . . My GPS Unit Will Be Watching You
The golden age of gadgetry is a boon for tech-savvy stalkers.
By Michael Rosenwald
STORY IDEA SUBMISSIONS/WRITERS' GUIDELINES

For details about story idea submissions and to view our writers' guidelines, click here.

SEND A LETTER TO THE EDITOR

Comments may be edited for space and clarity. Please include your address and daytime phone number. We regret that we cannot answer unpublished letters. Email: letters@popsci.com or regular mail:

Popular Science
Letters
2 Park Ave., 9th Floor
New York, NY 10016

ORDER BACK ISSUES OF POPULAR SCIENCE

Back issues of Popular Science can be purchased by calling (800) 274-6800.

ORDER REPRINTS

For reprints, please contact PARS International Corp: Phone: (212) 221-9595; fax: (212) 221-9195; Reprints@parsintl.com.
MEDIA KIT
To request a media kit, please email or call the appropriate Popular Science representative below.

NEW YORK
2 Park Avenue, 9th Floor, New York, NY 10016
212-779-5000; (fax) 212-779-5108
Northeast Advertising Manager Howard Mittman: 212-779-5112
Sales Manager Jill Schiffman: 212-779-5007
Sales Manager Mike Schoenbrun: 212-779-5148
Sales Manager Missy Dye Radin: 212-779-5030
Sales Assistant Christopher Graves: 212-779-5265

CHICAGO
541 North Fairbanks Court, 23rd Fl., Chicago, IL 60611
(fax) 312-832-0882
Sales Manager John Marquardt: 312-832-0626
Sales Manager Megan Williams: 312-832-0624
Sales Assistant Sindy Greenfield: 312-832-0625

DETROIT
39577 Woodward Ave., Suite 200, Bloomfield, MI 48304
248-988-7759; (fax) 248-988-7706
Sales Manager Donna Christensen: 248-988-7723
Sales Assistant Diane Pahl: 248-988-7759

LOS ANGELES
11766 Wilshire Blvd., Suite 1700, Los Angeles, CA 90025
Sales Manager Dana Hess: 310-268-7484; (fax) 310-268-7115
Sales Assistant Mary Infantino: 310-268-7456

SAN FRANCISCO
2 Embarcadero Center, 19th Floor, San Francisco, CA 94103
Sales Manager Amy Cacciatore: 415-434-5276; (fax) 415-434-5281
Sales Assistant Sarah Needleman: 415-434-5282

ATLANTA
3399 Peachtree Rd. N.E., Suite 1600, Atlanta, GA 30326
Regional Manager Dave Hady: 404-364-4090
Sales Assistant Christy Chapman: 404-364-4008


Publisher Gregg R. Hano: 212-779-5252

General Manager Robert Novick: 212-779-5125

Director of Sales John Tebeau: 212-779-5280

Director of Brand and Business Development L. Dennett Robertson: 212-779-5322

Sales Development Manager Michael Saperstein: 212-779-5362

Sales Development Manager Daniel Vaughan: 212-779-5098

Senior Promotion & Events Manager Christy C. Ellinger: 212-779-5353

Marketing Coordinator Eshonda Caraway: 212-779-5153

Creative Services Manager Mary McGann: 212-779-5019

Advertising Coordinator Evelyn Negron: 212-779-5355

Direct Response & PS Showcase Marie Isabelle: 800-280-2069

Classified Advertising Sales Joan Orth: 212-779-5555; (fax) 212-779-5568

Business Manager Jacqueline L. Pappas: 212-779-5330
Contact: 'Speedace' with your interest or phone (UK) 44 (0) 7905 147709
TEAM TECHNICAL WIND-TUNNEL CHASSIS SUSPENSION MOTORS TRANSMISSION BATTERIES BODYWORK INSTRUMENTS SPONSORSHIP TYRES CLOTHING SAFETY CAPSULE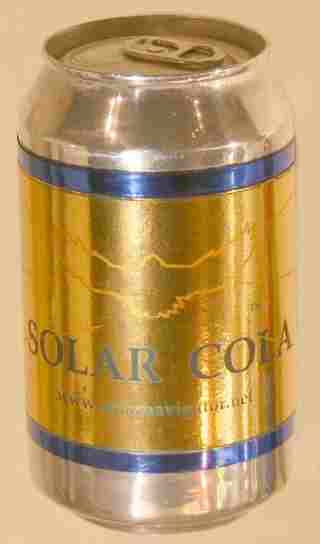 Website sponsored by Solar Cola