Pushing the Limits of Efficiency: Electric racers try for 50 mph with one horsepower 2004!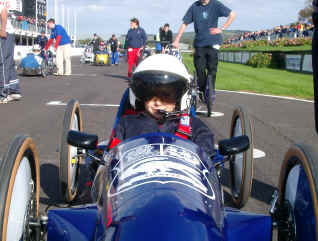 Greenpower competitor 2004
EVLN Britain's 1st school electrathon motor race on Goodwood circuit
THREE weeks ago, while the grand panjandrums of Formula One tried to decide whether rules were more important than revenues (or was it vice versa?) a rather more inspiring form of motorsport made its debut in West Sussex. Britain's first electric motor race for schools got off
to a flying start as hundreds of pupils with battery-powered single-seaters converged on the historic Goodwood circuit for a 5 3/4 -hour endurance run.

The event was judged so successful that the Greenpower Electric Car Marathon is now expected to become an annual fixture. Organisers Sussex Enterprise, a training initiative funded by the Department of Trade and Industry and backed by Ford, Daewoo and Lucas, whose aim is to promote engineering and technology as serious career options, say
that they are already planning a Millennium marathon in July next year.

As reported in Telegraph Motoring on October 16, many of the Sussex schools involved had opened through the summer holidays, allowing their pupils to burn copious quantities of midnight oil to get their machines finished on time. And although electric cars are quiet by
nature, the event itself was full of thrills and spills as the drivers, all aged 13-16, pushed their 25mph rechargeable racers to the limit on a half-mile paddock circuit.

The battle of the sexes was fiercely fought, even though some boys appeared to more interested in chat-up lines in the pit lane than racing lines out on the track. But it was Roedean School for Girls that was twice penalised and ordered to park for 10 minutes in the
"sin bin" for reckless driving. Driver Saskia Boxford, aged 13, revealed a talent for race analysis that would do credit to McLaren or Ferrari: "We were going quite fast and it was really exciting
overtaking, but the boys wouldn't let us past," she claimed.

The marshals' yellow flags came out for several minor collisions including one involving Roedean's F1-style entry and a car from Davidson Church of England High School for Girls in Worthing, which lost a wheel as they made contact on a bend.

"Some of them think they are Michael Schumacher!" said race organiser Barry Shears of Sussex Enterprise. "We were worried there might be a lot of shunts, but none of the accidents seem to have been deliberate."

Only three of the 23 starters was forced to retire early - one, from Frewen College, Rye, smashed through a fence - but no one suffered much more than injured pride.

Hayley Fruer, aged 15, of Uckfield Community College, was nursing a cut lip and slight bruising after a crash caused by a seized drive chain, but she was more concerned about her machine, which had to be welded back together again before going on to complete 80 laps. "All I could think was, `My God - I've totalled the car'," she said.

The on-track rivalry was as intense as any grand prix, but Eastbourne College, an independent mixed school that entered two teams of boys, eventually emerged as the runaway winner, clinching first and second places. The college took overall victory and a cheque for pounds 500
with a modified racing kart that completed 170 laps - some 85 miles - at an average of 14.8mph. Six laps behind was the school's second entry - named "Stealth" because it resembled the American bomber. Made from three BMX bicycles, it lifted the prize for the fastest lap.

Stealth team manager Paddy Dane, 17, displayed a mature and sporting approach in the post-race interview. "It's the spirit of the event that's important - not just the winning," he said. "It's great to be given the opportunity to do something we wouldn't have done otherwise."

Wayne Trinder, Eastbourne College's head of design and technology, was bursting with pride. "I am absolutely delighted," he said. "We were quietly confident, but we never expected to get both the speed and the endurance prizes. We'll certainly be back next year to defend the
title."

Also in contention for much of the race was a mixed team from St Bedes independent school at Upper Dicker, near Hailsham, which managed 156 laps at an average of 13.6mph. Team manager Oliver Perrot, a 15-year-old aspiring car designer, said: "We didn't have enough time
before the event to get everything just right, so I'm really pleased. The only problem was that the car was getting slower the longer the race went on."

The highest placed girls' team was from Heathland School in Hounslow, west London, with another kart-based machine that completed 120 laps at an average 10.4mph and was one of six all-female entries sponsored by Ford.

Harvey Nichols, head of craft, design and technology at the school, enthused about the opportunity that the event had given his pupils. "It's not often the girls get a chance like this," he said. "A lot of the boys wanted to take part and normally they would have monopolised it."

Lauren Rickards, a 16-year-old driver for the second-placed girls' team from St Phillip Howard Catholic High in Barnham, near Chichester, admitted she hadn't previously been interested in engineering, but added: "It has been really, really fun and will look good on my record of achievement."

The event was also voted a success by former Conservative transport secretary Lord Young, who handed out prizes. "It just goes to show what young people can do given the right incentives," he said.

Donald Wales, grandson of the land-speed record breaker Sir Malcolm Campbell, who has launched an attempt to break the world speed record for an electric vehicle, was also present. "It is important to get kids involved in cars that could be the vehicles of the future," he
said. "This was an excellent event - especially because everyone seems to have had so much fun." Perhaps they should give Bernie Ecclestone a copy of the regulations.
LINKS:
Greenpower | About | News | Calendar | Kits | Sponsors | Contacts | GP Index | Design
Photo Archives | Design a Car/Tips | Specification | Message Board | Entry Forms | GP Shop

Events/Entry/Results | Goblin Information | Formula Fracmo
Greenpower Ltd
The Glebe
Yapton Road, Climping
West Sussex, BN17 5RU
Tel/Fax: 01903 715915
info@greenpower.co.uk
Latest News:
- Important Information for those who have
entered the 2005 F24 series. See here

- Enter the 2005 series online now - 2 CD set of photos of final now available

- The Winter Competition - win yourself a motor
Read the Telegraph articles on previous UK events
More International Electrathon info at: www.electrathonnewengland.org & www.electrathonamerica.org