Pushing the Limits of Efficiency

Electric racers will try to break 50 mph with one horsepower!
A determined group of streamlined electric race cars will try to set a new level of "Extreme Efficiency" at the Electrathon IBM National Speed Trials on October 28, 2004. New Hampshire International Speedway will host competitors from all over New England, with challengers coming from Oregon and Washington.
They will be trying to better the current national record of 49 miles, set on this one mile oval by a team from Lake Orion, MI... or the high school mark of 43 miles, held by Mt. Blue High School, Farmington, ME, who will return with two new cars to defend it.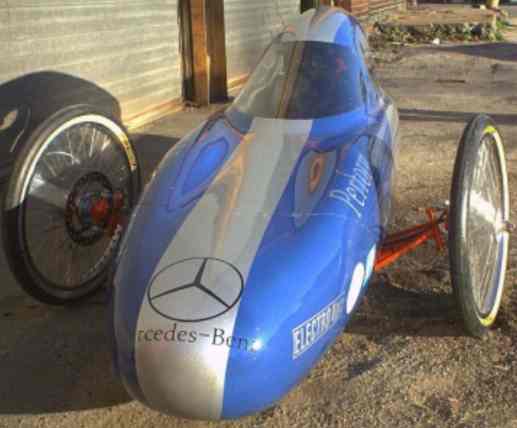 Tension will be high as all the teams know that everything has to be done right to achieve this kind of performance...months, even years of effort have gone into the design and construction of these exotic machines. In a style referred to as 'passive-aggressive', the drivers will wrestle the highest possible speed from the lowest possible effort.
Electrathon is a national competition for lightweight, high efficiency electric vehicles. Power is limited to 67 lbs. of production lead acid batteries, which amounts to a little more than one horsepower over the hour.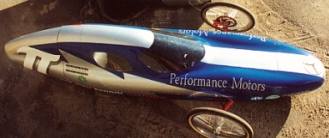 The rules are simple enough to allow a wide variety of creative designs, and although it's open to everyone, most of the competitors are school teams because the sport offers an affordable test of imagination, skill, Discipline and teamwork. And, striving to foster an ethic of efficiency, it promotes the development of alternative energy transportation in compelling style.
ELECTRATHON RECORD 2006 - Michael Lewis
ELECTRATHON RECORD 2007 - Kirk Swanley
(Loudon, NH ) How far can you go in one hour with only one horsepower?
The National Speed Trials are made possible by a generous grant from IBM and are
presented by the Maine Energy Education Project and Electrathon New England.
contact: Michael Lewis, Portland, ME cmlewis@maine.rr.com 207-773-3006
Contact Peter Zack meep@psouth.net 207-625-7833
more info at: www.electrathonnewengland.org and www.electrathonamerica.org
Solar Cola drinkers communicate ......

330ml Earth can - the World in Your Hand