Electric Racers: Ultra-Efficient and Fun

DETAILS ABOUT THE CAR

The car was built in the same molds that the DESTINY shell set product is built from. In the configuration used at Bonneville, it weighs 177 pounds made up from 20lbs of motor, 66 pounds of battery and 10 pounds of driver ballast. It integrates a Carbon Fiber and Kevlar chassis with three wheel suspension built from 4130 steel.
The windshield is 1/16" thick polycarbonate, riveted into place. It's powered by 18 Enersys SLA batteries at 36 volts. Normally I run a 200 amp - regenerative braking PWM controller. However, at Bonneville Salt Flats, I switched to a higher current rating, non-regen controller. Mechanical disc brakes are routed to a single, balanced hand lever. A cat-eye 5 measures speed. I've found other bicycle speedometers to stop sensing when speed exceeds the low 50's, but this one didn't fail even when I spun the wheel up to 130mph with the car on blocks.
Although it's unclear what it's linear accuracy is like. I tried two types of wireless speedometers before the wired Cat-eye. The range on the wireless speedometers fell short of what I needed. I use a Link10 for energy management data. Twenty inch tires/wheels all around, running high thread count Continental tires at 85psi in the front and 100psi in the rear. Drive system is #35 chain & sprockets. The best drive ratio's tested at Bonneville were just under 1:1 and just over 1:1. I picked the paint colors and then Jeff Moore cleaned up the surface, added the light pearl flames and loaded on the clear.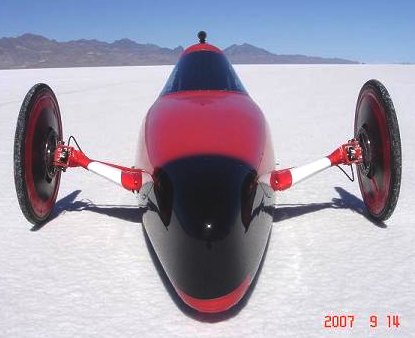 Electrathon
electric world
speed record car
Bonneville Salt Flats 84.9 mph
ARTICLE, PICS & VIDEO written by David Dymaxion.

ARTICLE, PICS Coming soon written by Stan Hanel, member & editor of the Las Vegas Electric Vehicle Association.

ARTICLE from at BonnevilleRacing.com about this new beginning of Electrathons on the salt flats.

Photo & Comment posted in an on-line community gallery.


BONNEVILLE TIME SLIPS & COMMENTS (each car only gets 5 attempts)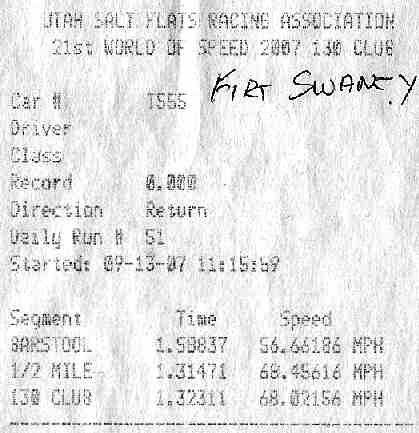 Kirk Swaney SLIP 1
After this first pass, run with the tallest gear ratio I had brought, it became clear the car was capable of running at much taller. I began to think I'd driven all this way only to find my sprockets were too limited to see what the car could do.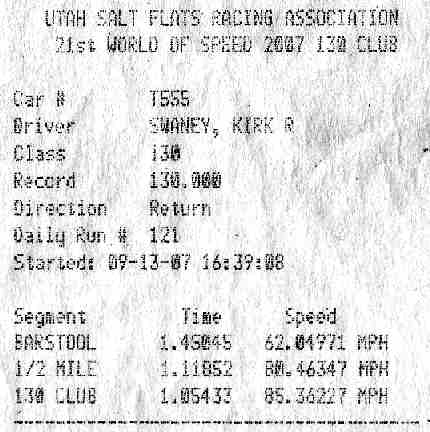 SLIP 2
After crunching some drive ratio numbers with all the front sprockets I had brought, I realized I could drill out a large front sprocket to match the rear drive wheel bolt pattern. The tricky part would be drilling the holes in the modified (now rear) sprocket accurately enough to keep it's rotation concentric to the axle it turns about. It worked! and I hit 85mhp for the first time!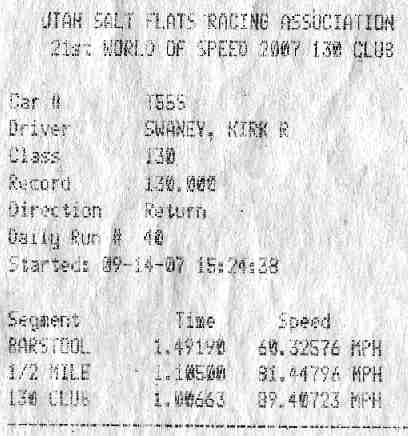 SLIP 3
This run was the fastest, even with the car-top digital camera mounted and a 5mph headwind. This run used a drive ratio of just under 1:1.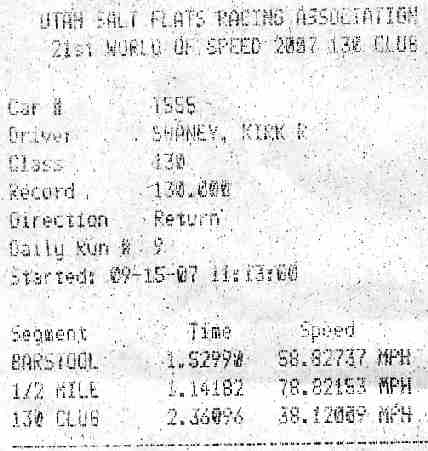 SLIP 4
On this run, the rear tire was lowered to 80psi to improve traction on the salt. Unfortunately, it was probably the cause of a rim-pinch "blow out" near the 0.5 mile mark near 80mph. The car gently zigzagged like driving a bicycle in gravel as I countered with subtle steering adjustments.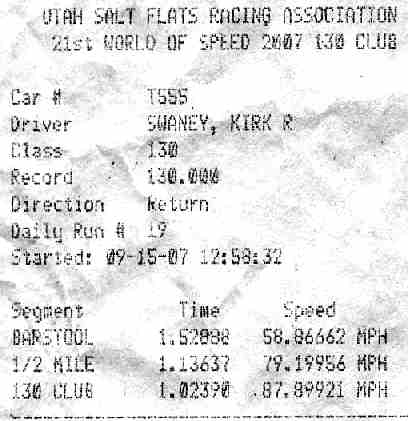 SLIP 5
Slightly slower than the fastest run, this one taught me that I had probably reaped & exceeded all the benefits that I could from "gearing taller" at a drive ratio of just over 1:1.

SLIDE SHOW/MOVIE (27mb) of pictures and video clips of the week's adventures.
For a lower resolution file click here (9mb).

October 8, 2007 "On-Line" News Paper article, written by Theresa Hogue of the GAZETTE-TIMES, photograph by Casey Campbell.

"Scanned Image" News Paper article, of the story in the link above. This one includes another photo that was in the paper, but not on line.

News Paper article - Opinion section, from the October 12, 2007 GAZETTE-TIMES. (2nd bullet down)
more info at: www.electrathonnewengland.org and www.electrathonamerica.org
Solar Cola drinkers communicate ......

330ml Earth can - the World in Your Hand