Pushing the Limits of Efficiency: Electric racers try for 50 mph with one horsepower!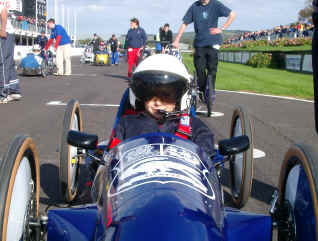 Greenpower competitor 2004

There is a lot to learn from the information on this page. If it doesn't answer your questions, e-mail Greenpower anytime on helpline@greenpower.co.uk

TECHNICAL AND PRACTICAL TIPS FOR YOUR 24 VOLT RACE CAR

When designing and building your car there are a number of important points to consider. To start with get your design team together and go through the items listed and discuss them. Decide the basic direction you wish to go in, and why. When you have finished you will be able to start going through them in detail and commence the full design of the vehicle. Watch how various design decisions affect each other. Do not be afraid to seek help from a Science and Engineering Ambassador or your Contact at your local Technical College. Greenpower are happy to assist if needed.

Get your Formula 24 regulations handy and refer to them at all times. Don't read them after you have fixed your design! Appoint a 'Marketing Team' to put together a presentation package of what you are going to do and get out there and find some sponsors for your car. Some teams have raised thousands of pounds for their project!

First of all it is a 6-hour race. You are supplied with a 240 watt, 24 volt d.c. electric motor that runs naturally at 2000 rpm. You will also have four 12-volt batteries, 2 on the car and 2 spares. (Unless you opt for the lighter 028 type in which case you will have 6 batteries in all, 2 on the car and four off).



When considering all the following design points and how you put the car together always apply these tests:
Speed vs. endurance

Performance vs. reliability

Innovation vs. pragmatism

Complexity vs. simplicity

Is it the best use of the budget?
Motor: Examine the curves. Discuss what they mean. What happens if the motor runs at less than 2000 rpm. What happens when you are accelerating? How can you get the most out of this small but willing motor?

Batteries: Look at the capacity. Can you predict how long they should last, or could last? Can you work out the best tactics for changing batteries?

Wheels: Large, small, wide, narrow, soft, hard, treaded or smooth tyres, heavy or light??? All questions; how do you work out the answers?

Drive: How do you get the power onto the road? What drive should you use? What do other vehicles use? How can you use gears? Do you need gears?

Speed: What maximum speed should you go for? Why? What are the advantages and disadvantages of speed?

Weight: Heavy and strong, light and nimble? Materials? Chassis design? Drivers? How important?

Shape: Does it matter? If it does, what is best?

Steering: What ways can you steer? What is steering geometry? Why does it matter?

Brakes: What options are there? What is out there to use? What is electrical braking? Is it a proposition for us?

Controls: How will you control the motor? What switching to use? What do you need to control?

Bodywork: Think of materials, finish, access, strength. Will it last the race?

Other points for consideration and discussion:

Freewheeling, good or bad, a virtue or a handicap?

Suspension, is it just for a comfy ride?

Spares – How long will parts last, what spares should you have and how much will they cost?

What sort of racetrack are you designing for, does it matter?

Remember – you can use standard, proven bits and pieces from bicycles, prams, lawnmowers, trolleys, pedal cars, 'wheely-bins', or whatever. However proprietary electric driven vehicle parts cannot be used. Full 'Go-cart' chassis and other assemblies are outlawed.

Remember there are prizes for 'originality of design' and 'appearance' but the car must be both practical and safe. All bodywork must be strongly attached and comply with the regulations. Every vehicle must have numbers one both sides and at the front of the car. These must be at least 250 x 250 mm. in a contrasting colour.

Remember: Before the race your vehicle may be inspected by race officials for compliance with Formula 24 regulations, safety, and durability. This is a confidential visit and no information on your design will be relayed to other competitors. However, the officials might suggest modifications or improvements if they consider that the car needs them to be safe, or strong enough to last the race distance.

Remember: On race day it will be too late to finish off any last minute details. There will be, however, usually be a central repair facility for use by all competitors should they meet with some disaster during practise or in the race. This service will be on a 'first come first served' basis and speed of repair will obviously depend on the nature of the breakage and the number of cars in the queue. Some thought should therefore be given to what 'first-aid' equipment you should bring with you to keep your vehicle moving while waiting your turn. (The vehicle itself need not actually be in the queue).

Remember: Cars in the race will get up to speeds in excess of 25 mph and care must be taken to ensure that your driver is safe. All drivers must have had adequate practise before race day, particularly with respect to controlling the cars in, braking, cornering, and emergency avoidance of obstacles. A full safety bulletin will be sent out four weeks before heats to ensure that all drivers are totally familiar with procedures. On race days there will be a pre-race drivers briefing when all questions will be answered and any last minute instructions issued.

AND FINALLY -

Learn from what you are doing. If things go wrong, don't panic. Think about it and go about it in another way. Look at other cars. Watch the old Greenpower videos. Engineering is always an ongoing process of development and, once you have a base to work from, you can only get better. Do not try to achieve too much too quickly.

A quiet car is an efficient car – GOOD.


A slower but reliable car will get you home – GOOD


A cool motor will last for many races – GOOD


A hot motor shows something is wrong – Gearing, weight, rolling resistance….


Look after your batteries, all the year round!

LINKS:

New - Scrutineering Check List (see if your car will pass)

NEW - Design Profiles of top 2004 cars

Fracmo Motor Performance Graph
About the Motor

Simple Wiring Diagrams
Battery Specifications

Greenpower | About | News | Calendar | Kits | Sponsors | Contacts | GP Index | Design

Photo Archives | Design a Car/Tips | Specification | Message Board | Entry Forms | GP Shop

Events/Entry/Results | Goblin Information | Formula Fracmo

Greenpower Ltd
The Glebe
Yapton Road, Climping
West Sussex, BN17 5RU

Tel/Fax: 01903 715915 Email: info@greenpower.co.uk


Latest News: - Important Information for those who have
entered the 2005 F24 series. See here

- Enter the 2005 series online now

- 2 CD set of photos of final now available

- The Winter Competition - win yourself a motor

Read the Telegraph articles on previous UK events

More International Electrathon info at: www.electrathonnewengland.org & www.electrathonamerica.org