THE LAND SPEED RECORD
A land speed record was first set in 1898 by Frenchman Count Gaston de Chasseloup-Laubat, driving at 39.24mph. By 1904, another Frenchman, Louis Rigolly, became the first driver to pass the 100mph mark.
1898 On 18 December, a land speed record is officially set when Frenchman Count Gaston de Chasseloup-Laubat drives his car at 39.24mph.
1899 Within a year, the record is broken five times, passing between the Frenchman and a Belgian, Camille Jenatzy, who raises the record to 65.79mph.
1904 Driving his Arrow at 91.37mph, Henry Ford breaks the record at Lake St Clair, Michigan.
1904 The French become the first to break the 100mph barrier when Louis Rigolly reaches 103.55mph in a Gobron-Brillie car.
Thus began a long succession of attempts that would culminate in the breaking of the sound barrier on land. But it was in the 1920s and 30s that the imagination of the world was captured by the contest. And it was the battles between two men in particular – Malcom Campbell and Henry Segrave.
Malcom Campbell started motor racing at Brooklands racetrack in Surrey, and after a period as a pilot during the First World War, he returned to the sport. In September 1924, he took his car, the V12 Sunbeam called Bluebird, to Pendine Sands, Wales, where he reached 146.16mph. Having set one land speed record, he put the car up for sale but changed his mind when he learned that Welshman Parry Thomas was about to make an attempt on the record. Campbell had been bitten by the speed bug. In July 1925, he became the first driver to exceed 150mph.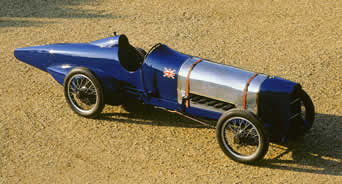 V12 Sunbeam named Bluebird
Meanwhile, another challenger had entered the scene. Henry Segrave was born in Baltimore, USA, in 1896 to an Irish father and American mother. On 16 March 1926, he entered the world record-breaking arena. In Southport, Lancashire, despite supercharger problems, he took his Sunbeam to 152.3mph. He had taken Campbell's record and the battle of the land speed giants had begun.
Malcom Campbell was not about to give up though and had ambitious plans for a new Bluebird. The car cost a fortune and took two years to build. It used a huge 450-horsepower 12-cylinder Napier Lion aeroengine and had a giant chassis built by Vickers. Whilst the car was being built, Parry Thomas had pushed the record up to 171.02mph at Pendine Sands. As soon as Bluebird was ready, Campbell took the car there to regain his title. Despite knocking his goggles off, he just beat the record at an average speed of 174.8mph.
On 3 March 1927, Parry Thomas made another record-breaking attempt, in his car Babs. During the run, his car overturned and Thomas was tragically killed. The land speed record had claimed its first victim. Babs was buried in the sands and Campbell vowed that he would never race there again.
THE RACE
The race was now on to break the 200mph barrier. Segrave had improved his Sunbeam and had taken it to Daytona, Florida. Much to the annoyance of Campbell, the 1000-horsepower beast took Segrave past the 200mph mark. Having revamped Bluebird, Campbell also took his car to Daytona beach. It was a bumpy ride, but he came away with a new record of 206.95 mph.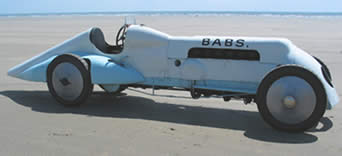 Babs at Pendine Sands, Carmarthen Bay, Wales
Sir Henry Seagrave was now working on his new car, Golden Arrow. It would be powered by a 900-horsepower 23.9-litre 12-cylinder Napier Lion aeroengine and encased in a streamlined aluminium body. It was a revolutionary machine. On 11 March 1929 a huge crowd gathered on Daytona beach. After a single practise run, Segrave broke the record with a speed of 231.446mph. He then moved on to Miami to challenge the undisputed king of speedboat racing, Gar Wood. Segrave beat him. It was Wood's first defeat in nine years. Segrave was knighted upon his return to England.
Meanwhile, Campbell had travelled to South Africa with his new Bluebird, but was experiencing a constant stream of problems. Everyday he expected bad news from Daytona and it came on 11 March. Campbell knew that he could not really beat Segrave in this Bluebird, but he made an attempt. He reached 218.45mph, beating his initial target, but way off Segrave's new record.
With the land speed record his, Segrave set about achieving the world water speed record too. It would prove disastrous. On 13 June 1930, he was killed in an attempt on Lake Windemere. In a twist to the story though, he did actually break the record, becoming the first person to hold both land and water speed records simultaneously.
Malcolm Campbell was now free to dominate the land speed race. Over the next few years, competing against himself, Campbell was driven to push the record higher and higher. In 1935, with yet another streamlined Bluebird, he broke the 300mph record at Bonneville salt flats in Utah. Campbell too, received a knighthood.
1914 Britain achieves its first win when L G Hornsted, reaching 124.10mph, breaks the record at the Brooklands racetrack in Surrey in a Benz car. It's the first time the record is timed over two runs. From now on the speed is calculated from an average taken from two attempts.
1924 Malcom Campbell sets his first land speed record in his Sunbeam Bluebird at Pendine Sands in Wales – 146.16mph.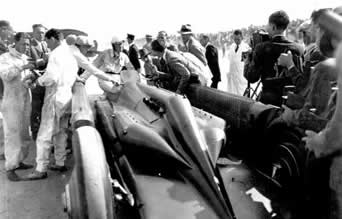 Sir Henry Seagrave and Golden Arrow
1925 Campbell, at 150.76mph, becomes the first man to break the 150mph barrier.
1926 Henry Segrave makes his first land speed record at Southport Sands in Lancashire – 152.33mph.
1926 Welshman Parry Thomas breaks the land speed record in Babs on Pendine Sands (171.02mph). Believing he can go faster, he breaks his record again a day later (172.331mph).
1927 On 1 March, a year after his last attempt, Parry Thomas makes another land speed attempt on Pendine Sands. Unfortunately, a drive chain broke, the car overturned and Thomas was killed. He is the first casualty of land speed record attempts. His car Babs is buried in the sand. No other driver will ever attempt a record at Pendine Sands again.
1927 On 29 March, at 203.792mph, Henry Segrave breaks the 200mph barrier in his Sunbeam at Daytona, Florida.
1928 Pushing his Napier-powered Bluebird to 206.956mph, Campbell retrieves the record at Daytona. But two months later, the record is broken by American Ray Keech.
1929 Henry Segrave breaks the record again in his Golden Arrow at Daytona, taking it to 231.446mph. He then travels directly to Miami where he beats Gar Wood, the speedboat king, with his Miss England power boat. He is knighted on arrival back in the UK.
1930 On 13 June, Sir Henry Segrave is tragically killed whilst making a water speed record attempt on Lake Windermere. In fact, he actually broke the record and became the first man to hold both the land and water speed records simultaneously.
1931-1935 During these years, Campbell makes and breaks the record five times in Bluebird. On 3 September 1935, he breaks the 300mph barrier, reaching 301.13mph.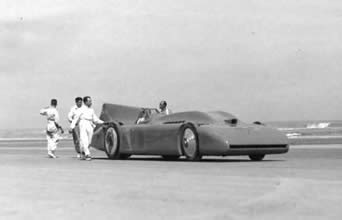 Sir Malcolm Campbell and the Railton Bluebird
1963 At 407.45mph, American Chris Breedlove breaks the 400mph barrier in his Spirit of America at Bonneville salt flats, Utah. It is the first purely jet-propelled record.
1964 Donald Campbell continues the family tradition. In a record attempt, he reaches 403.10mph.
1964 In Spirit of America, Craig Breedlove makes another groundbreaking drive. He's the first man past the 500mph barrier, at 526.28mph.
1965 Breedlove again. This time the first past the 600mph barrier. In Spirit of America-Sonic I, he travels at 600.601mph
1967 On 4 January, Donald Campbell is killed in a water speed record attempt on Lake Coniston.
1983 At Black Rock Desert, Nevada, Englishman Richard Noble travels at 633.468mph in Thrust 2, bringing the record to Britain.
1997 Richard Noble's team builds Thrust SSC and with Andy Green at the helm, it breaks the sound barrier – moving at 763.04mph.
THE OTHER GREAT RACES LINKS:
---
C4NEWS | FILM | HOMES | LIFE | ENTERTAINMENT | HISTORY | SCIENCE | COMMUNITY | SHOP
SPORT | CULTURE | CARS | MONEY | BROADBAND | LEARNING | HEALTH | MUSIC | GAMES
TV Listings | Text Only | Site A-Z
---
WEBSITES:
Bentley Boys
www.bentleyboys.com
Good quality images of Bentley cars from their first production in 1919, with listings of car production numbers and dates.
Bentley Drivers Club
www.bdcl.co.uk/HistoryRacing.htm
Formed in 1936 by a group of Bentley owner enthusiasts, the club is still running and offers Bentley car regalia and literature on the site.
Bluebird and other Land and Water speed records
www.bluebird-electric.net
Land, air and water speed record vehicles and drivers.
Darkforce
www.darkforce.com/royce
Historical information on the Bentley car and a detailed biography of the car's founder, Walter Owen Bentley.
Golden Era of Grand Prix Racing
www.kolumbus.fi/leif.snellman/main.htm
Fantastic site by Leif Snellman. Both comprehensive and accessible with lovely images. Well worth a look for the racing enthusiast.
History of the Bentley Auto
www.oldandsold.com/articles01/article713.shtml
Entertaining account of the rise of the Bentley Blower.
History of Classic Cars: Vintage and thoroughbred era (1919-1939)
www.autoclassic.com/features/
classic_car_history/vintage_era.html
Gives an excellent history of the British car industry during the vintage era, and the depression that followed.
Mercedes History
www.oldandsold.com/articles01/article821.shtml
Historical account of the Mercedes car that looks at the remarkable W125 model.
BOOKS:
Bentley: A legend reborn by Graham Robson (Haynes Group, 2003)
A comprehensive history of the Bentley car with expert insight into the company, its owners, key personnel and cars; interviews with a chief executive and three technical directors; colour illustrations of every model, from the 1920s to date; specially commissioned photographs of preserved models; and technical specifications and production totals of all types. Buy this book from Amazon

W O Bentley: The man behind the marque by Malcolm Bobbitt (Breedon Books, 2003)
Meticulously researched and revealing biography of W O Bentley's life and career and his love of motor cars. Records the rise and fall of Bentley Motors, the triumphs of the cars in competition and the enduring legend these performances created. Buy this book from Amazon
VIDEOS:
Motor Racing Years: The 1930s (VHS)
Film footage from the 1930s. Includes a visit to the Ards TT, Crystal Palace, Le Mans, Donington and Nurburgring. Buy this book from Amazon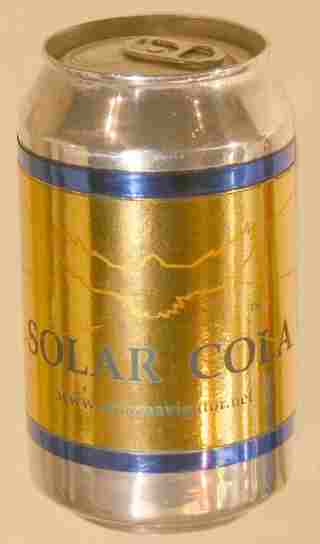 Website sponsored by Solar Cola
Contact us: SPEEDACE.INFO