Chevron Corporation is an American multinational energy corporation headquartered in San Ramon, California, United States and active in more than 180 countries. It is engaged in every aspect of the oil, gas, and geothermal energy industries, including exploration and production; refining, marketing and transport; chemicals manufacturing and sales; and power generation. Chevron is one of the world's six "supermajor" oil companies. For the past five years, Chevron has been continuously ranked as one of America's five largest corporations by Fortune 500 and it is currently ranked 4th after Apple Inc., ExxonMobil and Walmart. In 2011 it was named the 16th largest public company in the world by Forbes Global 2000. Full marks to Chevron for using solar panels on the roof of this building.
The company is jointly owned by Chevron Corporation and Phillips and was formed in 2000 by merging the chemicals operations of both companies. It is a major producer of petrochemicals, polyolefins, and specialty chemicals. Chevron Phillips has approximately 5,000 employees working in 33 production facilities located in the United States, Singapore, South Korea, Saudi Arabia, Qatar and Belgium. The company generated about $13 billion in sales in 2014.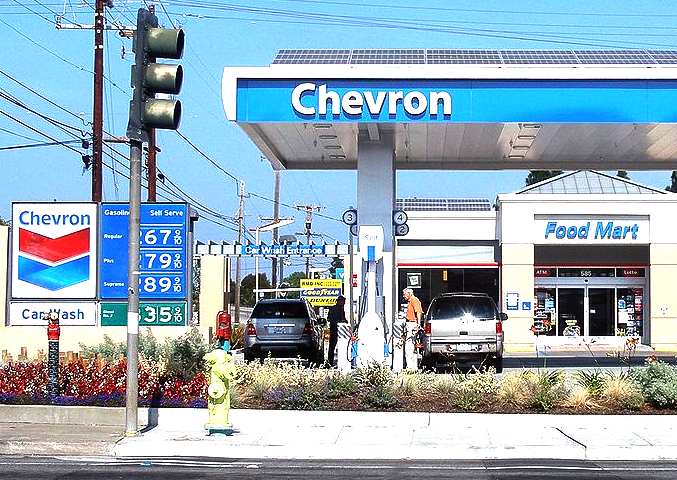 Chevron service station forecourt design
The Future
One day we may be able to refuel our electric cars at service stations like these. This will depend upon progressive energy companies like Chevron cooperating with motor manufacturers and other energy companies.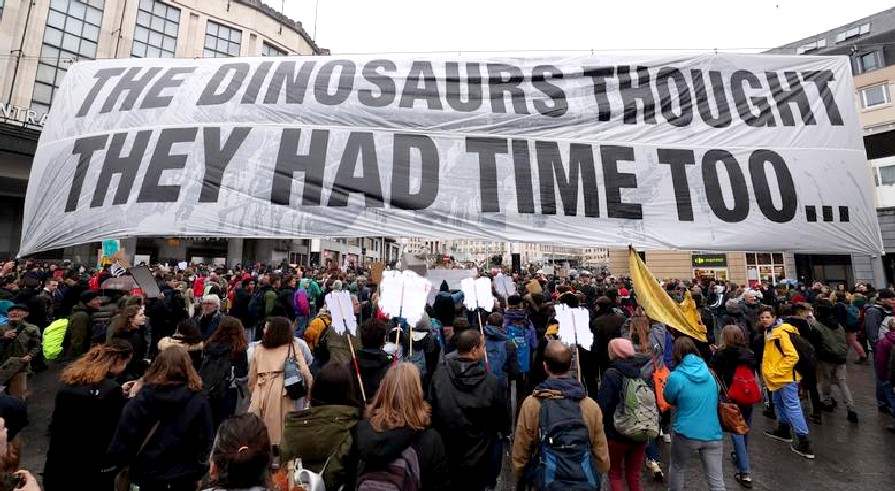 Pollution
Oil derivates are being dumped out at sea. Not only is this a wasted resource and a recycling failure, but also a danger to marine life and ultimately to humans from eating fish that is toxic. The companies listed below operate responsible policies that will hopefully be developed to create a circular economy where ocean plastic pollution is negligible. At that point we will have reached a sustainable society to secure the future of our children.
| | | |
| --- | --- | --- |
| COMPANY A - Z | EMPLOYEES | $ BILLIONS |
| - | - | - |
| | 17,300 | 3.3 |
| | - | - |
| BASF: | 39,000 | 63.7 |
| Borealis AG: | - | - |
| Borouge (Abu Dhabi Polymers Co Ltd): | 6,500 | 7.2 |
| Braskem SA: | - | - |
| ChevronPhillips Chemical: | 5,000 | 13.4 |
| CNPC:( China National Petroleum Corp): | 1,470,190 | 326.0 |
| | 14,000 | 49.0 |
| | - | - |
| | 75,600 | 290.0 |
| ENI S.p.A. Ente Nazionale Idrocarburi: | 33,000 | 61.6 |
| | 2,800 | 5.0 |
| INEOS (Ineos Group AG): | 19,000 | 60.0 |
| | 16,700 | 7.9 |
| | 14,000 | 17.8 |
| | 13,000 | 33.0 |
| Polyone Corp: | - | - |
| Reliance Industries Ltd: | - | - |
| | - | - |
| Sasol Ltd | - | - |
| SABIC: (Saudi Arabia Basic Industries Corp) | 40,000 | 35.4 |
| | 249,000 | 314.4 |
| | - | - |
| | - | - |
Amoco | British Petroleum | Chevron | CNCP | ESSO | Exxon | Mobil | Shell | Total
Chevron oil exploration and delivery
LINKS and
REFERENCES
Chevron solar energy